Best Happy 9th Birthday Wishes and Inspirational Quotes for Girls
This post may contain affiliate links. If you make a purchase, I earn a small commission at no extra cost to you. As an Amazon Associate, I earn from qualifying purchases. Read more about these links in my disclosure policy.
If you know a 9 year old girl with a birthday coming up and you want ideas for inspirational quotes or sweet messages to send her on her special day, we have some awesome 9th birthday wishes here to choose from!
These birthday quotes and messages are perfect for writing in a birthday greeting card, sending in text messages, writing on social media, or even inscribing in a special personalized birthday gift.
These happy 9th birthday messages are sure to help your sweet girl feel extra special on her special occasion!
Inspirational Happy 9th Birthday Girl Quotes
Happy 9th birthday beautiful girl! You make each day better, and we are so happy to have you in our lives. This year will be your best year yet!
Wonderful things are coming your way. Wishing you a very happy 9th birthday!
Today we celebrate your big day, the anniversary of your appearance on Earth. With each passing year, you bring more and more joy to our lives! Best wishes for a very happy birthday!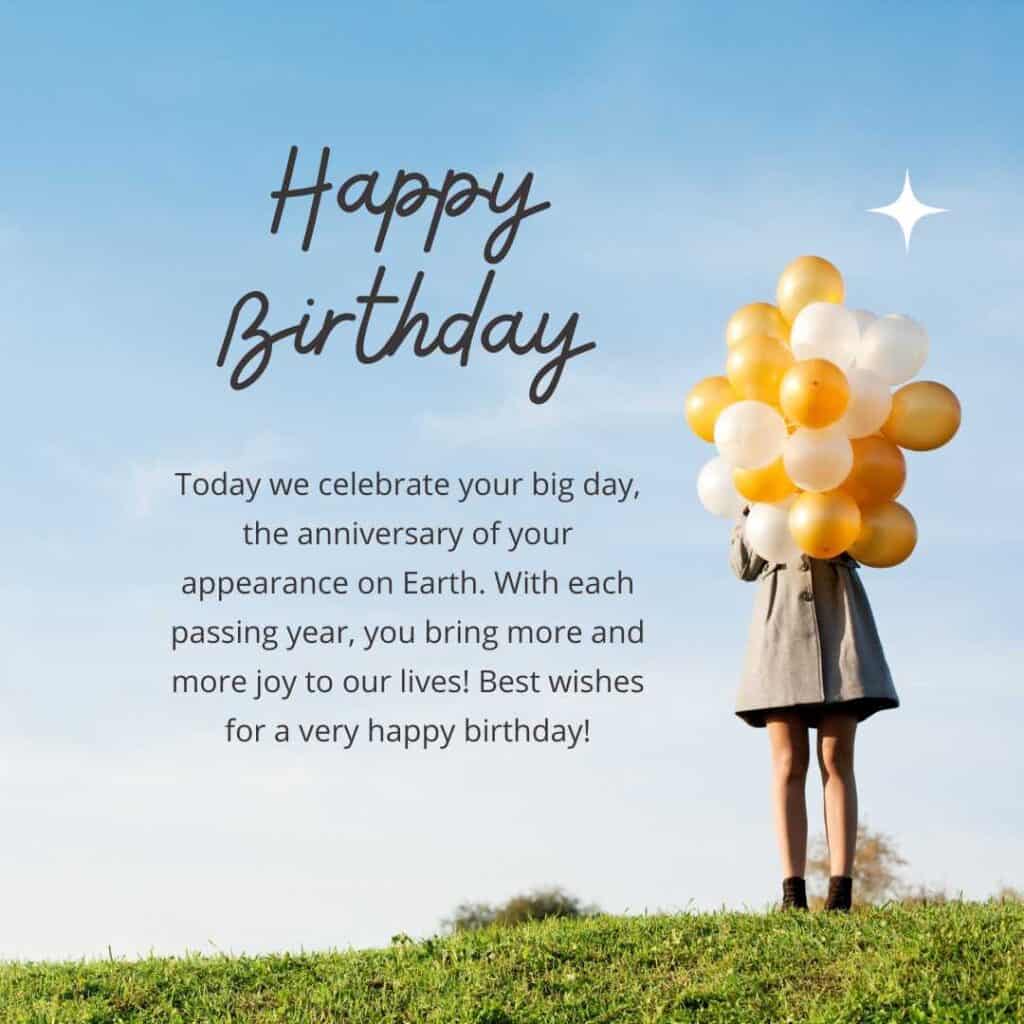 On this special day, I have three wishes for you: May you have good health, much happiness, and as much cake and ice cream as you can handle! Happy birthday, young lady!
Today is a day of great celebration. One to revisit sweet memories of the past 9 years, and to look forward to growth and achievement in the upcoming year. Wishing you lots of love and a wonderful birthday!
Light the candles, have a wonderful time, a special girl is turning nine! On this great day, may you have a wonderful celebration with as much birthday cake as you can handle. Happy 9th birthday!
Happy 9th Birthday Wishes for a Wonderful Daughter
My precious daughter, you are the best thing to ever happen to me. You make the world a better place just by being in my life. Happy birthday wishes to my little princess!
Wishing you a birthday as bright and beautiful as you are! Happy 9th birthday to our beautiful daughter!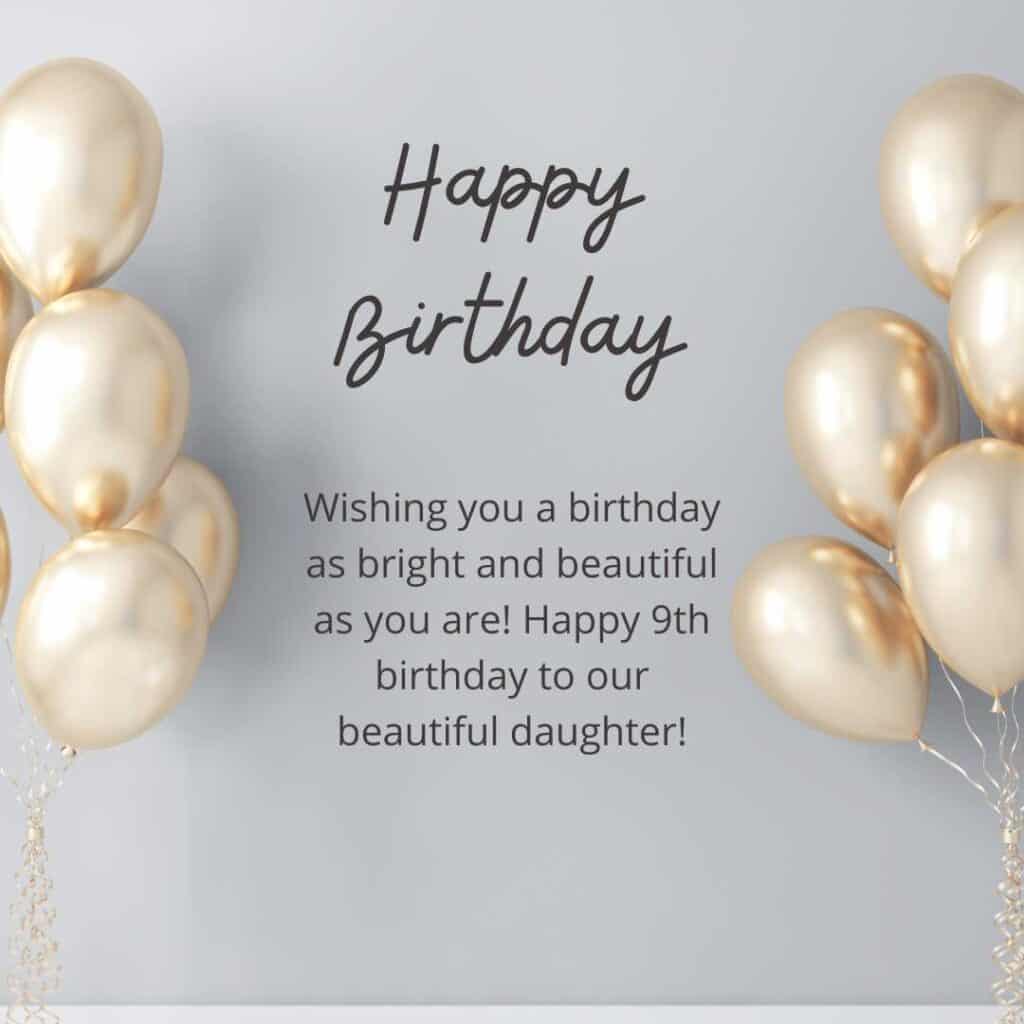 Happy 9th birthday to my sweet daughter, my little angel on earth. You have blessed our lives with so much happiness. May God watch over you and bless you always.
Dear daughter, it's hard to believe how fast you have grown – from our little baby girl into such a wonderful person. You bring so much happiness to our lives. May you have the best day ever! Happy Birthday, sweet girl!
Happy birthday to my beautiful little girl. You are the smartest kid and I love watching as you grow into a beautiful woman. May you have a great birthday filled with all of your favorite things. I love you.
You are loved today just as much as you were when you entered our lives 9 years ago. You are such a special girl with a kind heart, and we couldn't imagine life without our amazing daughter. May this birthday celebration be the best one yet!
Short Quotes for a Birthday Card
On your 9th birthday, may you be filled with love, laughter, and endless joy.
May this birthday be the beginning of a year filled with adventures, love, and success.
9 years have gone by so quickly, but the memories and love will last a lifetime.
Keep shining like the star that you are! Have a wonderful 9th birthday, little love.
May every wish and dream you have come true on your 9th birthday and always.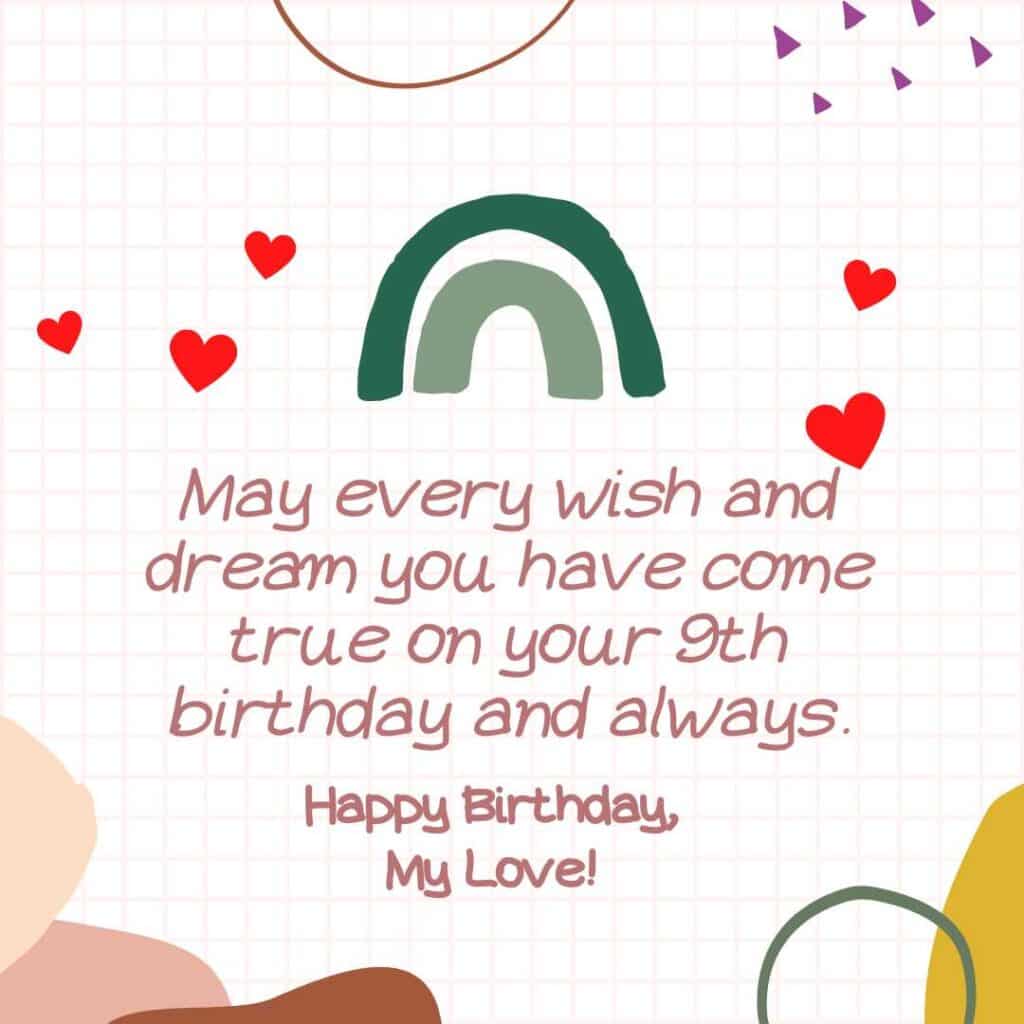 You bring so much joy and happiness to those around you, happy 9th birthday.
Wishing you a year filled with love, laughter, and all the things that make you happy.
Famous Quotes and Best Birthday Wishes
"Every year on your birthday, you get a chance to start new." – Sam Hagar
"Birthdays come but once a year, celebrate and be of good cheer." – Robert Rivers
"A birthday is like a new year and my wish for you is a great year full of happiness and sunshine!"  — Catherine Pulsifer
"You're never too old to set another goal or to dream a new dream." – Les Brown
"Today is the oldest you have been, and the youngest you will ever be. Make the most of it!" – Nicky Gumbel
"Celebrate your birthday with gratitude, kindness, and compassion to give a good reason for your existence in this world. Happy birthday !!! " — Invajy
"Our life is a gift from the Creator. Your gift back to the Creator is what you do with your life," – Billy Mills
"Today you are You; that is truer than true.
"All we have to decide is what to do with the time that is given us." – Tolkien
"A birthday is the anniversary of your birth. It's the time most of us reflect over the past year and what we hope for in the coming year." – Claudia T Hudson
"Your birthday is my pleasure. You are my sweetest treasure." – Danny Demeersseman
"Each year as our birthday comes, our thoughts and beliefs may change a bit from year to year. But believe our wish for you is always the same, may you find happiness and blessings all of your days!" – Catherine Pulsifer
"The way I see it, you should live everyday like it's your birthday." — Paris Hilton
"The more you praise and celebrate your life, the more there is in life to celebrate." – Oprah Winfrey
Personalized Birthday Quote Gifts
Turn your heartwarming birthday wishes into a precious keepsake with a custom birthday gift personalized with your special message. Here are some of our favorite gift options, some that are already printed with a popular birthday quote and others with custom message options. They are sure to be treasured for years to come!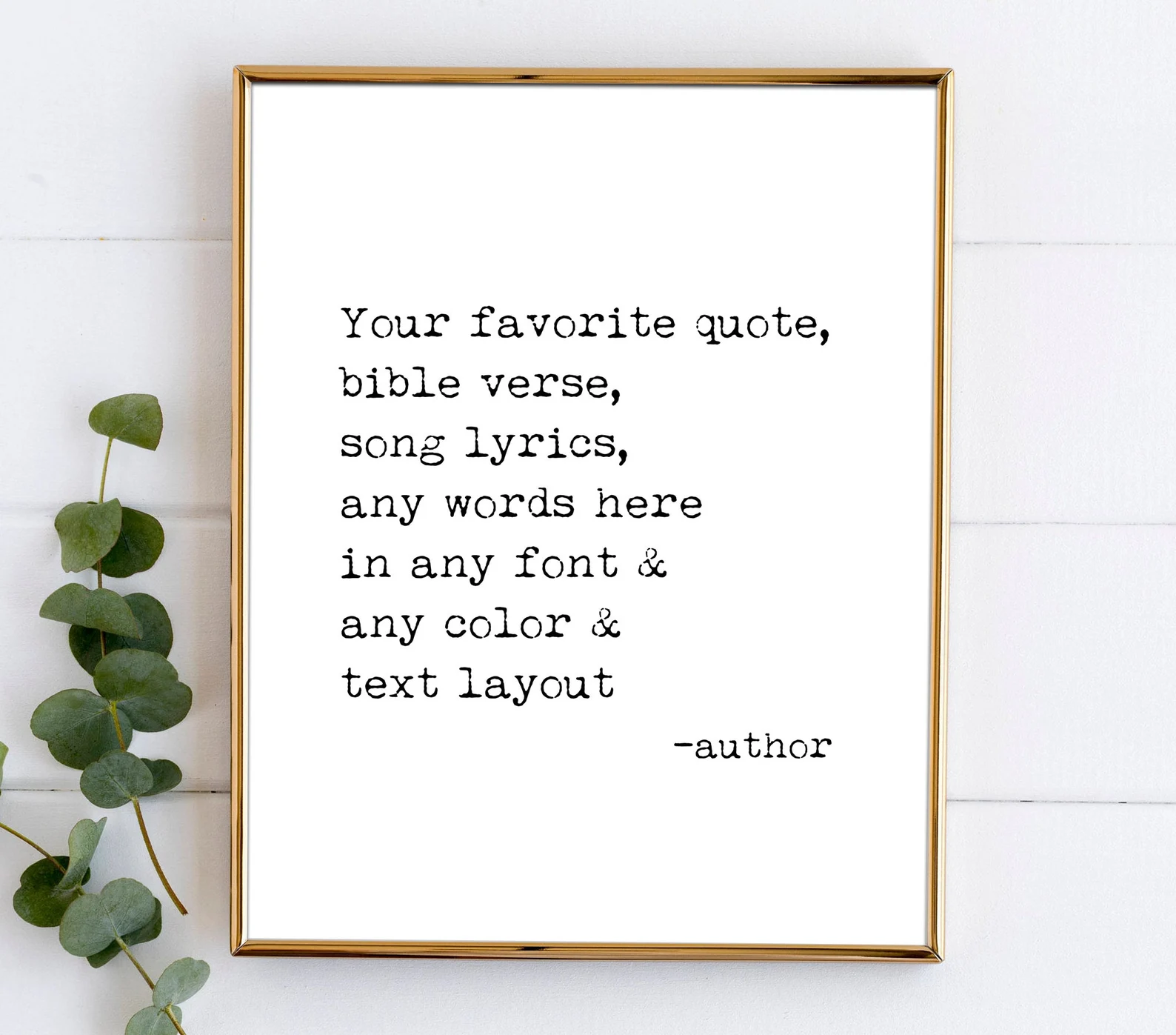 Custom Quote Print
Turn your words into a gift with this custom sign that displays your personalized message. Choose your favorite quote, bible verse, song lyrics, or any words that you love to be printed in the format of your choice: digital download, poster, canvas, or framed print. Your gift recipient will be reminded of you every time they look at their beautiful gift hanging on their wall!
See on Etsy
You Are Braver Than You Believe Quote
This beloved quote from A.A. Milne's famous story of Winnie the Pooh. Christopher Robin reminds Pooh that even if they are apart, "always remember that you are braver than you believe, stronger than you seem, smarter than you think and loved more than you know."
This powerful quote has become words of inspiration to many people, and is a wonderful reminder of how amazing we all are! This plaque nestled on a wooden stand makes a heartfelt gift for that special person in your life.
See on Amazon