14 Baptism Gifts for Baby
This post may contain affiliate links. If you make a purchase, I earn a small commission at no extra cost to you. As an Amazon Associate, I earn from qualifying purchases. Read more about these links in my disclosure policy.
Attending a baby's baptism or christening is an important event that is worth commemorating. Family members and close friends all want to help celebrate and remember this joyous occasion, especially with a keepsake gift that the child will treasure. Choosing the right gift for the special day can be a bit challenging, so we've gathered this list of religious-inspired baptism gifts. If you are a friend, grandparent, or godparent, you can present this newly christened little one with the perfect baby baptism gift to celebrate the special occasion.
The Best Baby Baptism Gifts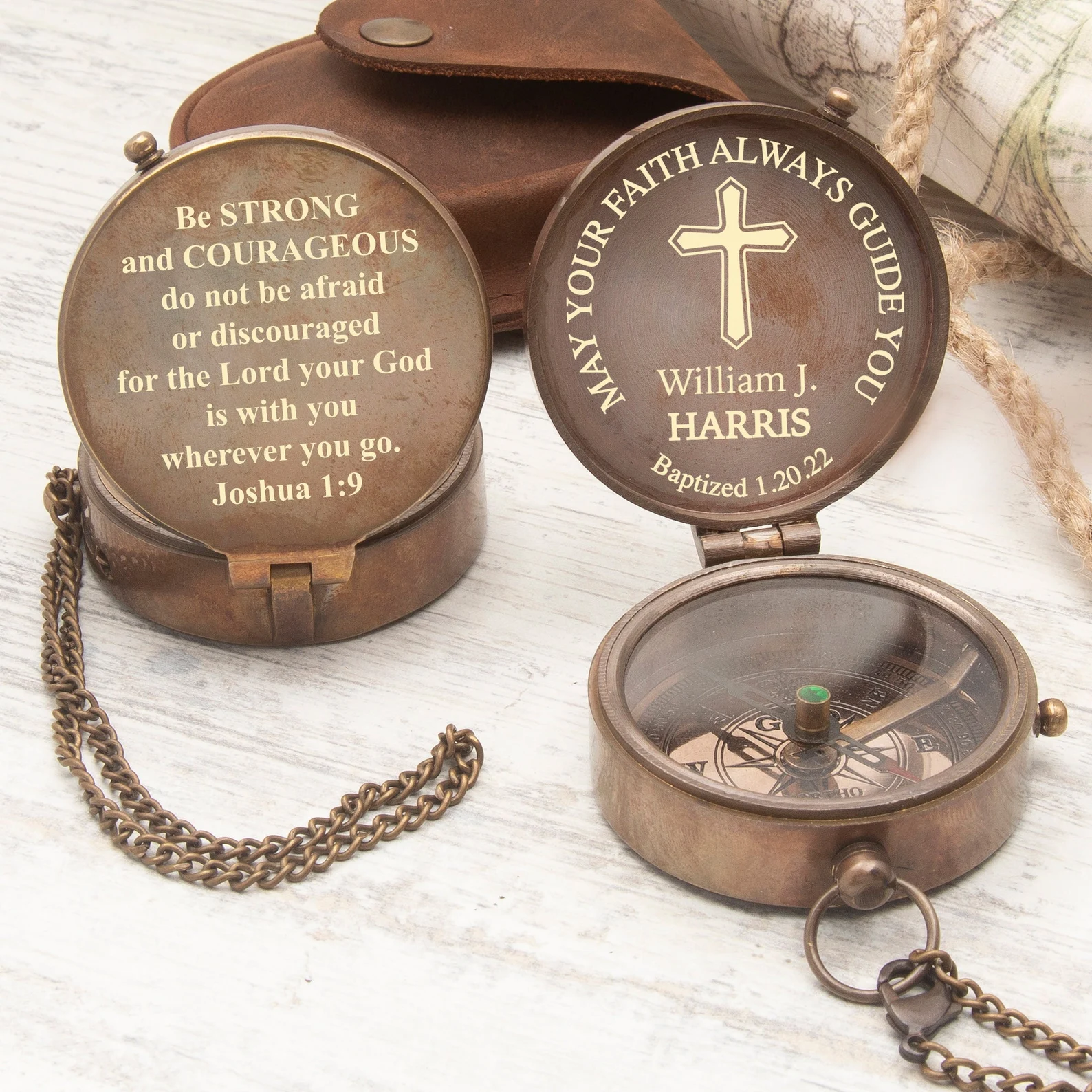 Baptism Compass
Celebrate the date of a child's baptism or christening with this one-of-a-kind keepsake compass. Made out of soft brass, this personalized baptism gift will remind the child to always let their faith guide them. Customize the compass with your chosen engraving options, and present the boxed gift with or without a leather case.
See on Etsy
Baby's First Bible Boxed Set
With simple language, and bright clear pictures, the Baby's First Bible Boxed Set provides a lovely introduction for infants and toddlers to the enduring stories and sacred characters of the Bible. Includes four story books (The Story of Moses, The Story of Jesus, Noah's Ark, and Adam and Eve) inside a protective slip cover.
See on Amazon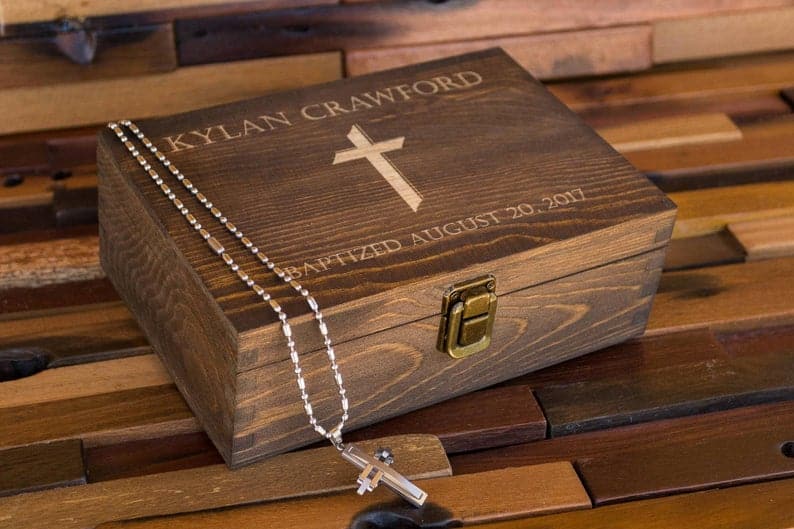 Baptism Memory Box
This personalized wooden box makes a beautiful baptism or first communion gift. Inside the custom engraved box, store treasured keepsakes, religious items, photos, jewelry, sentimental toys, and more. Handmade from pine, you can choose your preferred box size and color, as well as your desired design and engraving options.
Etsy sellers are known for making some amazing sentimental gifts, and this is one that is sure to be a family heirloom.
See on Etsy
My First Bible and Prayers Book
This beautiful collection of 28 favorite stories from the Old and New Testaments can be shared and read together including Noah's Ark, Moses, Jonah and the Whale, Jesus is baptized, Jesus walks on water, and many others. A wonderful addition to baby's nursery bookshelf.
See on Amazon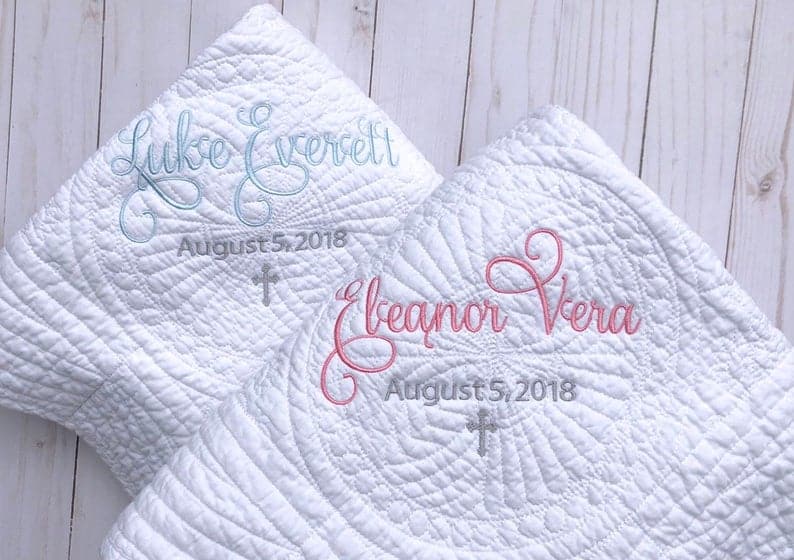 Personalized Baby Blanket
This will be the centerpiece of any baby's nursery (besides the new baby, of course!) and will surely be a keepsake. This custom baby blanket features two names, the baptism or birth date, and a small cross. You can wish baby sweet dreams under this precious gift.
See on Etsy
Custom Engraved Block
Celebrate baptism day of the little baby girl or boy with this unique personalized baby baptism and christening block. Personalization includes baby's name, baby's initial, baptism date, church name, city and state, parents' names (or other caregivers' names), gift givers names, a personal quote or message, and a chosen image.
This baby keepsake is a special way to remember the details of the child's big day that will be cherished for years to come with this personalized gift.
See on Etsy
Baby Pearl Bracelet
Baptism jewelry is always an appropriate gift, and this beautiful bracelet is a classic choice. This sterling silver bracelet embellished with simulated pearls and crystals features a small cross charm. This perfect Christening gift fits little girls 3-18 months old, but can fit older children with the addition of an extender chain. Comes packaged in a pretty pink gift pouch, ready for gifting.
See on Amazon
Goodnight Prayer Lamb
This little prayer lamb is the perfect child companion as it soothes and comforts at bedtime. A small flap on the lamb's stomach is printed with a goodnight prayer – a perfect way to introduce prayers to young children. Great size for your little one to hug and carry along on daytime outings. Perfect for baptism, as well as Easter gifts for stuffing baskets.
See on Amazon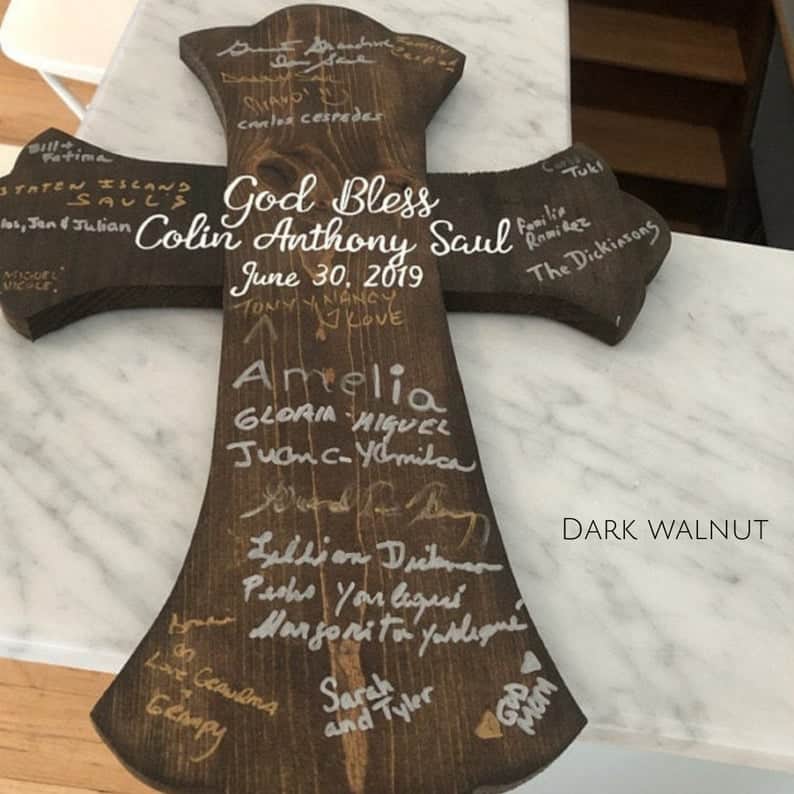 Wood Cross Guest Book
This rustic wood cross sign makes truly perfect wall art for your home. Custom designed to include any name you'd like, this makes it a thoughtful gift for Baptisms, Christenings, Confirmations, – or no occasion at all. More than just a sign though, it can be used as a truly unique guestbook for a Baptism or New Baby Gift.
Customize with your chosen stain color and personalization options.
See on Etsy
Noah's Ark Playset
Bring the bible to life with this fun Noah's Ark Playset. Children will get hours of enjoyment from the sweet animals as they learn the story of Noah and the Great Flood. Includes four animals - elephant, lion, zebra, and giraffe - that make fun sounds babies will enjoy.
See on Amazon
Precious Moments Rosary Box (Girl)
One of the most popular classic christening gifts, this artfully designed rosary box features a little girl praying on the lid and an uplifting message inside. A traditional white, pearl-look rosary is included.
See on Amazon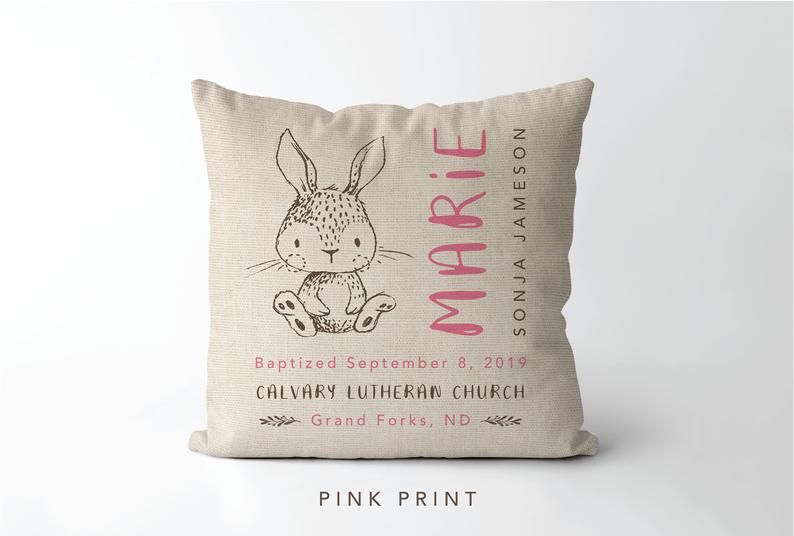 Personalized Baby Baptism Pillow
This adorable pillow is the perfect gift for commemorating an important event such as a baptism or christening. Customize by adding personal information including the child's name, event date, church name and city/state, ink color, and fabric choice.
See on Etsy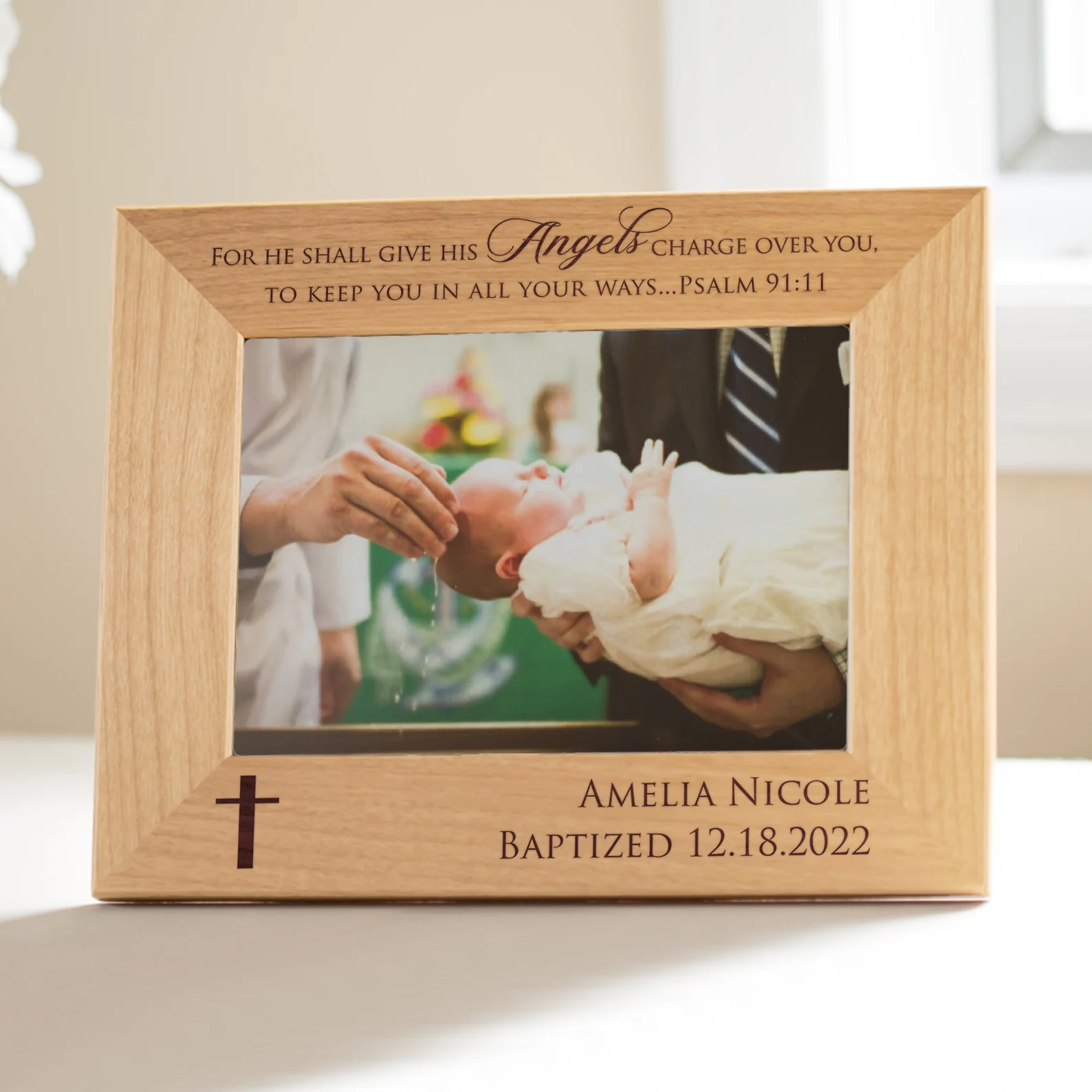 Personalized Baptism Picture Frame
This personalized frame is a beautiful gift for parents to help remember this important day in a child's life. The top of the frame is engraved with the beautiful verse shown (Psalm 91:11), and the bottom of the frame is personalized with the child's name and baptism or christening date (optional).
See on Etsy
---
We hope our list of the best baptism gift ideas has been helpful as you choose the perfect gift for this special day! If there are unique baptism gift ideas that we should include, please leave a comment below and let us know!