35 Best Gifts for 90 Year Old Men and Women
Reaching the age of 90 is a big milestone and deserves to be celebrated. Choosing the right gift for a senior citizen can be tricky because they have everything they need and they may be limited on some activities due to mobility issues.
Choosing the right gift for a 90 year old is important whether they are celebrating a birthday, Christmas, or Valentine's Day. Even if you are buying a gift just because, you want to spend money on something an elderly person will love and use.
We've made this list of gifts that are useful, fun and easy to use. Whether you are buying gifts for 90 year old man or gifts for 90 year old woman you are sure to find several ideas that they will love.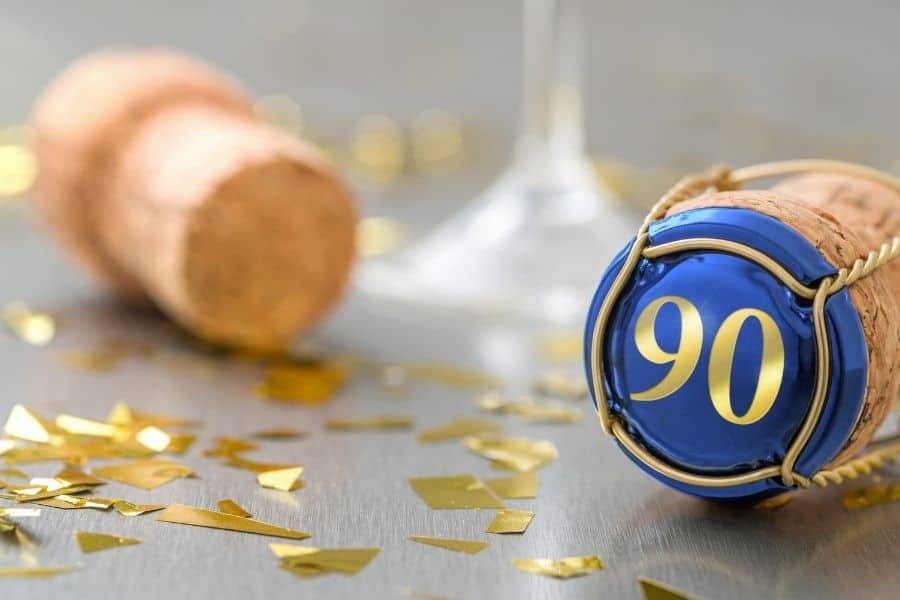 Gifts for 90 Year Old Men and Women
To make shopping for your special occasion easier, we've sorted our list of gift ideas into sections. Below you'll find:
The best 90th birthday gift ideas
Christmas gift ideas
Other great gift ideas for any occasion
Not every ideal present is one that can be bought and wrapped… so we have included plenty of special gift options that are "outside of the box" so to speak. We've listed some ideas for experience gifts, subscriptions, and sentimental gifts that are sure to bring fond memories.
Many of these gift ideas are available with Amazon Prime's fast free shipping (often arriving in just one or two days!). If you're not already a Prime member, you can get a 30-day FREE trial of Amazon Prime here!
Unique 90th Birthday Gifts
Imagine all the changes and experiences one witnesses over nine decades! From world events to personal memories, turning 90 is a journey through history itself. Every wrinkle, every story, and every laugh line is a testament to their unique journey.
Here are some great 90th birthday gift ideas that we think they will love!
Related: Ridiculously Funny Coffee Mugs You Need Right Now
Christmas gift ideas for 90 year olds
Other great gift ideas for any occasion
Related: The Best Gifts for Bird Lovers
Related: Gifts for Grandpa He's Sure to Love
Subscriptions and Digital Gifts
In a world where the digital sphere is becoming more significant, gifting something that exists in the cloud or online has its own charm and practicality. Subscription and digital gifts are wonderful for those who love staying updated or entertained through the click of a button. Plus, they're gifts that keep on giving, often month after month.
Here are some excellent digital and subscription gifts perfect for a 90th birthday celebration.
Magazine or Newspaper Subscriptions
Nostalgic Magazines: What better way to evoke memories than a subscription to a nostalgic magazine like Good Old Days magazine? These publications, which often feature articles, pictures, and pop culture references from yesteryears, can offer a sentimental journey through time. It's like a monthly dose of good old days delivered right to their doorstep.
Monthly Crossword Puzzles: For the crossword enthusiast, you could arrange for a monthly delivery of challenging puzzles. These puzzles can be specifically chosen to match their skill level, and some services even allow you to add personalized clues or themes. Not only is this a fun activity, but it's also a great way to keep the mind sharp.
Streaming Services
Netflix Subscription: If your 90-year-old is a movie or series buff, Netflix has a wealth of options tailored to all sorts of tastes. From classic films to modern hits and Netflix originals, the platform offers endless hours of quality entertainment. Plus, with the option for multiple user profiles, they can share the gift with family members too!
Spotify for Music Lovers: For someone who loves their tunes, Spotify is an inexhaustible resource. A premium subscription lets them listen ad-free, download their favorite tracks, and explore playlists curated just for them. It's a beautiful way to rediscover beloved songs from their past or even discover new genres and artists.
Digital Memory Libraries
Explore Family History: If they're interested in genealogy, a subscription to Ancestry or MyHeritage can be a window to the past. With access to countless historical records, they can piece together their family tree, discover long-lost relatives, and even find out what traits have been passed down through generations.
Digital Photo Storage like Google Photos: The modern world offers new ways to cherish memories. By gifting a subscription to a service like Google Photos, they can securely store and easily access decades of photos. Even better, family members can contribute to shared albums, creating an ever-expanding digital scrapbook.
Remember, the beauty of digital and subscription gifts lies in their flexibility and the sustained joy they bring. They're gifts that don't collect dust but rather offer a continually refreshing experience.
Experience Gifts
Experience gifts are all about creating lasting memories rather than giving tangible items. They focus on time spent, new adventures, or rekindling old memories. For someone who's seen as much of life as a 90-year-old has, these gifts can be profoundly meaningful.
Memory-driven experiences
Organize a Heartwarming Family Reunion: Gathering the whole family from all corners is the perfect way to walk down memory lane. Pick their favorite local park, maybe a spot they've often reminisced about or where they spent many weekends with family. To make it even more special, recreate some of their favorite old-time picnic recipes or play music from their younger years.
Surprise Video Tribute: In today's digital age, distance doesn't need to keep loved ones apart. If family and friends are scattered worldwide, use platforms like WeTransfer or Dropbox to gather short video messages. These can then be compiled into a heartwarming video montage. Platforms like Animoto or Filmora can help make the editing process a breeze. Maybe include snippets from their favorite songs or incorporate old family footage for an extra nostalgic touch.
Spend the Day Together: It may not seem like a big deal, but one of the best gifts you can give is your time and attention! Sit in the living room and have a chat, drink some tea, look through old family photos, or ask them to tell you their life story. If they want to, you might look up people that they used to know – old classmates, coworkers, or friends – to see if those people have photos on social media or obituaries listed. It may seem sad, but it could be a great way for them to reminisce and connect with their younger days.
Letters and Testimonials: Encourage the younger generation to write letters or stories. These could be their favorite memories, a special message about good times together, or best wishes for the next year of life. These hand-written notes, brimming with love, could be the best gift they receive.
Relaxation and Leisure
Spa Day Retreat: Everyone, irrespective of age, loves a little pampering. Book them a spa day at your local day spa or wellness center. Think beyond the basic massages—how about a gentle mud bath, aromatherapy sessions, or even a soothing facial tailored for mature skin?
Theatre Night Out: The arts have a timeless appeal. Secure tickets to their favorite classic play, musical, or other performance. If mobility is a concern, consider premium seats with extra legroom or even box seats. And why stop at the play? Maybe arrange for a lovely pre-theatre dinner at a nearby restaurant they've always loved or wanted to try.
New Experiences
Museum Adventure: While they might have 90 years of personal history, there's always something new to learn. If there's a museum or historical site nearby they've never visited, plan a day out. Many establishments offer guided tours, providing a rich, immersive experience.
Creative Workshops: Is there a craft or skill they've shown interest in but never pursued? Local community centers or art schools often host short-term pottery classes, painting workshops, or even dance lessons tailored for seniors. It's not just about the skill but the joy of trying something new and meeting fellow enthusiasts.
Remember, the key to experience gifts is not just the activity itself but the thoughtful planning and personal touch you add to it. Making them feel cherished is the best gift of all!
Conclusion
The 90th birthday isn't just about marking another year. It's about celebrating love, memories, and shared experiences. While these gifts are all thoughtful, remember, it's the emotion and the memories behind them that truly count.
Phew! That was quite a list, wasn't it? Here's hoping you find the perfect choice to make their day truly memorable. Cheers to 90 years and many more memories to come!