15 Best Halloween Gifts for Adults: Spooky Finds to Die For
This post may contain affiliate links. If you make a purchase, I earn a small commission at no extra cost to you. As an Amazon Associate, I earn from qualifying purchases. Read more about these links in my disclosure policy.
Halloween, a celebration loved by both children and adults, brings forth a plethora of spooky-themed products and gifts. For grown-ups, Halloween is not just about dressing up; it's an opportunity to bring out the creativity and enjoy the eerie ambiance of the season.
While there are countless Halloween gift options to choose from, finding the perfect one for an adult can be a challenge!
In the realm of adult Halloween gifts, there are several factors to consider, such as personal tastes, preferences, and, of course, the scare factor. From home décor with a chilling edge to horridly delightful fashion accessories, these products can be tailored for individuals who want to add an eerie touch to their lives.
To help you find the perfect offering, we delved into the vast array of Halloween gifts available and narrowed down our selection.
After extensive research and testing, we have compiled a list of the best Halloween gifts for adults that are sure to make their All Hallows' Eve all the more unforgettable. So, join us as we share our expert recommendations, keeping in mind the spookiness, charm, and practicality of these ghastly gifts.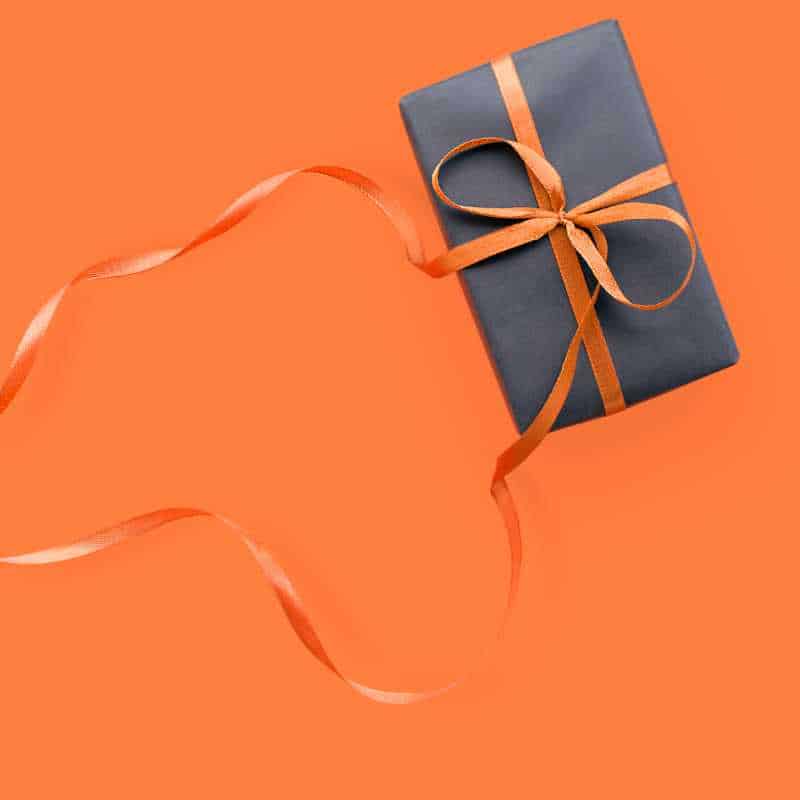 Why trust Gift Brilliant's gift recommendations? We won't overwhelm you with a huge list of gift ideas that people don't really want. We share gift options that we have personally gifted or received, gifts that others have told us they loved, and a few gift ideas that we would love to have ourselves!
---
Spooktacular Halloween Gifts for Adults
Boo! It's that terrifying time of year again, and we've conjured up a frighteningly fabulous list of the best Halloween gifts for adults. Hold onto your broomsticks as we unveil our top ghoulish goodies that are sure to make your inner vampires and werewolves howl with delight.
Jack Skull Bath Bomb
We couldn't help but get excited when we tried this Jack Skellington Bath Bomb. Makes taking a bath feel like a Halloween celebration without losing any of the relaxation.
The distinct black and white skull design featuring Jack's face screamed spookiness, making it an excellent gift or indulgence for our fellow Halloween fanatics.
The pumpkin apple butter scent struck us as the perfect choice – it's seasonally appropriate, warm, and cozy. We love that the bath bomb is 100% vegan, catering to a wide range of users with different preferences.
This fun gift provides a delightfully spooky and relaxing bath bomb experience, perfect for Halloween enthusiasts or Nightmare Before Christmas fans.
See on Amazon
Many of these gift ideas are available with Amazon Prime's fast free shipping (often arriving in just one or two days!). If you're not already a Prime member, you can get a 30-day FREE trial of Amazon Prime here!
Best Horror Movies of All Time Puzzle
As avid horror movie enthusiasts, we absolutely love this Horror Movie Puzzle. This 1000-piece jigsaw puzzle showcases 99 classic horror films that truly tested our knowledge and passion for the genre. The completion of this puzzle leads to a thrilling sense of accomplishment and will spark lively conversations about your favorite horror flicks.
The quality of the pieces and the vivid print make this an enjoyable puzzle to put together. With dimensions of 27.5 x 19.7 inches, it can become a perfect wall decoration when completed and framed - just grab some puzzle glue to hold it all together!
One thing worth mentioning - we couldn't help but notice that The Shining title was in Spanish. Whether that's an oversight or a movie cover included on purpose, we don't think it takes away from the fun factor of the puzzle.
This puzzle is an engaging and challenging activity for horror movie buffs. We highly recommend it as a great Halloween gift to give to a friend, or as an activity to entertain people at your next Halloween party!
See on Amazon
Jack Skellington Hooded Fleece Robe
Wrapping up in this plush hooded fleece robe is the perfect way to spend a chilly Halloween evening - or any time of year really! It's incredibly soft and comfy, making it ideal for lounging after a shower, bedtime, or while cuddled up watching scary movies. The iconic Jack Skellington print adds a whimsical touch!
This adorably spooky robe makes for a fantastic gift for any Disney, Tim Burton, or Nightmare Before Christmas fan!
See on Amazon
Halloween Coloring Book for Adult Relaxation
We love a good adult coloring book, and this one is no exception. The Halloween-themed designs range from cute to spooky, ensuring that there's something for everyone's taste.
The high-quality illustrations provide just the right level of detail, perfect for getting into the Halloween spirit while reducing that holiday stress.
This coloring book makes for a fantastic adult Halloween gift for those looking to unwind and express their creativity in a fun way. A pack of coloring markers makes the perfect addition to this great gift!
See on Amazon
Halloween Makeup Bag
I just love this little makeup bag and I think it has so many possibilities! It makes a thoughtful Halloween gift, especially when filled with a sweet treat, a gift card, or even some homemade Halloween cookies.
Having a Halloween wedding? Fill it with a few special trinkets and use it as a fun gift for the bridal party. It's also the perfect size to use as a treat bag for a dinner party or birthday party on October 31st!
The bag features a double-sided print with the phrase "It's All A Bunch of Hocus Pocus," giving it a spooky and fun vibe.
The cotton-linen material is both practical and durable, ensuring that it holds up well with daily use. Lightweight, easy to handwash, and makes a quirky and practical addition to any Halloween lover's collection!
See on Amazon
Loungefly Hello Kitty Pumpkin Spice Backpack Purse
This adorable Hello Kitty backpack is a must-have for Halloween lovers, with its charming pumpkin-themed design! Made of faux leather, this Loungefly bag is both fashionable and made with fantastic quality.
One of our favorite features of this bag is its convertible nature, effortlessly transitioning from a backpack to a purse. The adjustable shoulder straps and top carry handle make it incredibly easy to carry around, whether we're out running errands or attending Halloween parties.
Though the backpack looks compact, it surprisingly manages to fit all of the essentials like phone, wallet, and a few snacks. Fill this bag with a few Halloween treats for the ultimate gift idea!
See on Amazon
3D Skull Ice Cube Mold Tray
If you're looking for a spooky yet practical gift for your Halloween-loving friends, look no further than this fun and impressive ice cube mold.
These skull ice cubes really added an eerie touch to your drink, keeping it chilled without diluting the flavor - which is a definite plus for any whiskey lover.
The best part about this ice cube mold is that it's not just limited to making ice – you can also create Halloween-themed soaps, chocolates, and candles. It's easy to clean, and knowing that it's BPA-free and safe for use with food is comforting. It's microwave, oven, and dishwasher safe - which is a huge plus in our book!!
This spooky gift idea will be a great conversation starter this Halloween season!
See on Amazon
Skull Mason Jar Mug Set
These Skull Mason Jar Mugs will spook up any Halloween celebration while offering a durable and stylish drinking solution. This set is the perfect Halloween gift for someone who loves a creepy yet functional product (like us!). The skull design on the mason jar mugs is just the right mix of spooky and fun.
Upgrade this gift by pairing it with a bottle of wine or other delicious beverage. These mugs will certainly grab attention at any Halloween gathering and strike up interesting conversations!
See on Amazon
Halloween Wine Tumbler
We definitely recommend this tumbler for those who want to level up their Halloween celebrations with a unique and functional gift.
The Halloween-themed design, "Home Sweet Haunted Home," paired with vibrant orange color will bring a festive vibe to anyone's night!
This tumbler is a practical gift for anyone who loves to get into the Halloween spirit. Not just for wine, this stainless steel tumbler is perfect for taking all their favorite beverages on the go!
See on Amazon
Hocus Pocus Halloween Decor
Add some magic to their Halloween decor with this bewitching set!
This may be one of the best Halloween gift ideas we've found, especially if you're shopping for a Hocus Pocus fan. This adorable set includes a Halloween faux book stack, a witches' cauldron sign, and a bead garland, creating a festive Halloween atmosphere in their home.
This gift would make a charming and bewitching addition to any adult's Halloween decor collection. It's perfect for those who want to add a touch of unique whimsy to their home this spooky season.
See on Amazon
Don't Get Stabbed!: The Card Game
This horror-themed card game is perfect for adults who love a killer game night with friends, and may just be the perfect horror gift we've found. Don't Get Stabbed draws inspiration from classic horror movies, creating a spooky and entertaining experience for up to five players. One player takes on the role of the killer, while the others play as victims. The killer's goal is to eliminate all the victims, while the victims must escape to win.
Inspired by 70's, 80's, and 90's horror movies, this game will keep you on the edge of your seats while also being light-hearted enough for everyone to have a good time.
Perfect for 3-5 players, and the more friends the better!
The game comes with 64 Main Deck Cards, 13 Car Deck Cards, and an instruction book, making it easy to set up and start playing. You'll find that this game is quick, easy to learn, and perfect for adult parties - especially on Halloween night.
See on Amazon
Halloween Snow Globe Candles
These snow globe candles make cute Halloween gifts with their creative design. They include a motor combined with water sparkles and glitter to create an eerie tornado effect, giving a whole new definition to Halloween candles. And of course, the spider theme adds an extra spooky touch.
This gift makes a delightful addition to anyone's Halloween decorations - be sure to check out the other two designs available as well!
See on Amazon
Happy Halloween Wrapping Paper
Obviously not a gift itself, but a great way to package things up - this Halloween wrapping paper adds a spooky flair to your unique Halloween gifts!
This set boasts fun and creepy designs featuring pumpkins, ghosts, and more. The prints are perfect for adult Halloween enthusiasts who appreciate festive gift-wrapping. Plus, six different patterns break the monotony for gift wrapping a series of presents. Your gift recipient will appreciate the extra flair as you surprise them with their perfectly wrapped gift. Happy Halloween!
See on Amazon
---
We hope you've enjoyed this list of unique Halloween gifts for adults to help you find the best present to celebrate the spooky season! No matter what gift you choose, at the end of the day the best things in life are spending time with close family and friends. They are sure to love your gift, but more importantly they will enjoy having a great time celebrating with you!
If you know of a good idea for a gift that we should include in this gift list, please leave a comment and let us know!