13 Scarily Awesome Gift Ideas for Horror Fans
This post may contain affiliate links. If you make a purchase, I earn a small commission at no extra cost to you. As an Amazon Associate, I earn from qualifying purchases. Read more about these links in my disclosure policy.
For horror fans, there's nothing quite like the adrenaline rush of a good scare. Whether they love classic horror films, spooky novels, or bone-chilling video games, horror enthusiasts are always on the hunt for new ways to feed their obsession. If you have a horror fan in your life, you might be wondering what to get them as a gift. Luckily, we have found plenty of gift ideas to choose from!
Here we are sharing 13 of the best gifts for horror fans, from creepy collectibles to terrifying practical gifts they can't live without. Whether you're shopping for a friend, family member, or just looking to treat yourself during the holiday season, you're sure to find something that will make any horror fan's heart skip a beat.
Many of these gift ideas are available with Amazon Prime's fast free shipping (often arriving in just one or two days!). If you're not already a Prime member, you can get a 30-day FREE trial of Amazon Prime here!
Top Gifts for Horror Fans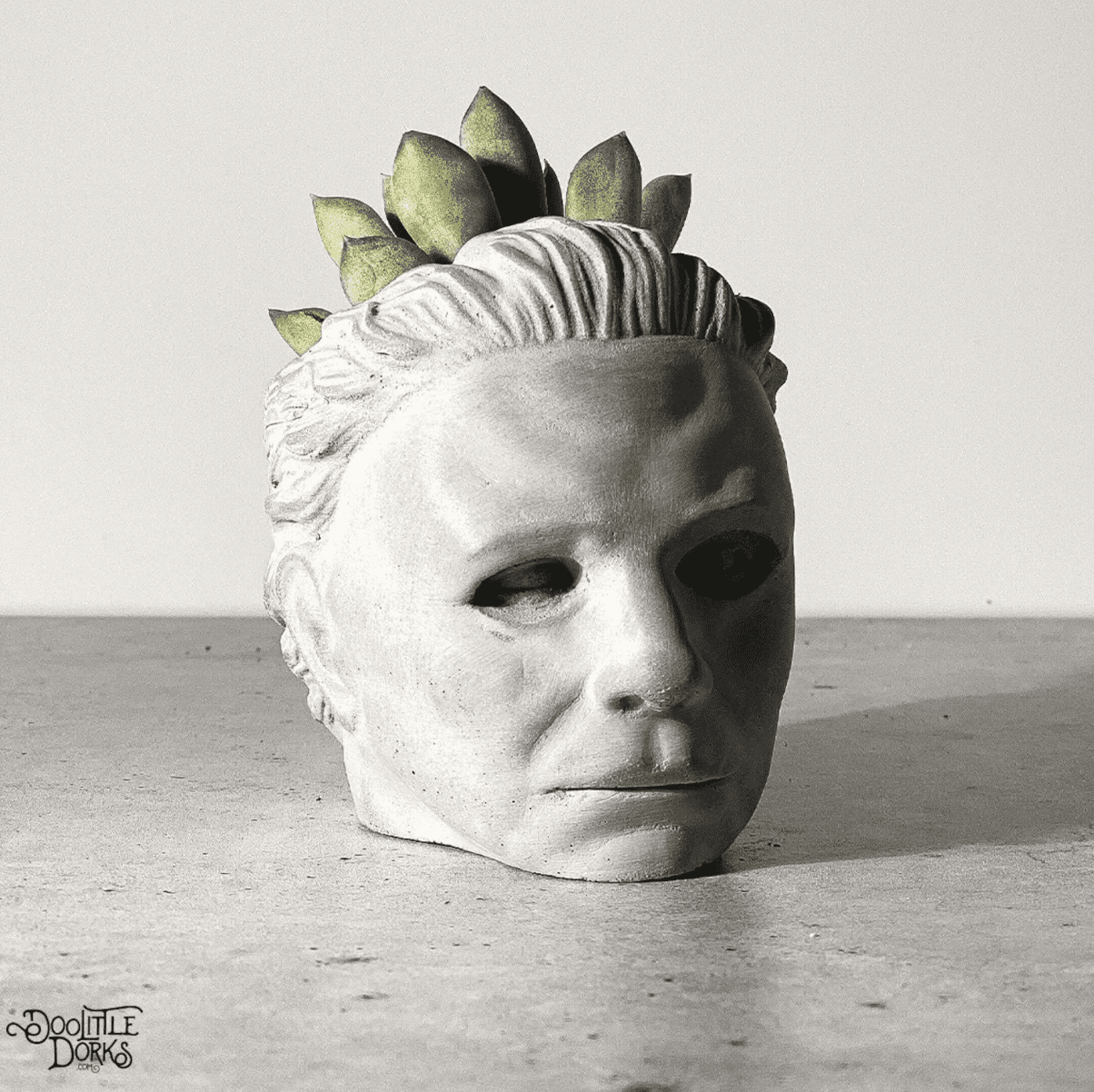 Michael Myers Concrete Planter
Who says you can't combine scary movies with pretty plants? This handmade concrete planter is the perfect way to do just that. Sitting at just 4.5 inches tall, this little desk planter is just the right size for a little spider plant, a simple succulent, or even a prickly cactus.
It's one of the best gifts I've found for a horror movie lover who also enjoys house plants. (Even if they don't have a green thumb, a faux plant would be a great alternative!)
See on Etsy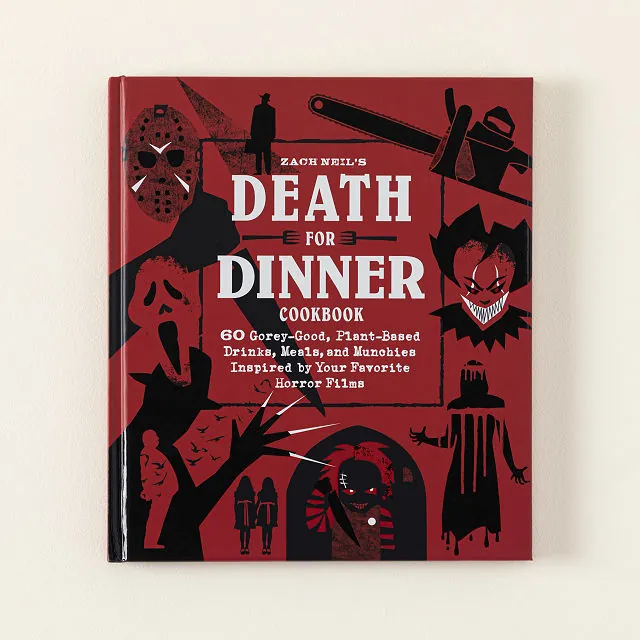 Death for Dinner Horror Movie Cookbook
Horror films are way too good to only enjoy on the big screen or during spooky season. With this gorgeous book, your horror-loving friend can throw a dinner party with a whole cookbook of bloody delicious plant-based fare. Includes 60 comfort food recipes with a macabre makeover, inspired by different horror flicks and TV shows.
Recipes include munchies like the "Crystal Lake BBQ Sliders" with pulled mushrooms; desserts like a "Blood Orange Cheesecake Trifle" that strikes a lovely balance of sweet and airy; and cocktails like "Never Sleep Again" that includes a shot of espresso. It's the perfect gift for the horror lover who enjoys cooking up trouble in the kitchen as much as they enjoy a good scare!
See on UncommonGoods
Horror Movie Charm Bracelet
This horror movie bracelet is fashionably charmed and features bone-chilling names across the span of the wrist, in a silver tone with shiny "blood red" crystals coating for a matching theme. Featuring the all too familiar nightmare-intruding faces - including Freddie, Jason, Chucky, and more - from under your bed and in your closet, with evil grins wielded. Charms even include the killers weapons!
This unique gift is perfect for any occasion, and is hypoallergenic too.
See on Amazon
Horror Trivia Card Game
Challenge your friends on frightening facts with a trivia game that tests your knowledge on horror facts in every genre. Call a priest, gas up the chainsaw, and sharpen the machete…will you survive the night? Survive by answering multiple questions correctly to collect weapon cards. The first player or team to collect 3 different weapons cards wins.
Horror Trivia is perfect for 2 or more players or teams and is an absolute "scream" at parties with about 20 minutes of game time. Ideal for horror fans, adults and teens ages 13 years and older. Game includes 150 cards with 300 questions and answers.
See on Amazon
Horror Movie Bamboo Cooking Utensils
From the kitchen to the table, these classic horror movie character bamboo spoons bring a terrifying experience to every meal. Featuring the stars of our favorite films, these bamboo cooking spoons include Freddy Krueger from Nightmare on Elm Street, Jason Vorhees from Friday the 13th, Chucky from Child's Play, Pennywise the clown from It, and a fifth utensil with all of the scary faces combined. This practical gift will be one that your special person will use every day!
See on Amazon
Horror Movie Word Art Mosaic
This horror movie mosaic features a saturated image of the terrifying Pennywise from IT, a sight that sends chills down anyone's spine. The print is filled with a scattered list of horror and thriller classics such as The Exorcist, The Conjuring, Carrie, and an infinite list of frightening movies from previous decades.
A remarkable amount of 90 horror titles and 34 individual fear wrenching characters makes the perfect wall decor for the average horror fan showing respect to the classics. (We suggest going with the canvas option for an amazing quality wall art!)
See on Etsy
Don't Get Stabbed!: The Card Game
This horror-themed card game is perfect for adults who love a killer game night with friends, and may just be the perfect horror gift we've found. Don't Get Stabbed draws inspiration from classic horror movies, creating a spooky and entertaining experience for up to five players. One player takes on the role of the killer, while the others play as victims. The killer's goal is to eliminate all the victims, while the victims must escape to win.
Inspired by 70's, 80's, and 90's horror movies, this game will keep you on the edge of your seats while also being light-hearted enough for everyone to have a good time.
Perfect for 3-5 players, and the more friends the better!
The game comes with 64 Main Deck Cards, 13 Car Deck Cards, and an instruction book, making it easy to set up and start playing. You'll find that this game is quick, easy to learn, and perfect for adult parties - especially on Halloween night.
See on Amazon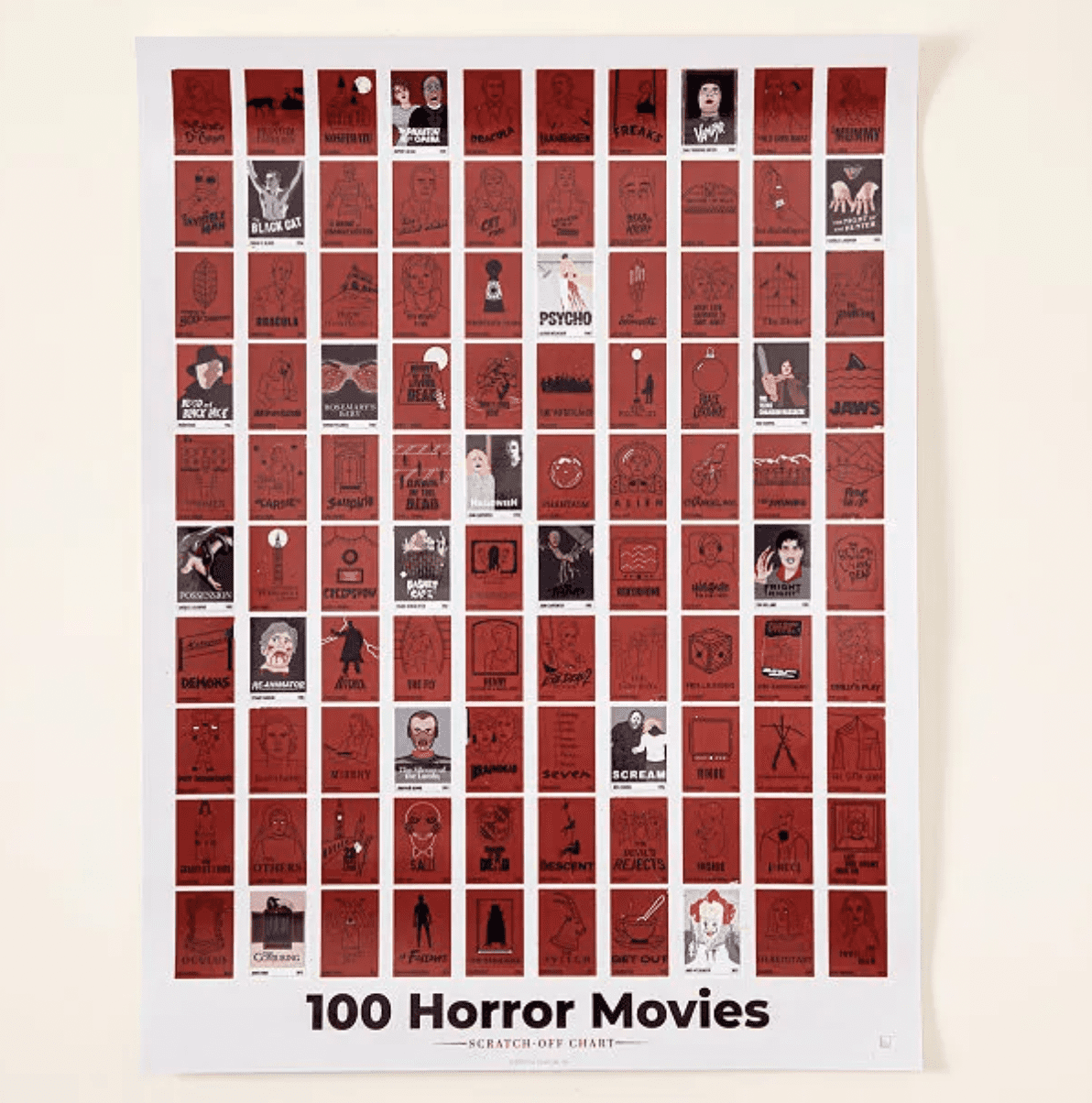 100 Horror Movies Scratch Off Chart
Looking for a way to spice up your horror movie marathons? Look no further than this interactive horror-themed poster, featuring 100 frightening films from the past century. Each movie is represented by a blood red tile, and after picking one, viewers can scratch away its square to reveal a sinister and colorful scene hidden just below the surface.
Whether your gift recipient prefers classic horror flicks or the newest screamers, this poster has something for every fan. Pair this gift with some popcorn and join your fellow horror lover on this terrifying journey through the silver screen's most ravenous creatures, unstoppable maniacs, and insidious spirits.
See on UncommonGoods
Heat Sensitive Zombie Mug
File this under funny gifts for the horror connoisseur! If you don't tell them otherwise, they will think you've just given them a plain black coffee mug. But once they fill it with hot liquid, this heat reactive mug will change and show a creepy scene as if someone is trapped inside. Deliciously horrifying, but a fun gift to give!
See on Amazon
Horror Movie Watching Blanket
Introducing the Horror Movie Marathon Blanket – the only thing scarier than the plot twists is how cozy you'll be! This super-soft blanket is perfect for wrapping yourself up like a human burrito while you scream at the TV. With five different sizing options and twelve different print options - some with personalization included - this is the perfect oversized security blanket for you to snuggle down for protection.
Whether you're watching a classic thriller or a new supernatural spookfest, this blanket is your ticket to surviving movie night in spine-tingling style!
See on Amazon
Friday The 13th Camp Crystal Lake Sign
The hesitantly approachable location for wanderlust travelers crafts a personal favorite on our list. The cursed destination could be displayed in a doorway, in a media room, or anywhere your gift recipient chooses!
Weighing only 0.4 pounds, this wooden Camp Crystal Lake sign makes for an easy and manageable move for an indecisive mind. Sure to be a noted and conversation-starting home decor item, and a well-loved gift!
See on Amazon
Friday the 13th Collection [Blu-ray]
From 1980 to 2009, the Friday the 13th deluxe edition set includes all 12 movies across 16 discs and is matched with a beautiful display case. Featuring numerous Jason styles across the box, this set is uniquely packed with binge-worthy bonus features such as uncut and extended versions.
All either rated R or unrated, this set is a great gift for any classic horror movie fan.
See on Amazon
Funko IT Collectible Figures
The classic horror movie IT is one that's too scary for me, but other horror movie lovers can't seem to get enough of it! This set of collectible figures from Funko includes Pennywise, Mike, and Stan. This trio makes for a valuable collectible, wielding even the characters unique weapon choices such as the tools in hand from Mike and Stan.
This set is the perfect gift for any horror movie enthusiasts or Stephen King fans!
See on Amazon
Friday The 13th: The Game Ultimate Slasher Edition
Released in 2017 across numerous consoles including XBOX one, Playstation 4, and Nintendo Switch, Friday the 13th (The Game) brings the slasher horror movie concept to online competitive gameplay. This game features a total of 14 counselors & 10 variations of Jason, countless weapons both for the counselors and Jason himself.
The concept: one online player will be selected as Jason and numerous others will be selected as counselors, all trying to either escape or defeat Jason before becoming victims themselves. This game makes the perfect gift for any video game-loving Friday the 13th fan in fun and appealing gameplay.
See on Amazon