Surfing isn't just a sport, it is a lifestyle. Surfing is not inexpensive so your favorite surfer will always appreciate a gift that supports what they love doing.

Purchasing a surfboard can be expensive and personal so instead, we've included some useful and practical gifts for surfers that can help them to protect their investment. Whether you are looking for gifts for your surfer friend's birthday, Christmas or any other holiday, we've got you covered.
These gifts for surfers are perfect no matter what type of budget you have.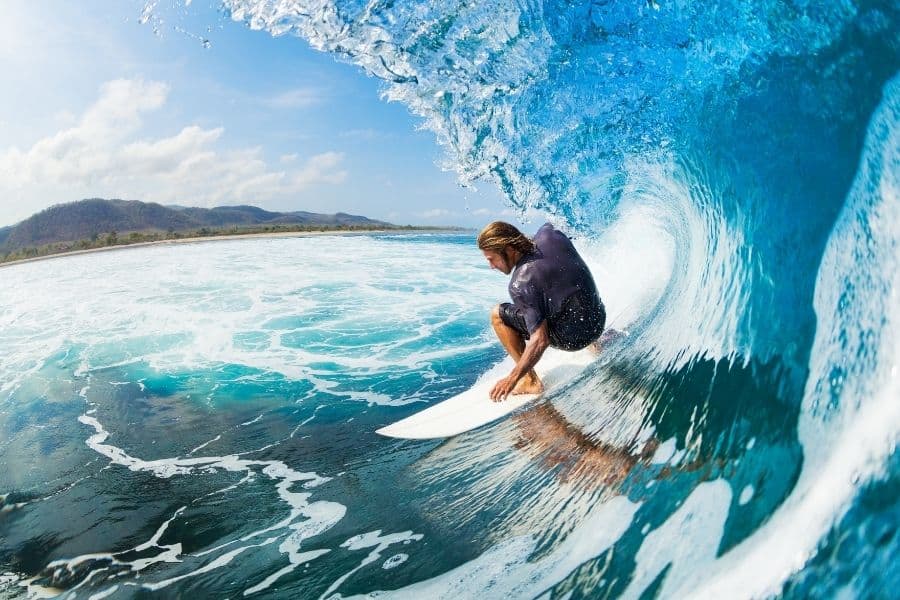 Useful Gifts for Surfers
Here you'll find the best surf gifts for beginner surfers and experienced surfers alike.
Surf Sessions
Beginning surfers can always benefit from a few lessons from the experts. Purchases some surf sessions with a local expert so they can hone their skills and become more proficient at the sport they love.
Surf Trip
If you are looking to go big with the perfect gift idea for your favorite surfer, put together a surf trip to a cool locale. Book transportation, hotel stay and put together a list of surfing hot spots in the area for them to check out.
Surf Wax
Surf wax gets used up quickly and every surfer would like to have a reserve supply. For cold water look for cool to cold wax and get a warmer rated wax for surfing in more tropical waters.
Surfboard Repair Kit
Accidents happen and dings and scratches can occur but a surfboard repair kit can help you get back on the water in a hurry. Don't waste a beautiful day when surf conditions are on point because you have a busted board.
Beach Towel
A beach towel is an essential item for any water-loving person. A traditional beach towel is a great option but look for an oversized towel that can be used to dry off both body and board. Quick-dry towels are also a great option!
Fin Keys
Chances are your favorite surfer has a few backup fins. Fin keys are easy to lose and having a few extra is always a good idea. They can store a couple in the car and a few in their surf bag so they always have one when needed.
Apple Watch and Dawn Patrol
Pair an Apple Watch with the Dawn Patrol app for the ultimate way to track all of your surf sessions. The Apple Watch is incredibly durable and you just need to load the app and hit "start surfing" when you hit the water. All your stats will be loaded for you to review later on.
Changing Mat
A wetsuit changing mat will keep your wetsuit out of the sand and easily cinches together so you can carry your wetsuit home. It protects both your car and your wetsuit.
Wetsuit Shampoo
A wetsuit can help regulate your body temperature and protect your skin from saltwater and wave rash. Unfortunately, a wetsuit can also get pretty stinky! Keep your wetsuit smelling fresh and feeling clean with wetsuit shampoo that will get all the funk out!
Surfer Ear Plugs
Surfer's ear is no fun and can have a negative impact of future surfing session. Surfer ear plugs are designed to stay put and keep water out of your ears so you can feel comfortable and keep doing what you love best.
Surfboard Socks
Surfing themed novelty socks are a fun way for your favorite surfer dude to show their love of the sport even when they aren't on the water. Socks are inexpensive but fun.
Surfing Reef Booties
Surfing barefoot is a lot of fun but in certain waters, it's important to protect your feet. Reef-filled waters can have sharp edges that can hurt you and put a damper on a fun day.
Sunscreen
Protecting your skin is so important. When you are on the water, it's doubly important because you are dealing with both the sun and the reflection off the water. A reef safe sunscreen will protect your skin and protect the waters for future generations.
Roof Rack
Surfboards are big and transporting it can be a hassle, especially if your car doesn't have a roof rack. A roof rack system that's easy to install and protects both your car and your board is essential for any surfer.
Locking Tiedown Straps
A good set of tie-down straps will protect your board and hold it in place as you travel. A set of locking straps can provide added safety measures that will deter theft and protect your investment in your board.
GoPro Hero
A GoPro is waterproof and can be easily attached to a surfboard with one of its many accessories. Shoot amazing videos of your surfing session and easily share them online or review them to improve your technique.