13 Unique Gift Ideas for Speech Therapists They'll Love!
This post may contain affiliate links. If you make a purchase, I earn a small commission at no extra cost to you. As an Amazon Associate, I earn from qualifying purchases. Read more about these links in my disclosure policy.
Back in my days as a special ed teacher, I had the pleasure of working side-by-side with some pretty awesome speech language pathologists. And trust me, these superheroes do so much for folks trying to communicate better. My youngest son is also in speech therapy and his SLPs are nothing short of amazing!
So, if you're thinking, "How can I show my fave speech therapist some love?" – I've got your back! After chatting with a bunch of them and tapping into my own experiences, I've whipped up a gift guide full of gift ideas for a speech therapist.
Let's be real: speech therapists have a toolkit that's more than just talk! From quirky educational toys and books to fancy software, they've got all sorts of gadgets to help their clients shine. When hunting for that perfect gift, think: "Would this make their day smoother? Is it a nod to the cool work they do?"
And hey, don't just think about the job stuff. What about a great gift that screams, "This is so YOU!"? Consider things that shout out their love for the speech therapy world, are a breeze to use, or can handle a bit of wear and tear.
Ready to get inspired? I've found a lot of great options (and even consulted a couple of SLP friends for input) and created a list of top picks that'll make any speech therapist's day brighter. Let's dive in and find that perfect gift idea for the speech superstar in your life!
Why trust Gift Brilliant's gift recommendations? We won't overwhelm you with a huge list of gift ideas that people don't really want. We share gift options that we have personally gifted or received, gifts that others have told us they loved, and a few gift ideas that we would love to have ourselves!
---
The Best Speech Therapist Gift Ideas
Before we jump into this list of gift items for your SLP, I want to share the number one favorite gift of every speech therapist and teacher I've asked. The best thing you can give is a heartfelt note or a handmade card from the speech therapy student. Even when you consider all the thoughtful gifts I've listed here, a card or note is priceless and is always appreciated.
If you want to give something extra with that card or note, you might consider adding a gift card to Teachers Pay Teachers so they can buy all the little things they've been wanting to add to their speech therapy toolkit.
But of course if you still want additional ideas, the following gifts are sure to make them happy no matter what time of year it is! And without further ado, here are some awesome gift ideas.
Everyone Deserves A Voice Keychain
This stainless steel keychain just may be the one of the best gifts for speech-language pathologists I've seen! The keychain has one tag engraved with "Everyone Deserves A Voice - Thank you for helping me find mine." and another heart-shaped tag that simply says "Thank you." It's a small gift that says so much about the importance of their work.
Every time they reach for their keys, they'll be reminded of the deep impact they make in people's lives. It's not just about teaching someone to speak; it's about giving them the confidence to share their story with the world. This keychain isn't just a piece of metal; it's a pocket-sized "thank you" that celebrates the magic they bring into the world, one voice at a time.
I'm not crying; you are!
See on Amazon
Personalized Speech Therapist Alphabet Tumbler
Normally I'd say Normally I wouldn't recommend a travel mug, tumbler, or water bottle for a speech pathologist. Many teachers actually ask that you NOT give those as gifts because they end up getting so many. But THIS personalized tumbler is an exception to that request! The design shown here has images and text that represents all the areas of speech and language development, including the speech therapy alphabet on the back! You can also customize the design to include the name of your favorite speech therapist on the front.
There are other designs available, so be sure to click through and check them all out before you order. This is a cute gift that will definitely be loved!
See on Amazon
Many of these gift ideas are available with Amazon Prime's fast free shipping (often arriving in just one or two days!). If you're not already a Prime member, you can get a 30-day FREE trial of Amazon Prime here!
SLP Cosmetic Bag
This is a funny speech therapist gift, and I would have loved to have the special ed teacher version of this! If your child has an IEP or speech language therapy goals, your favorite SLP has written short and long term goals to measure their progress. This cosmetic bag is a humorous play on those goals, because educators and therapists really do have to perform with 100% accuracy -- and often coffee is what helps us through it!
This little bag is a fun way to let her know you appreciate how hard she works. Tuck a Starbucks gift card inside for the ultimate gift!
See on Amazon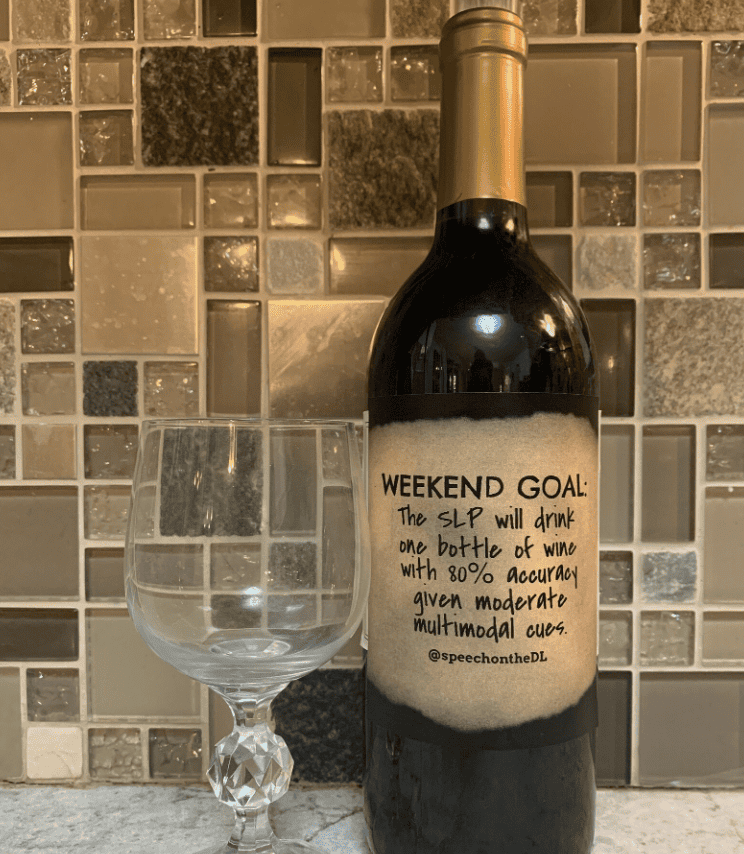 Speech Goal Wine Label
This one is a little git of a DIY gift, but I promise it's not difficult! Add this this wine label to their favorite bottle of "grape juice" to give a blend of wit, charm, and a dash of SLP pride. Handcrafted by talented Etsy artists, it's the perfect finishing touch to their favorite vino, making it a cute gift for any occasion.
See on Etsy
Speech Therapists Make A Difference Notebook
This notebook is a great option for a SLP student or speech language pathologist. It's a very simple gift, but a practical one. With the words "Speech Therapists Make A Difference One Word At A Time" on the front, this 110 page lined notebook will be useful for writing down notes, to-do lists, or ideas.
See on Amazon
Speech Language Pathology Stickers
Got a speech therapist in your circle who loves a little flair? Love giving themed gifts that reflect what they do? Say hello to this pack of 56 stickers! Each sticker celebrates the world of SLP with fun graphics and punny sayings. Whether they're jazzing up a planner, laptop, or water bottle, these stickers are a fab way for them to wear their SLP pride on their sleeve... or, you know, wherever they stick 'em!
See on Amazon
Speech Pathology Canvas Wall Art
Looking for a thoughtful and stylish gift for your favorite SLP? Check out this 12x15 canvas that artfully displays the "definition" of a speech-language pathologist! This chic piece not only celebrates the profound impact of their profession but also adds a touch of elegance to any office or home space.
It's more than just decor; it's a daily reminder of the passion, dedication, and heart that defines a true SLP. Perfect for those who not only define words but also redefine lives!
See on Amazon
Learning Resources Conversation Cubes
Roll into meaningful conversations with the Learning Resources Conversation Cubes! This delightful gift is perfect for educators, therapists, or anyone who loves sparking engaging chats. Each cube tosses out fun and thought-provoking questions, making it it easy to get speech students to practice language skills. These cubes are a great way to get everyone talking in the therapy room. It's the perfect SLP gift for those who believe the best conversations start with a playful prompt!
See on Amazon
Therapist Wine Tumbler
Looking to add a splash of humor to your favorite therapist's day? Check out this stainless steel travel tumbler that cheekily says, "keep talking, I'm diagnosing you." Perfect for those after-hours wind-down moments, it's a playful nod to their profession and a friendly reminder that, just maybe, they're always in "therapy mode." It's a great gift for your speech therapist, occupational therapist, physical therapist, or your psychotherapist!
See on Amazon
SLP Swear Word Coloring Book
This speech therapist coloring book can be an awesome gift, but only if you know them well enough to know they'll love it! This adult humor themed book not only offers a creative outlet but also showcases relatable frustrations and inside jokes from the world of speech therapy. It's a fun way to unwind after a week of exhausting speech therapy sessions. Add in a pack of high-quality colored pencils or fine tip markers for a complete gift!
See on Amazon
World's Best Therapist Candle
Ignite a sense of gratitude with the "World's Best Therapist" candle! Crafted from natural soy wax and infused with a calming lavender fragrance, this candle is more than just a delightful scent – it's a glowing tribute. Whether it's a psychologist, a physical therapist, or a trusted counselor, let them know their impact shines brightly in your life.
Perfect for setting a relaxing ambiance after a long day of hard work, it's the ideal way to say thanks to any therapist who's illuminated your path. Because the best therapists don't just light up rooms, they light up lives.
See on Amazon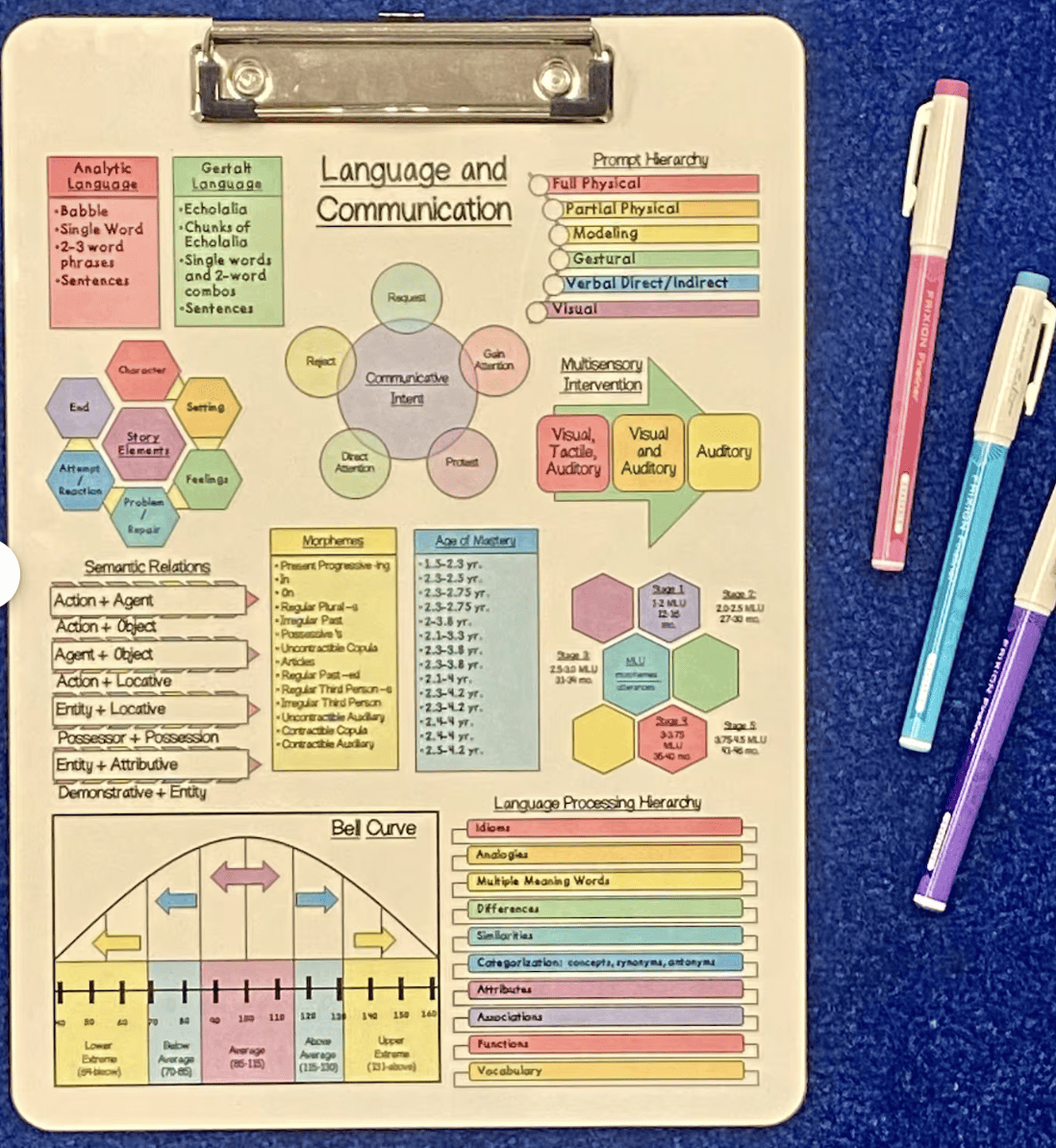 SLP Clipboard
If you're looking for practical gifts for your SLP or speech pathology student, this clipboard is a great option! This quick reference clipboard contains articulation and language therapy techniques and principles at the tip of their fingers.
While most speech therapists have a lot of info memorized, it's always helpful to have a quick reference for those days when you just can't seem to think straight! Bag up this clipboard with a pack of Flair pens (my absolute favorite), or clip a sweet drawing from your child right on top!
See on Etsy
Which of these gift ideas for speech therapists will you choose?
Hopefully this holiday gift guide has given you lots of unique speech therapist gift ideas to get you started! From functional tools to heartwarming tokens of gratitude, each gift idea speaks volumes about the profound impact of the great speech therapists in our lives. Whether you're celebrating a special occasion or simply expressing your gratitude, let your gift echo the sentiment: "Your words and actions create a ripple of change, and I've noticed."
So, the next time you're pondering over how to appreciate the speech-language pathology professional in your life, just remember this great list of gifts. Happy shopping, and here's to the voices that help others find theirs!
Don't miss these other teacher and therapist gift ideas!
Gifts for Male Teachers
Gifts for Retiring Teachers
School Counselor Gift Ideas