12 Epic Dungeons and Dragons Gifts
This post may contain affiliate links. If you make a purchase, I earn a small commission at no extra cost to you. As an Amazon Associate, I earn from qualifying purchases. Read more about these links in my disclosure policy.
Dungeons & Dragons is a fantasy role-playing game that first came out in 1974. Over the years, it has grown a cult following and was the catalyst for future role-playing games. In 2020, millions of people experienced DnD for the first time, so we've rounded up a selection of gift ideas that are perfect for newbies, seasoned adventurers, and even dungeon masters. No matter their skill level, any role-playing fans or D&D players will enjoy these 12 best Dungeons and Dragons gifts.
The Best Gifts for D&D Players
From the D&D experts behind Dungeons & Dragons Art & Arcana comes a cookbook that invites fantasy lovers to celebrate the unique culinary creations and traditions of their favorite fictional cultures. With this book, you can prepare dishes delicate enough to dine like elves and their drow cousins or hearty enough to feast like a dwarven clan or an orcish horde.
All eighty dishes—developed by a professional chef—are delicious, easy to prepare, and composed of wholesome ingredients readily found in our world. This cookbook is a great idea for a D&D game master who also loves mixing it up in the kitchen.
Whether slaying a horde of frost giants or epic dragon, take on any foes with a complete set of jumbo 25mm polyhedral dice. This complete set of seven Nyx Titan Dice from Wiz Dice include massive, intricate polyhedrals for all your roleplaying needs. Comes with this beautifully etched wooden box with sliding door. 
If you prefer metal dice sets, try this popular set of dnd dice!
This excellent gift is a wooden beer mug made from oak wood with stainless steel flask inside. Can be used for hot and cold drinks. The beer mug is fully functional and can serve as a diversion, as well as a great addition to a D&D fanatic's gaming decor.
Choose your preferred custom engraving, from options such as dungeon master, D&D, and World's Okayest DM, among others.
This set of 96 DnD Condition Markers comes with a black transparent plastic case, branded, so it looks the part next to your other gaming supplies. The large gaps make grabbing each tracker token easy, and the lid creates a tight seal against each gap, so the dungeons and dragons status markers don't mix together.
This is the perfect addition to any Dungeons and Dragons fans collection this holiday season.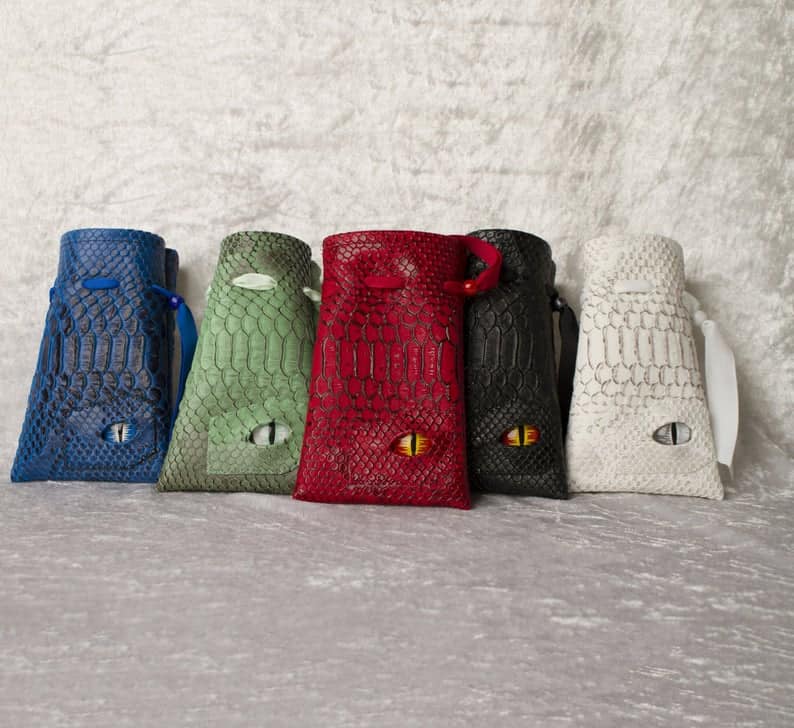 Coins, jewels, a few sets of dice all fit comfortably inside these dice bags, ready for your next battle. It's not as large as a Bag of Holding, but you can still fit a good amount of things inside these pouches.
Available in different colors, this is the ideal gift to pair with new dice for your D&D fanatic.
A beautiful and very complete 10 page illustrated campaign booklet includes everything you need for your D&D character! The individual character sheets include basic info, spell trackers, travel journal, visited places, notes, and more. The perfect gift idea for casual players and experienced players alike.
Beneath the unyielding night sky, you stand before a towering glacier and recite an ancient rhyme, causing a crack to form in the great wall of ice. Beyond this yawning fissure, the Caves of Hunger await. And past this icy dungeon is a secret so old and terrifying that few dare speak of it. Can you save Ten-Towns from the Frostmaiden's everlasting night?
Have your Dungeons & Dragons map enlarged and printed on high quality canvas that is distressed to give it an old-fashioned look that will fit in perfectly with your RPG.
Simply send your digital map file to get started on your way to an even better D&D experience. Makes an amazing gift for your D&D loving family member or friend.
This tower has been precisely cut and decorated with a high-powered laser engraver – It is adorned with a classic Dungeons & Dragons motif; Abjuration are engraved on the sides; On the tower front, the Dragon ampersand is deeply engraved over the dungeon, with the magic circle adorning the tray front.
Using dnd dice towers makes for a much better gaming experience than rolling on a table – no more dice flying off the table and no interference. A unique gift to give to someone in your D&D group this year.
This set includes the Player's Handbook, Dungeon Master's Guide, Monster Manual and a DM Screen – the foundational texts of D&D's 5th edition. This awesome gift is perfect for the beginner or anyone looking to learn more about D&D. Each of the three books and the Dungeon Master's screen feature reflective foil covers, available ONLY with this release.
This set is geared towards younger players and is the perfect present to help them get acquainted with the ins and outs of the game without being bogged down in all the rules. Includes Monsters & Creatures, Warriors & Weapons, Dungeons & Tombs, and Wizards & Spells. A great way for young players to be introduced to to some of the exciting characters, locations, creatures, and magical elements useful for creating their own epic, adventure-filled D&D tales.
D&D may be one of the most well-known board games with magic items, but it isn't the only tabletop roleplaying game out there. If your favorite DnD player is looking to try something else, Pathfinder is a great option. The Pathfinder Beginner Box contains everything you need to learn how to play the Pathfinder Roleplaying Game, including a rule book to create your own fantasy hero and tools to make your own amazing stories.
Check out other gaming gift ideas here!