30 Best 80th Birthday Gift Ideas: Unique + Special
This post may contain affiliate links. If you make a purchase, I earn a small commission at no extra cost to you. As an Amazon Associate, I earn from qualifying purchases. Read more about these links in my disclosure policy.
Are you having a difficult time trying to decide what would be the perfect 80th birthday gift for your special someone? Reaching 80 years old is a very important milestone — over three-fourths of a century! After 80 years, it's hard to think of a unique idea.
And after 80 years of receiving gifts, you probably think to yourself, "What else could they want or need?" This list will give you 30 awesome gifts for you to choose from to help you find the perfect gift for their special occasion.
Whether you're shopping for senior family members like grandparents, a friendly neighbor, or you are just looking for a special gift to give to older people you know, we have thoughtful gifts that fit every budget.
For this momentous milestone, we've made sure to find the best gifts to help them have a super happy 80th birthday. Read on to find one that will make this their best day ever.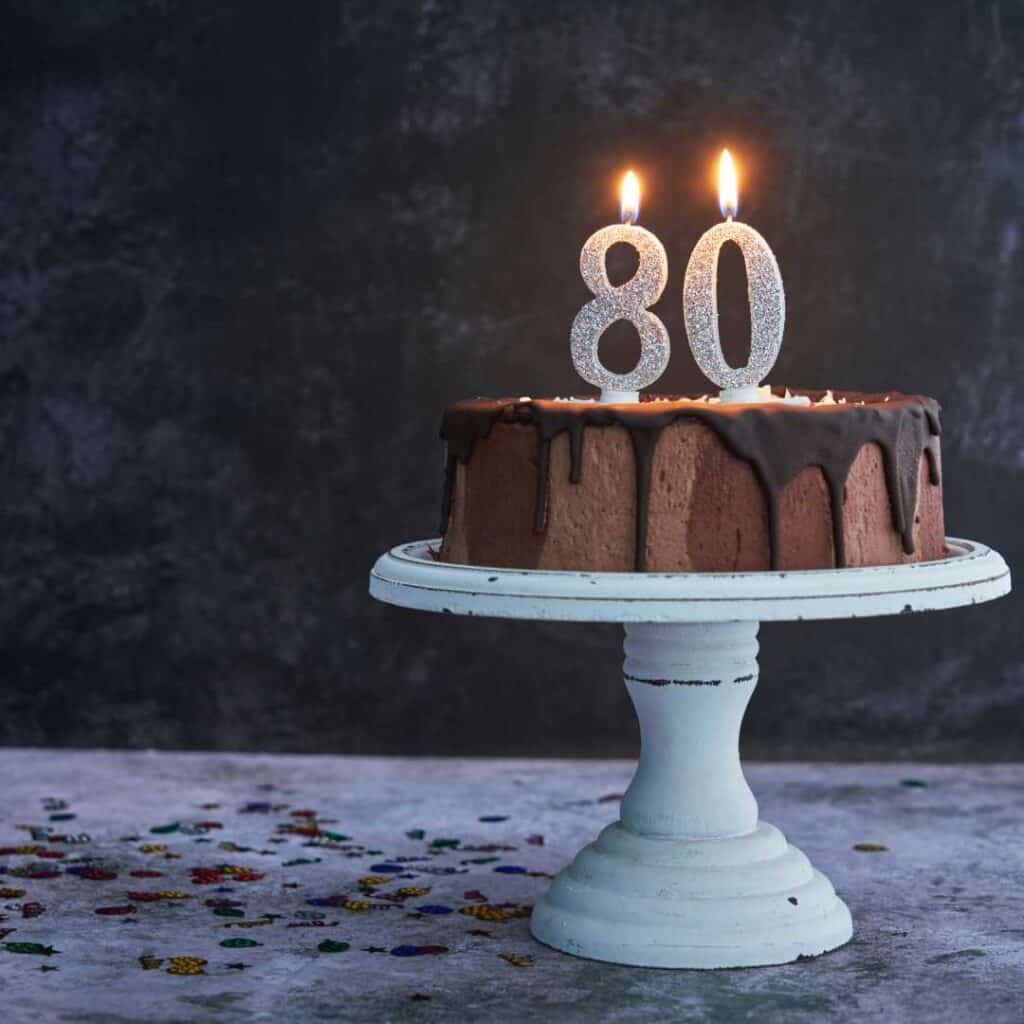 Why trust Gift Brilliant's gift recommendations? We won't overwhelm you with a huge list of gift ideas that people don't really want. We share gift options that we have personally gifted or received, gifts that others have told us they loved, and a few gift ideas that we would love to have ourselves!
How to Choose the Perfect Gift
Before we get into our gift recommendations, there are a few things to consider when choosing the best gift for an 80-year-old man or woman.
Are there any hobbies they enjoy (or used to enjoy)?
Do they have objects or memorabilia they like to collect?
Is there any new technology or tool they could use to make life easier?
Is there something that would allow you to spend quality time with them?
At the end of the day, memorable gifts are generally more meaningful to senior citizens than a big birthday present or Christmas gift that doesn't seem thoughtful. However, whatever great idea you choose to give them will definitely be appreciated.
---
The Best 80th Birthday Gift Ideas
Many of these gift ideas are available with Amazon Prime's fast free shipping (often arriving in just one or two days!). If you're not already a Prime member, you can get a 30-day FREE trial of Amazon Prime here!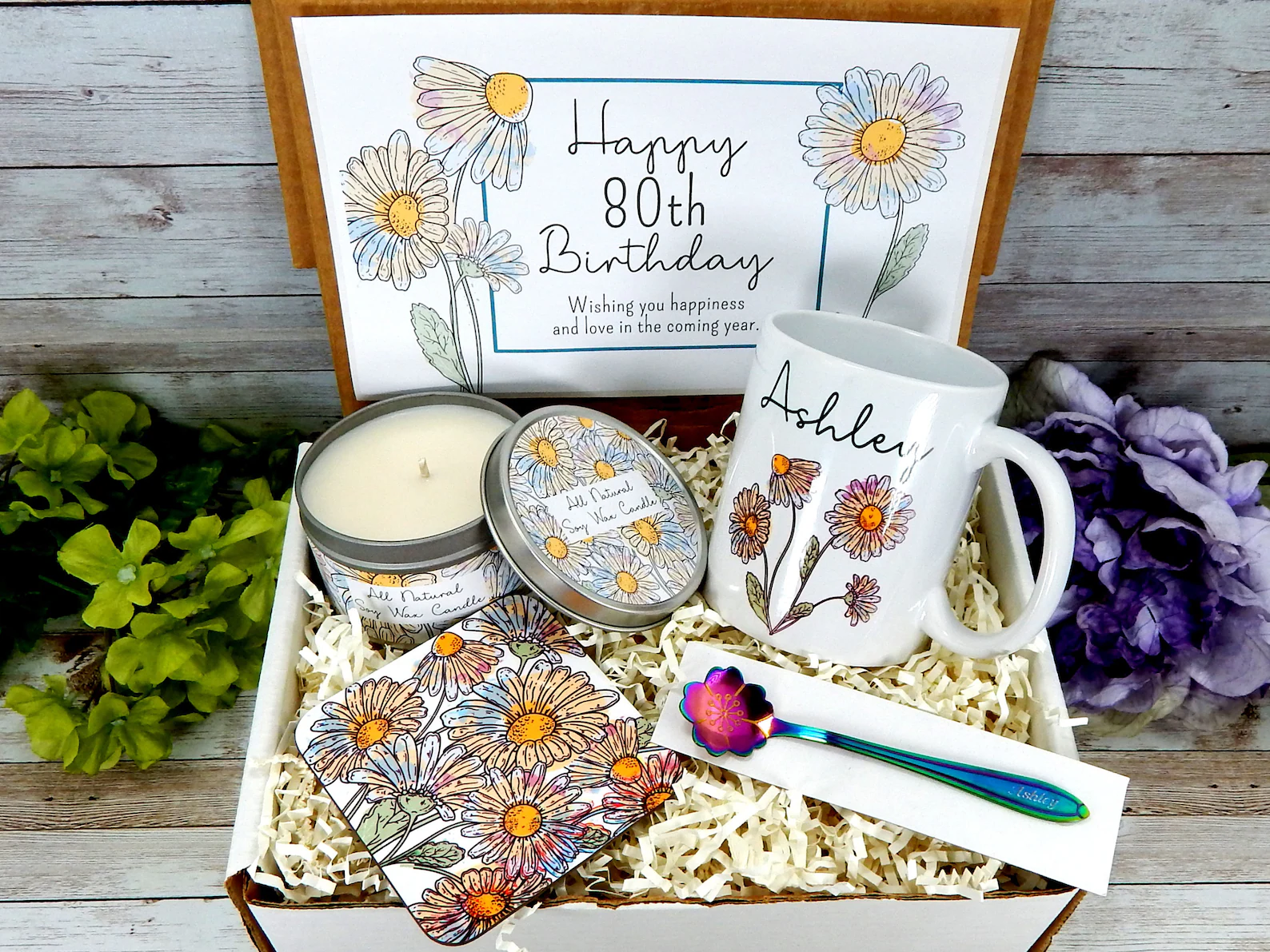 Personalized 80th Birthday Gift Basket
Why not give her a personalized gift basket for her 80th birthday? This gift set comes with a ceramic personalized mug and matching coaster, an 8 oz. scented soy candle, and an engraved sugar spoon. The beautiful graphic and custom name on the mug will never fade and will stay colorful for years to come.
See on Etsy
80th Birthday Sterling Silver Infinity Necklace
This delicate sterling silver necklace has 8 circles, one to represent each magical decade of life. Commemorate her eighty fabulous years milestone birthday with eight silver circles to celebrate her 80th birthday. This beautiful necklace comes with a gift box, bag, tissue, and extra goodies to keep the jewelry shiny.
See on Amazon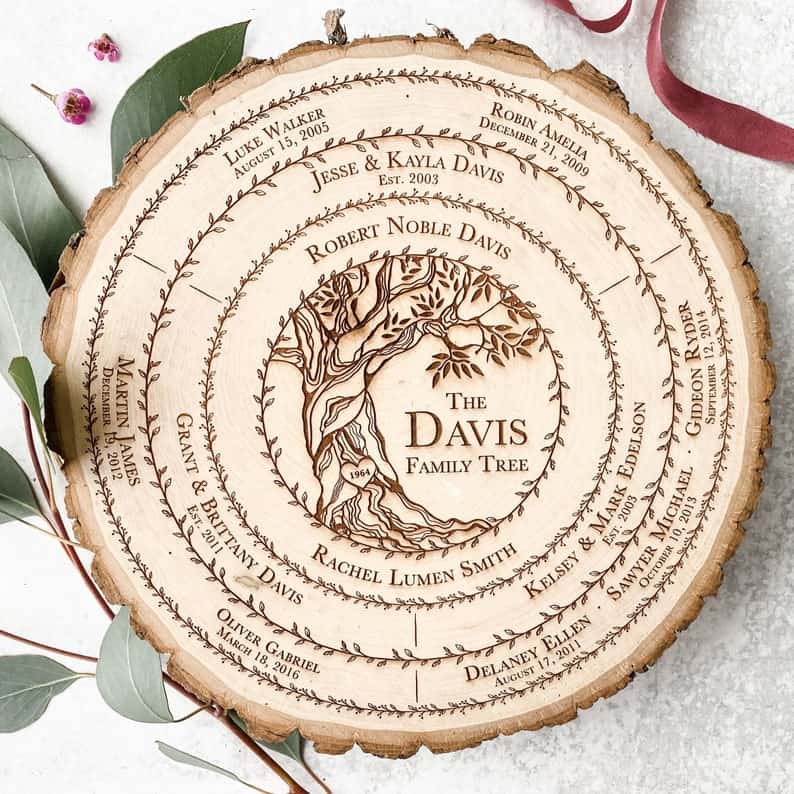 Wood Family Tree Chart
This may be the most perfect birthday gift ever, and would be a fantastic way to celebrate your favorite senior citizen's special day. Any grandparent likely has a beautiful family legacy. Help them to visualize it with a custom personalized family tree that shows their children, grandchildren and great-grandchildren all in one place. You can choose from two to six generations and customize the wood finish and size.
See on Etsy
Digital Weather Center
Older generations seem to always want to be on top of the weather forecast, and the best way to do so is with a digital weather center. This neat gadget will get a lot of use as they can easily keep up with indoor and outdoor temps, humidity, and the daily weather.
Easy to install with customizable alerts. A wonderful gift for elderly people (and honestly I want one too!).
See on Amazon
Device Tracker
Keeping up with keys and other small items is difficult for everybody but becomes increasingly more difficult as we age. Key finder easily attaches to your keys and helps you easily locate them when they are misplaced.
(Makes a thoughtful gift for senior citizens who aren't keen on using more complex tracking devices like Air Tags.)
See on Amazon
Window Bird Feeder
Nature lovers can enjoy the beauty of the outdoors without even leaving their home. A window bird feeder brings the outdoors close and it's the perfect gift for anyone who loves bird watching over their morning coffee.
Include a bird identification book and some birdseed for a unique gift that they will enjoy all year long.
(We have this exact bird feeder, and love seeing our feathered friends snacking at our kitchen window. Our cat loves watching them too!)
See on Amazon
Birthday Candle
When the candles have been blown out and the cake is all gone, this candle will still be around as a reminder of an awesome birthday! Hand poured in the USA, this soy wax candle is infused with oils that smell just like birthday cake. Arrives packaged in a gift box and ready to go.
See on Amazon
80th Birthday Angel
An 80th Birthday is a glorious occasion! This beautiful angel celebrates the joy and happiness of such a memorable milestone.
Place this beautiful gift in a bag with gold or silver tissue paper, or pair with a vase of flowers for a sentimental memorable present to cherish!
See on Amazon
"Cheers to 80 Years" Birthday Stemless Wine Glass
Making it to your 80th birthday party is an event to be celebrated! This stemless wine glass features the text "Cheers to 80 Years" with the number 80 in gold foil. Pair this pretty glass with their favorite beverage - whether that's wine, whiskey, lemonade, or something else - for a just right gift.
See on Amazon
Gravity Weighted Blanket
Everyone could use a weighted blanket. Coming in three different sizes and seven different weights, the Gravity Blanket is perfect for anyone who has anxiety or stress in their life. I've found it's relieving to hug yourself while you have the blanket wrapped around your back, since it simulates the feeling of someone hugging you - hugging is one of the easiest ways to get your body to relax.
We like this gray color, but there are different colors you can choose from as well.
See on Amazon
Funny and Gag Gifts for 50th Birthday
80 Years Funny Birthday Coffee Mug
Perfect for coffee, tea or any beverage, a funny coffee mug is a great present for 80 year old women or men that have everything. They will enjoy a laugh while they enjoy their morning coffee - or maybe they drink their favorite adult beverage during their 80th birthday celebration!
See on Amazon
Funny 80th Birthday Card
Greeting cards are a must for every birthday, whether you're able to attend the celebration in person or not. This funny birthday card is sure to give a chuckle as they kiss their 40s goodbye.
Be sure to add a gift card to their favorite store inside this 80th card to make this gift even better!
See on Amazon
---
We hope you've enjoyed this list of unique 80th birthday gifts to help you find the best present to celebrate that special person's 80th birthday! No matter what gift you choose, at the end of the day the best things in life are spending time with close family and friends. They are sure to love your gift, but more importantly they will enjoy having a great time celebrating with you and taking a walk down memory lane.
If you know of a good idea for a gift that we should include in this gift list, please leave a comment and let us know!