12 Best Gifts for 70 Year Old Men and Women
This post may contain affiliate links. If you make a purchase, I earn a small commission at no extra cost to you. As an Amazon Associate, I earn from qualifying purchases. Read more about these links in my disclosure policy.
Finding the perfect gift for everyone on your gift list this year for the holidays doesn't have to be challenging. In fact, with online shopping, it is easier than ever! Even for those that turned 70 this year, you can find the perfect gift for them.
In fact, to help you find the best gift for the 70 year olds in your life, I put together a list of some of the best gift ideas for older adults. If you're like most people, you're probably wondering what would an older man or woman even need or want for their 70th birthday party or other special occasion? While they probably have accumulated many things during their lives, there are still some unique gifts that they would love to receive!
Whether you're looking for a special gift idea for Christmas or some great 70th birthday gifts for their special day, you can find the best present ideas for all of your friends and family this year!
Ready to see what made the list for best gifts for 70 year old men and women? Keep reading…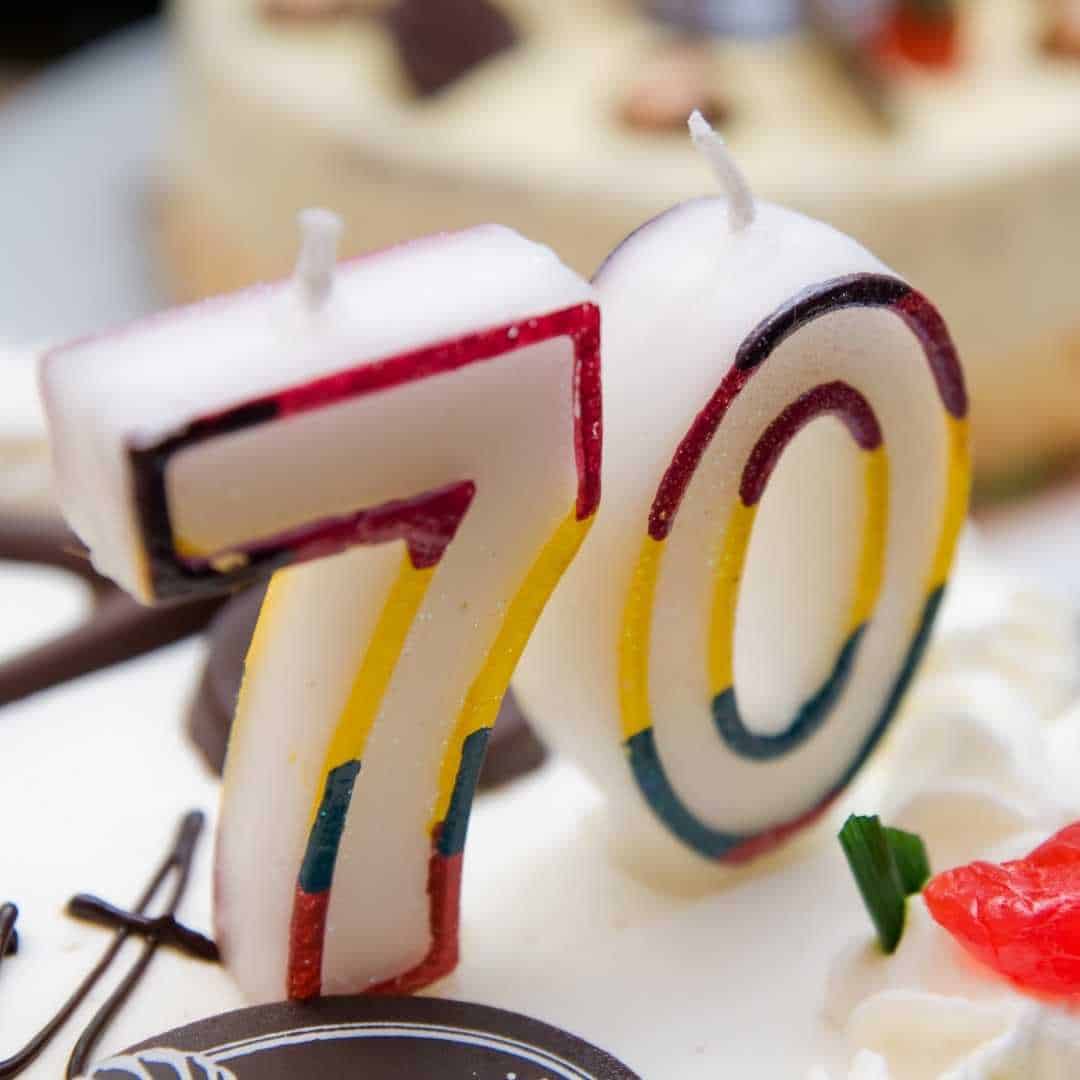 How to Choose the Perfect Gift
Before we get into our gift recommendations, there are a few things to consider when choosing the best gift for a 70-year-old man or woman.
Are there any hobbies they enjoy (or used to enjoy)?
Do they have objects or memorabilia they like to collect?
Is there any new technology or tool they could use to make life easier?
Is there something that would allow you to spend quality time with them?
At the end of the day, memorable gifts are generally more meaningful to senior citizens than a big birthday present or Christmas gift that doesn't seem thoughtful. However, whatever great idea you choose to give them will definitely be appreciated.
---
Awesome Gift Ideas for 70 Year Olds
Coffee Mugs
Mugs are generally a safe gift idea – both budget friendly and something that most people are able to use if they drink hot tea or coffee. Any animal loving tea drinker would just melt when they opened this adorable elephant mug this holiday season – especially older adults. This mug is a great gift idea for someone who enjoys a little afternoon tea!
The elephant shape of this specific mug was designed with tea drinkers in mind. Not only is the shape designed for you to wrap your hands around to keep them toasty warm, but the elephant's head holds the tea bag when you are done!
If your 70 year old mom has a sense of humor as well as an obsession with coffee, then this funny gift will be perfect for her. On it, the mug says 'Mom – no matter how hard life gets, at least you don't have ugly children'.
Even a 70-year-old woman can have a sense of humor, you know!
Technology They Can Use
For those in your life that live far away but love to stay connected, this digital photo frame is a guaranteed win for holiday gifts.
Upload pictures before you give it so that they can display it right away. Add pictures of any grandkids, pets, older family photos, and their best friend. Set the timer for 15-30 second increments so the pictures are always changing.
What makes this good gift even better? Once you connect the frame to wi-fi, you can update the pictures from anywhere in the world! Such a great way for them to see updated photos of family and friends who may no visit often (and way easier than them trying to navigate social media, right?)!
Reading is one of the best ways to keep your brain functioning and to keep your energy up in old age, so why not look into the gift of reading this year?
Whether they always have a book in their hand or want to keep their mind sharp, the Amazon Kindle Paperwhite edition is an excellent gift for the holidays this year. It comes with 3 months of Kindle Unlimited so she can read anything and everything under the sun.
Even better? It's very user-friendly so the new technology won't overwhelm any older adults. Help them out by loading up some books (there are lots of free ones), add in an Amazon gift card for them to choose a few of their own, or even give them a subscription to Kindle Unlimited along with the reader.
As you age, it is no secret that your eyes work less and keeping track of the days can be difficult. This alarm clock is designed with older adults in mind to help them keep track of days, dates, and the time with a large font and easy to read display.
This useful gift is the perfect present to add to any kitchen or living room for the 70 year old on your list. 
Gifts for Their Home
This gorgeous velvet rocking chair is the perfect gift this year for the holiday season! In over 20 colors, you can get the perfect shade of velvet for your elderly friends and family. 
Not only is the velvet fabric stylish, but it is soft enough for skin that has lived 70+ years. The rocking motion takes this comfortable chair over the edge.
To help with blood circulation and pamper tired feet, a nice soothing foot massager is the perfect gift for 70 year olds. (And if we're being honest, it makes a great 40th birthday gift too!)
Designed with elderly adults in mind, this gift will help stimulate blood flow and help its user reach ultimate levels of relaxation. 
It seems that the world is printing on smaller and smaller fonts these days and it can feel overwhelming, to be honest. This pocket magnifying glass, however, is the perfect solution.
Whether it's a restaurant menu or the nutrition facts on a box of crackers, this gift will be useful for them. Its small size is easy to store so that older adults can maintain their independence wherever they are.
A thoughtful gift for the gardener in your life is this wonderful muse garden hummingbird feeder.
If they live in a region with hummingbirds, this Muse Garden hummingbird feeder will attract them from miles away. With so many hummingbirds coming to their garden, not only will their flowers get pollinated, but it can cause hours of entertainment.
Top 70th Birthday Gift Ideas
Talk about a fun gift! This 70 & Fabulous wine glass is the perfect gift for 70-year-old women to celebrate their special birthday!
Watch her smile with delight as she opens up this brightly colored wine glass to celebrate the later years in style. Pair it with her favorite bottle of wine or bubbly so she can enjoy it with her birthday cake and ice cream!
Add on this 70 & Fabulous tiara and sash to make the perfect 70th birthday gift package!
Happy 70th Birthday Gag Gifts
For the 70 year old that has everything (and a sense of humor), these memory mints are a fun gift to give on their seventieth birthday.
They will love pulling it out at their weekly senior workout class or at the local bookstore to make others smile.
Take this gift over the top with the silly book 'How to Not Become a Crotchety Old Man'- They will love it!
While this one isn't a funny birthday gift, it is a hilarious gift for someone retiring in their 70th year! For someone looking to celebrate their retirement, this toilet paper is the perfect gift for them.
Add on these hysterical 'Do Not Disturb, I'm Retired' socks to take this gift over the top!
Which of these gifts for 70 year old men and women is your favorite?
There are so many meaningful gifts that can delight and – more importantly – make their lives easier.
From adult alarm clocks to silly memory mints to foot massagers to increase circulation, we're sure one of these gift ideas will be a hit.
So tell me… what did I miss? What gifts have you given the 70 year olds in your life that were just awesome? Tell me in the comments below!
More gift lists you may like:
Best Gifts for Grandpa
Gifts for Parents Who Have Everything