10 Beatles Gifts for Beatles Fans
This post may contain affiliate links. If you make a purchase, I earn a small commission at no extra cost to you. As an Amazon Associate, I earn from qualifying purchases. Read more about these links in my disclosure policy.
Debatably the best band of all time, The Beatles paved the way for many unique musicians. It's no surprise that in addition to creating some of the most amazing songs and albums, they also attracted millions of loyal fans – including myself! For all the fans of the Beatles out there, from the avid collectors to those of you who are just looking for a unique gift for the Beatles lover in your life, we have some great gift ideas for you. Here is our list of the best Beatles gifts on the web today!
Best Beatles Gifts and Collectibles
Many of these gift ideas are available with Amazon Prime's fast free shipping (often arriving in just one or two days!). If you're not already a Prime member, you can get a 30-day FREE trial of Amazon Prime here!
The Beatles LEGO Art
Searching for a challenge for yourself or a loved one this season? Are you as much of a LEGO fan as you are a fan of The Beatles? Why not combine the two with this collectible Beatles LEGO building kit containing over 3000 pieces?
This fun gift lasts longer than just a one-time build. With 4 different build options, you can create, destroy, and build again - or display your masterpiece on a shelf.
See on Amazon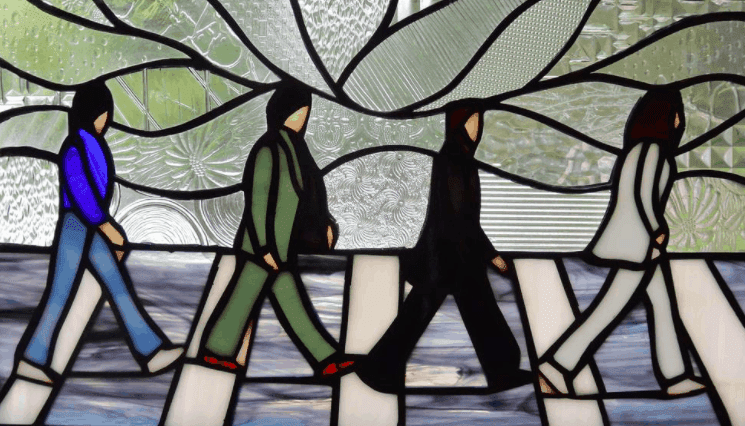 Stained Glass Abbey Road Panel
An absolutely epic Beatles gift, this piece is arguably the most impressive on the list. With the talent of crafting stained glass, this is all worth the value for the Abbey Road theme. Perfectly hit by the sunlight or moonlight for the artistic eye and fanatics yearning for the view of beauty. This handcrafted stained glass panel genuinely makes the ideal gift for any Beatles fan.
See on Etsy
The Beatles Here Comes The Sun Music Box
Music boxes aren't just for kids! Cutely compact and portable, play this beautifully decorated music box and hear the heart and soul of Abbey Road Studios.
Here Comes The Sun is a favorite song that defined decades of positivity and optimism. This is one trinket that fellow Beatles fans would love to have as a desk ornament or adornment on their bedside table.
See on Amazon
The Beatles Guitar Picks
Whether to be displayed or used by a guitar player, follow the footsteps of the iconic decade defining legends with your own guitar picks themed and based around The Beatles.
This gift set Includes an impressive fifteen guitar picks, featuring the familiar faces and album covers of the fab four. Strum away to the tunes of your favorite Beatles song!
See on Amazon
The Beatles Drums Ceramic Salt and Pepper Set
Do the Beatles metaphorically bring you flavor? To your ears and general mood, spicing the room through each rotation of their records. Well with this product you can make it quite literal, theming salt and pepper shakers off of the legendary group is sure to make for lovely home decor for your lucky gift recipient!
The salt shaker has The Beatles printed on its face, while the pepper shaker features Sgt. Pepper's Lonely Hearts Club Band.
See on Amazon
Hot Wheels The Beatles Series
Do you ever see a product in a store and think to yourself how in the future it will most likely be a rare collectible? Well in a sense of foreshadowing, this is probably one of those products. Tending to rake in a large asking price years down the road, seeming to only see them rarely while bidders run wild with financial ranges. So grab one while you can and proudly say you hold a rare milestone to Beatles merchandise!
See on Amazon
Looking for more gift ideas?
Check out 12 Gag Gifts that They'll Never Forget!
Yellow Submarine [DVD]
Journey down the roads of Pepperland in this 1968 musical animated film, for the entertainment of children and the admiration of adults. One for the elders and the kids, all around the household! Sing along with your favorite Beatles songs as you watch this classic.
See on Amazon
Beatles Abbey Road Jigsaw Puzzle
Picture this... listening to your favorite Beatles records, drinking something yummy from your home bar, and putting together this awesome jigsaw puzzle of one of your favorite albums.
One of the best things Beatles fans love is when a personal hobby collides with their favorite band - as in this 1000 piece puzzle of the 1969 Beatles Abbey Road release. They will love to piece this together with the family and friends over and over again!
See on Amazon
Related: Check out these great gifts for the music lover!
The Beatles Albums Poster
Undoubtedly The Beatles have had numerous releases whether it be full length albums, deluxe editions, remastered projects, or compilations. This product immediately portrays the feeling of a record shop in your own home, inclusive of countless titles across the artists discography. Spanning everywhere from pieces in the 60's to modern pre recorded releases, The Beatles always prove to weather the storm decade by decade remaining familiar until infinity.
See on Amazon
Which of these Beatles gifts is your favorite? Is there an amazing gift option on your wish list that we've missed? Let us know!
See more gift ideas for all kinds of music fans here!