13 Great Teacher Gifts for Men (Plus What Not to Give)
Teaching is a difficult but incredibly rewarding job that deserves some recognition. Buying a gift for your child's teacher doesn't have to be expensive but should be meaningful. If your child has a male teacher, you may be at a loss for what to get.
No worries on finding the best gift for that cool teacher though – as a mom of 4 and a former teacher myself, I have some amazing gifts that your kid's teacher is sure to love!
Whether you're shopping for Christmas, teacher appreciation day or just want to honor your child's teachers, choosing the right male teacher gifts will be easy with this curated list. You can easily give any of these teacher gifts for men and know that it will be well appreciated.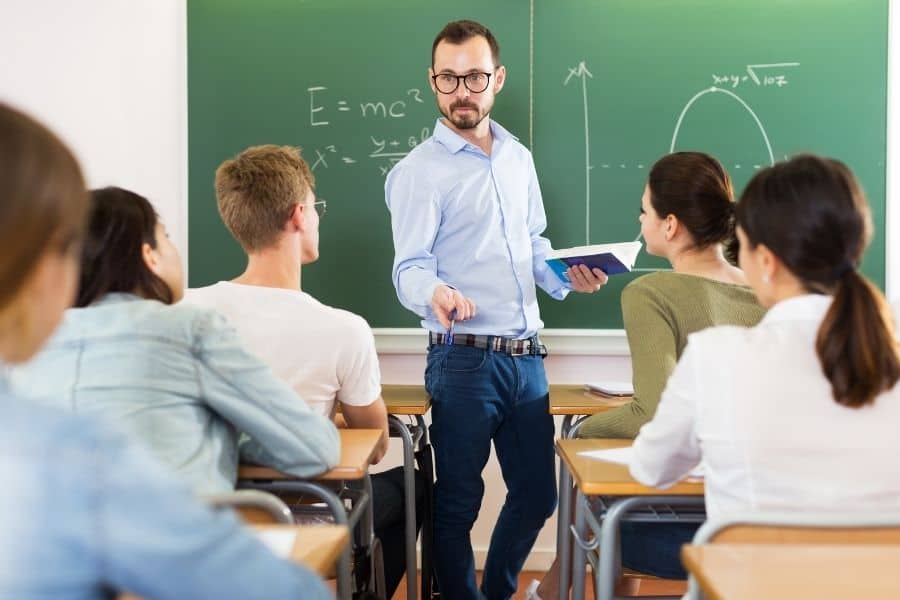 5 Teacher Gifts to Avoid
Everyone wants their gift to be well received so in addition to supplying you a great list of teacher gifts for men, we recommend that you avoid these 5 gifts.
Teacher-Related Gifts – Gifts with apples, pencils and rulers in the decor are kind of cliche and should be avoided.
Ties – If your child's teacher wears a tie everyday, they probably already have a collection. If they don't often wear a tie, they probably aren't going to start wearing one any time soon.
Clothing – Picking the right size and style can be difficult so it's best to avoid clothing.
Coffee Mug – Teachers receive so many mugs! If a teacher gets one or two mugs for every holiday, that can quickly add up to more mugs than a teacher knows what to do with.
Alcohol – Alcohol is expensive and personal and not everyone drinks. Some teachers may also feel uncomfortable receiving alcohol at school. If you are certain your child's teacher would appreciate a bottle of wine, consider giving a gift card to a local wine bar or liquor store instead of sending an actual bottle.
13 Great Teacher Gifts for Men
School Supplies
Teachers are known for spending their own money to keep their classrooms running smoothly. Trips to the store to pick up supplies that have run out or aren't covered by the school budget can add up quickly.
Although we suggest you avoid cliche gifts with symbols of apples and rulers, school supplies are always needed in classrooms. Items that get used up quickly such as glue, pencils, dry erase markers, Post-it notes, paperclips, markers, and erasers are always practical gift for teachers.
And even if they receive this from several parents, they are still useful.
Water Bottle
Busy schedules mean teachers don't always have time to step out for a drink of water. Plus all that talking can do a number on your voice. An insulated water bottle will keep their water cold and their coffee hot all day long.
Rubber Stamp
Make it easy for your child's teacher to give a personal touch to the piles and piles of school work that need their attention with a personalized self-inking rubber stamp. Put their name and a fun message that can be stamped on to student work.
Restaurant Gift Certificate
Even though many young children are under the impression that their teacher lives at school, they do have lives outside of the building!
A restaurant gift certificate is a wonderful way to thank your favorite teacher and give them the opportunity to enjoy a night out on the weekend or following a stressful day.
Gift Card
Gift cards are the perfect gift for anyone who may be difficult to buy for. If you aren't familiar with your child's teacher outside of school it can be hard to select a personal gift.
A gift card is a great choice and will let him choose something that will be meaningful to him.
Movie Gift Cards / Movie Tickets
There is nothing like escaping into the world of cinema to get your mind off the stress of working. Grab a gift card to a local movie theatre or put together a fun movie night gift basket complete with candy, popcorn and a Redbox gift card.
Yard Games
Getting outside and enjoying the fresh air can rejuvenate a teacher and make them feel great. A yard game like Spike Ball is the perfect teachers gift for men.
Snack Mix
A tasty homemade snack mix or a box of assorted snacks is perfect for your favorite male teacher. He can grab something to curb his hunger between classes and to satisfy a student who needs something to hold them over until lunch.
Tablet Stand
Teachers often rely on their tablet or cellphone to bring value to their lessons. A tablet stand will keep it right where they need and help prevent it from getting knock on the floor and broken.
Personalized Name Sign
A personalized name sign is a great way to add a personal touch to his classroom. Give this custom classroom sign with the teacher's name printed on it as a unique gift.
Messenger Bag
A messenger bag is useful but still looks manly. The shoulder strap makes it comfortable and easy to carry books, papers, laptops and everything a teacher needs to keep on task in and out of the classroom.
Subject T-shirt
Your favorite guy teacher will love wearing a shirt that celebrates his subject specialty on casual Friday. This math teacher shirt is a lot of fun but your favorite science teacher, history teacher, English, art, music teacher or coach will appreciate a fun shirt too.
Funny Socks
Sometimes school dress codes don't allow teachers many opportunities for getting creative with their wardrobe. Some funny socks are a great way to have a little fun without breaking the rules.
Gift Baskets
Gift baskets are the perfect way to customize a gift for a teacher. They are also great for several families to pitch in and contribute. Making a gift basket is as easy as grabbing a basket or bucket an filling it with things a teacher would love. Ideas include a hot cocoa gift basket, dinner and a movie, fisherman gift basket, coffee lovers, or include a collection of their favorite candy because every teacher needs a secret candy stash in their desk.