12 Best Valentines Gifts for Teenage Daughters
This post may contain affiliate links. If you make a purchase, I earn a small commission at no extra cost to you. As an Amazon Associate, I earn from qualifying purchases. Read more about these links in my disclosure policy.
Looking for some Valentine's gift ideas for your teenage daughter? Look no further than this list!
As a mother of four, I have a pretty good idea of what teenage girls like for Valentines Day – including some traditional gifts as well as some cute ideas that are popular with teen and tween girls right now. To help you out, I put together this list of some of the best Valentine's Day presents. Could shopping this year be any simpler?
Ready to see what gifts made the list for best Valentines gifts for teenage daughters? Keep reading…
---
Great Valentine's Day Gifts for Your Teen Daughter
1. Bubbly Belle Bath Bombs
Pretty much every girl (and even my own teenage boy) loves to take a bath with bath bombs. They are fizzy, they turn your bath pretty colors, and they smell amazing with essential oils. It's like having your own spa at home!
The best part about these bath bombs? Besides being handmade in the USA with natural and organic ingredients, these bath bombs dissolve to reveal a pretty ring inside each one! They also come with a code so she can check the ring's value online. That's a pretty fun way to take a bath!
2. philosophy Gift Set
One of the best teenage girl gifts (and not just on February 14th) is this Amazing Grace gift set from philosophy. This scent is sooo good, it's heavenly – which is pretty fitting when you consider the name of it! This set includes an 8 ounce bottle of shampoo, bath & shower gel and a 4 ounce whipped body creme.
philosophy is known for their quality products and this set is very popular. She will feel totally loved every time she uses this perfect Valentine's Day gift!
3. OPI Nail Polish Gift Set
If she's into her nails, chances are she will love a box of OPI nail polish in different colors. OPI is one of the best nail polish brands and is widely used in professional nail salons.
This is one of those cool gifts that she won't expect to get, but definitely will love to have!
4. Barnett's Chocolate Cookie Sampler Set 
There is something about gifting sweet treats for Valentine's Day that is practically an essential, right? That's why I love this cookie sampler set. You can give your daughter a variety of cookies by one of the best bakers in the world. 
This cookie sampler set comes with 6 chocolate dipped cookie sandwiches that will make your daughter smile from ear to ear.
5. Loungefly Tote Bag
If she's into Disney, the perfect way to steal your teen's heart is with a Loungefly bag. There are tons of great ideas and styles out there, with lots of characters and prints available. The backpack style is pretty popular but we are partial to the classic design of this tote bag.
She can fill it with school supplies and show it off as she walks through the halls at school, or use it to carry her water bottles and souvenirs on her next trip to Disney.
6. … I Should Have Known That! Board Game
This fun board game is a great gift for your daughters any time of the year, but especially during Valentine's day. Why? It is the perfect conversation starter!
Whether you are looking to deepen your relationship with your daughter or just watch her friends start talking – not on their phones. This is a great gift with hours of guaranteed fun.
Related: Creative Father Daughter Date Ideas They Will Both Love
7. Mini Portable Charger
Everyone could use one of these mini portable chargers, making it the perfect gift this Valentine's Day. They can keep it in their car, backpack, or purse and be able to charge their phone in any situation. Your daughter will find herself being so grateful for this gift from you especially, since they will often find themselves with a phone low battery during their work shifts or at trips to the mall.  
This portable charger charges your electronics super fast so that you are able to carry on with your day and not worry about a dead battery. 
8. Kendra Scott Heart Necklace
Kendra Scott heart necklaces are a thoughtful gift that your daughter will love this Valentine's Day. You might think a heart-shaped necklace is too cliche, but it really is a classic and sweet Valentine's Day gift that girls still enjoy!
Show her how much you love her with this 14K rose gold necklace. There are several designs, but this one is very popular and one of our favorites. With an adorable design and a great price, this gold heart necklace is the perfect present for your young girl.
9. philosophy Lip Balm
Dry and cold temps can be rough on the lips this time of year, so give her a special gift with this moisturizing lip treatment. She will love how it moisturizes her lips and keeps them from being dry and cracked, and the slight tint doesn't add too much color.
10. Redwood Succulent Heart Kit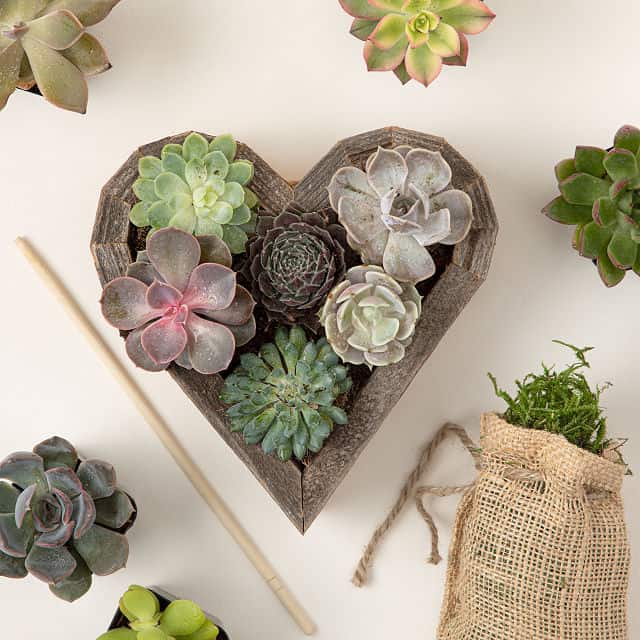 Succulents are really popular right now, and this little DIY planter kit is a unique gift to celebrate this day of love all year long! Inside the heart-shaped frame made from reclaimed redwood, she can arrange her little plants and watch them grow.
So much fun and aesthetically pleasing too!
11. Pop Fidget Phone Case
This phone case is a fun gift (and super budget-friendly) to give this Valentine's Day to your teenage daughter. Not only will it keep her phone safe, but she will love the bright colors and trendy pop fidget design!
For teens that always need to be moving, this is a genius phone case for her to fidget with while she is waiting in line or for someone to text her back.
Trust me, this is one of the few gifts that she will use over and over again!
12. Godiva Chocolates
One of the Valentine gifts that never goes out of style is the traditional box of chocolates. And if you want to give the best gifts to your young daughters, you go for Godiva.
I can't even explain why. Godiva chocolates are just THAT good.
There are so many fun gifts to give your daughter this Valentines Day, it can be hard to choose just one!
So tell me… what did I miss? Tell me in the comments what Valentine's Day gifts for daughters should have made the list?