15 Best 30th Anniversary Gifts for Couples
This post may contain affiliate links. If you make a purchase, I earn a small commission at no extra cost to you. As an Amazon Associate, I earn from qualifying purchases. Read more about these links in my disclosure policy.
If a couple has managed to spend 30 years together, that's a milestone that deserves celebration! We've found some of the best 30th anniversary gifts for couples, including traditional anniversary gifts, modern gifts, and a few creative interpretations of each to celebrate this special occasion. With gift ideas to fit every budget, check out our 30th anniversary gift ideas for her, him, and for the couple to share together!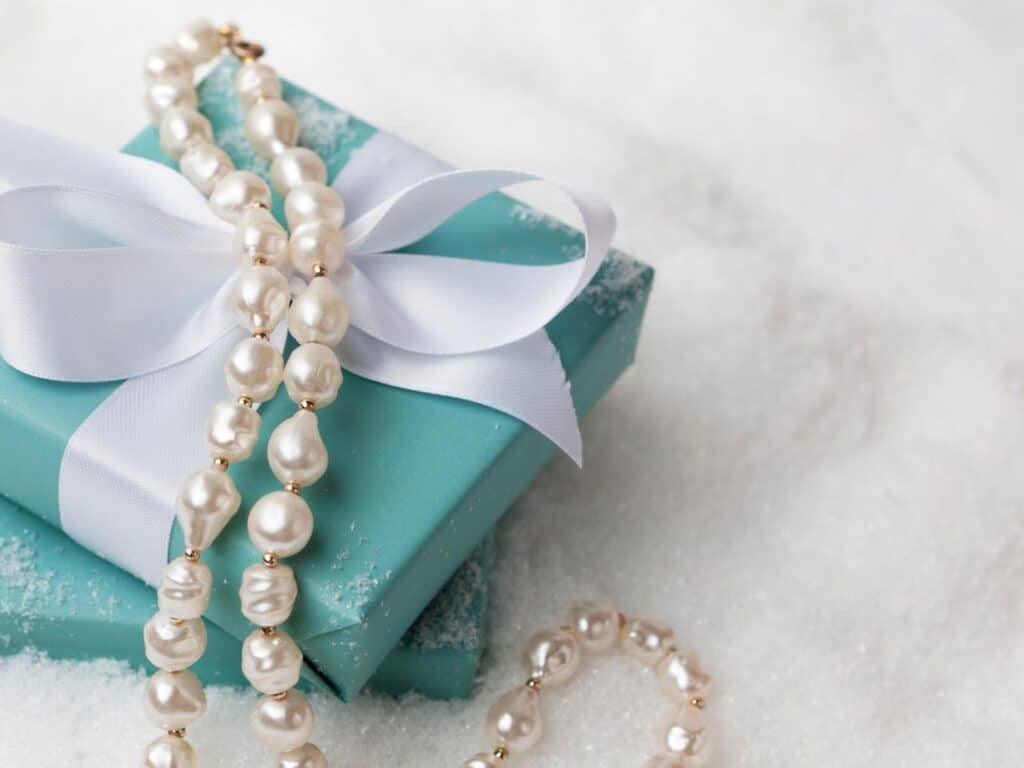 ---
Many of these gift ideas are available with Amazon Prime's fast free shipping (often arriving in just one or two days!). If you're not already a Prime member, you can get a 30-day FREE trial of Amazon Prime here!
Traditional Pearl Anniversary Gifts for the 30th Year of Marriage
People have celebrated wedding anniversaries with the giving of gifts on that special day since the Middle Ages. Traditional anniversary gifts have been traced back to the Victorian era, with today's traditional gift list being largely based on Emily Post's list that was published in 1922.
The traditional 30th wedding anniversary gift is the pearl. While handing over a precious pearl is nice, we have found a few pearl-inspired gifts that you may like instead (with more than just pearl jewelry) to celebrate this major milestone that the married couple has reached.
Freshwater Pearl Necklace
There is nothing more classic than white pearls, and a necklace is a traditional present that is never out of style. This gorgeous necklace features a sterling silver infinity design with a freshwater pearl at the center. Yes, that is a REAL pearl. Makes for a lovely anniversary gift for your beloved and allows them to wear something traditional with pride.
See on Amazon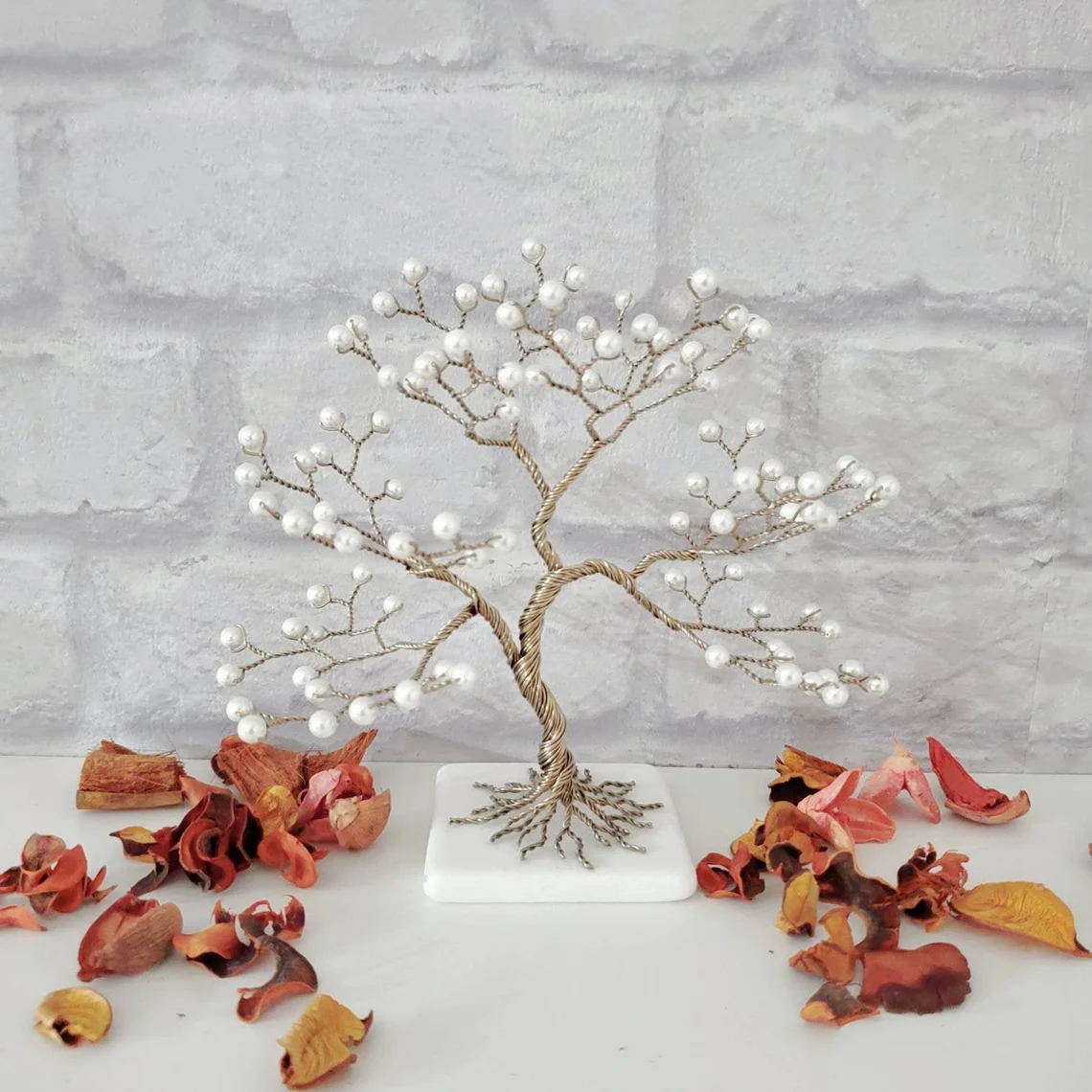 Pearl Wire Tree
This beautifully handmade wire tree is a way to give a pearl wedding anniversary gift with a modern twist. This Pearl Tree is crafted from 50ft/15m of nickel silver wire and 96 beautiful white pearls, hand-strung and twisted to make leaves. The tree itself is a symbol of good luck, a work of art that makes the perfect 30th wedding anniversary gift.
See on Etsy
Pearl Clutch Bag
For the fashionable one, this bag is a must-have. This pearl clutch is a wonderful gift that is sure to be a stylish accent to any outfit - although it may clash a bit with more sporty looks.
See on Amazon
Pearl Earrings
Aren't these gorgeous? These elegant stud earrings are a wonderful way to style yourself and your outfit for a special dinner! The gift that can be worn again and again and not lose its sparkle.
See on Amazon
Sterling Silver Mother of Pearl Crystal Cufflinks
These cufflinks make a wonderful pair to go along with the pearl stud earrings. This way, he can both be stylish for dinner and have a gift they can both consistently use - no matter if they're overdressed for the occasion or not.
These stunning cufflinks are made of the finest 925 sterling silver and include beautiful AAA white mother of pearls centers for added class. The cufflinks include a genuine cultured pearl gaurentee and come packaged for any upcoming holiday occasion.
See on Amazon
Modern Diamond 30th Anniversary Gifts
Over the years, the traditional anniversary gift lists have evolved to include more modern gift ideas. The modern 30th anniversary gift is the diamond (not to be confused with the traditional 60th diamond anniversary).
With 60 years of marriage being fairly difficult for most couples to achieve (especially with today's singles waiting until they are 30 or 40 years old to marry), the modern diamond anniversary gift is a fantastic symbol for 21st Century couples to celebrate a rock-solid marriage.
Here are our top picks for diamond anniversary gifts, with a few creative gift ideas that are "diamond-inspired" to fit your budget.
Main + Mesa Wood and Gold Diamond Wall Shelf
This versatile wall shelf is a practical gift that offers storage and display for plants, books, trinkets, and treasures. Featuring a dual diamond shaped iron frame in a gold finish with three wood plank shelves in a white wash finish (black finish option is also available).
This shelf can be mounted to any wall to maximize storage in small spaces. As functional as it is pretty, it can be installed in an entryway, kitchen, office, or bathroom to stash essentials or to highlight their most favorite things.
See on Amazon
Customized Crystal Photo Picture
This personalized crystal picture comes in mini, small, medium, and large. A wonderful decoration that truly shows pure happiness, having a 3D model of your love is truly a wonderful thing to behold.
See on Amazon
Couple Diamond Watches
In need a watch and want to be a cute matching couple? These stainless steel waterproof watches are a perfect yet simple gift that you can both enjoy.
See on Amazon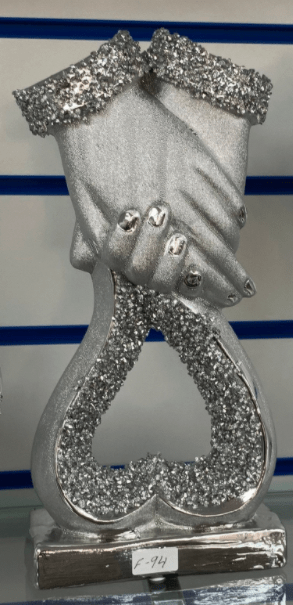 Diamond Hand Ornament
This lovely statue is a great icon to display their love and companionship in life. Your gift recipients can put this anywhere in their home and admire its beauty and significance of their relationship.
See on Etsy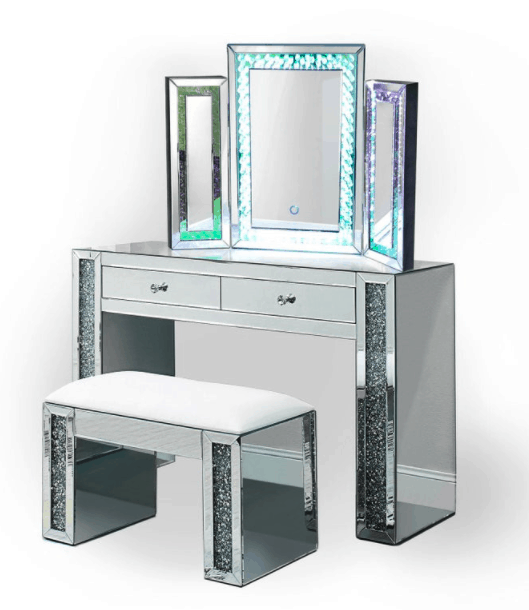 Glam Diamonds Mirrored Makeup Vanity Set
This elegant vanity is the perfect gift for the more extravagant couple. Embrace the luxury and glamorize their makeup station. The vanity is designed with the highest quality 90 CRI light source so they can better see what they're doing with a better light source than most makeup mirrors.
See on Amazon