17 Top Beach Gifts for Beach Lovers
This post may contain affiliate links. If you make a purchase, I earn a small commission at no extra cost to you. As an Amazon Associate, I earn from qualifying purchases. Read more about these links in my disclosure policy.
Do the sand, waves, and sunsets speak to your aesthetic and style? Do you enjoy sunbathing on the warm sand or swimming in the tide for the cool feeling on your skin? Do you like to relax in the shade under an umbrella with loved ones, or relax alone while listening to all the sounds of the ocean? Maybe all these things tend to lure you back to the beach and all it has to offer?
If this sounds like you, you're going to love this gift guide we've created with unique beach gifts and things that any salt water fan would be happy to have. So whether you're shopping for yourself, a family member, or a friend who would rather have fins than legs, these beach-themed gifts are our top picks for you!
Many of these gift ideas are available with Amazon Prime's fast free shipping (often arriving in just one or two days!). If you're not already a Prime member, you can get a 30-day FREE trial of Amazon Prime here!
Our Favorite Beach Lover Gifts
Large Mesh Beach Bag
What's worse than sand inside your bathing suit at the beach? Juggling everything you need to tow from the beach house to your car to enjoying some ocean waves! This mesh beach bag has multiple side pockets to organize all your small items without losing anything and can hold up to 4-6 towels. You'll have space for everything from your cell phone, towels, water bottles, sunscreen, lip balm, water, and snacks in this extra-large tote bag.
For the perfect gift idea, give this beach tote full of all those beach necessities listed above! And, check out these lightweight, oversized Turkish beach towels that I love. They come in a variety of fun designs and colors, so you can make sure you give a gift with a personalized touch.
See on Amazon
Floating Waterproof Smart Phone/Digital Camera Pouch
Make sure you don't ruin your beach trip by dropping your phone in the water! Small accidents are bound to happen, but you can prevent disaster with this waterproof phone pouch. This pouch is better than a waterproof phone case as it is guaranteed to float on the water surface for a quick grab and keeps out dirt, dust, and sand. If you're looking for practical beach gifts, you can stop right here at this great gift idea!
See on Amazon
Insulated Waterproof Backpack Cooler
This is one of the best beach gifts if you or the giftee loves to enjoy a cold drink of water (or another favorite beverage) during those long days on the beach. You can carry more in this insulated, backpack-styled cooler than you may have been able to carry in a cooler on your wrist – so grab a bottle opener and cheers with your favorite drinks with you beach-loving friend (as long as your beach allows for that, of course).
With lots of different colors to choose from, you can be ready to chill on the sand all day during your beach vacation!
See on Amazon
Beach Umbrella Hook
A beach umbrella hook is a great way to store your countless possessions – keys, towels, sunglasses, hats - while relaxing in the shade or when you take off into the ocean. This umbrella hook, which wraps around the base of an umbrella, helps you save so much space so you're not constantly reorganizing your belongings or checking they're still there!
See on Amazon
Beach Wall Art Prints
Undeniably the beach has its own unique aesthetic and atmosphere. The seashells, seagulls, crabs, sand dollars… Why not bring that coastal charm into your own home? This set of 4 hangable pieces of wall decor are the perfect beach gifts for your fellow beach lovers!
See on Amazon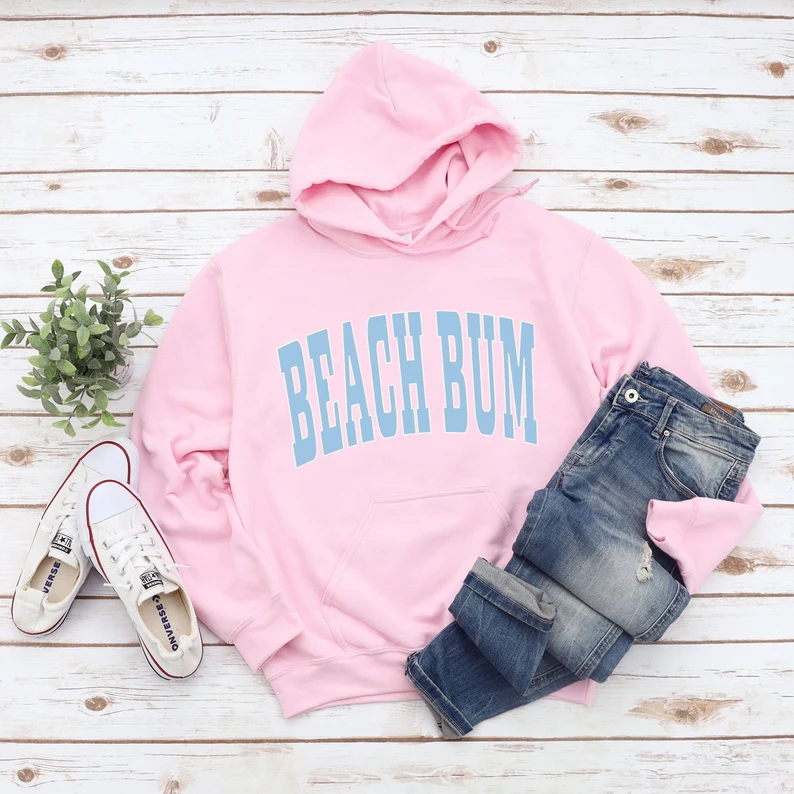 Beach Bum Hoodie
Palm trees and sandcastles, whatever the reason to return, beach bums always find themselves returning to the sandy terrain by the pier. This comfy beach bum hoodie is the perfect gift idea to keep your beach lover warm when the cool ocean breeze rolls in. Available in a variety of colors, this is one of the best gifts that they'll want to wear all the time!
See on Etsy
Schwinn Beach Cruiser Bike
What's better than a walk on the beach? Riding your bike at the beach! With a comfy seat and a single speed, you can ride along for miles. The cargo rack on the back and basket on the front will help you store everything you need!
See on Amazon
Spiker Beach Drink Sand Coaster
The beach is key to relaxation and inner peace. It's a great place to let your guard down while the sunlight glimmers in the waves with a drink by your side. However, drinks do not balance well in the sand and a spilled drink can put a damper in a fun day! This spike is designed to sit in the sand and balance any beverage – a great addition to any beach visit.
See on Amazon
Collapsible Folding Utility Wagon
If you or someone you know brings more than one bagful of luggage to the beach, then this collapsible beach wagon would be one of the most useful gifts! Designed in several colors, this foldable beach wagon is the perfect present for any ocean lover (and a good idea for those who also need a wagon for family outings elsewhere too!), It has an impressive weight capacity and front wheels with full rotation to support smooth sailing on all terrains. Well worth it if you're exploring storage or transportation for family beach enjoyment.
See on Amazon
The Beach is My Happy Place Sign
When stress approaches, we all tend to envision ourselves somewhere with closed eyes – our therapeutic happy place. I don't know about you, but I envision a restful and relaxing beach. I imagine the sound of the waves on the rocks and the sand between my toes. This piece of coastal décor accurately depicts just this – the beach is my happy place! If it's yours, or someone's you know, this sign is the perfect coastal gift that can remind them of their favorite place.
See on Amazon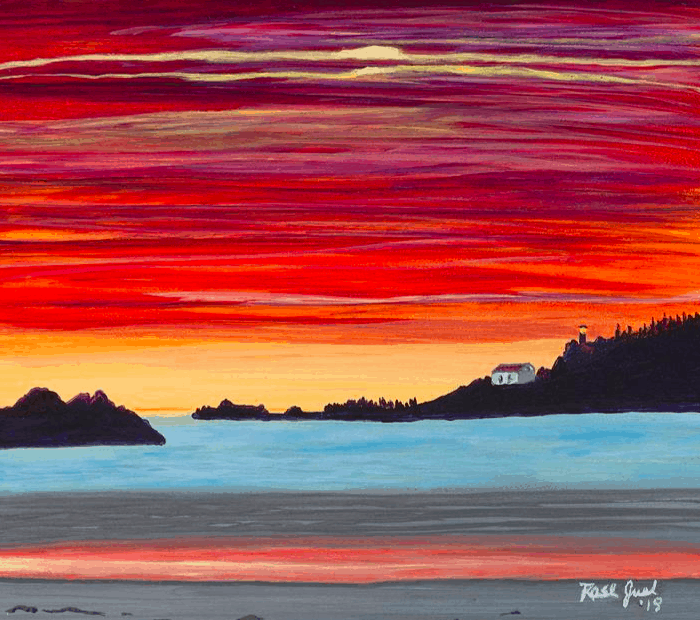 Sunset Beach Painting
Colors seem to bless the sky in a light show before the dark and sunsets are infamously eye catching. Sitting and watching a sunset while the waves gently creep up the sand is one of my favorite things! This sunset beach painting is the right gift for someone who loves sunsets and wants to bring these colors into their home.
See on Etsy
Pura Vida Jewelry Bracelets
Founded in Costa Rica, these Pura Vida handmade bracelets provide jobs to artisans and raise awareness to various charities. Each bracelet has an iron-coated copper "P" charm and has an adjustable slipknot, meaning each bracelet can be adjusted to the perfect size for different sizes of wrists.
Wax coated and waterproof, these dainty bracelets make for beautiful gifts, especially for beach lovers who like to hop in the ocean.
See on Amazon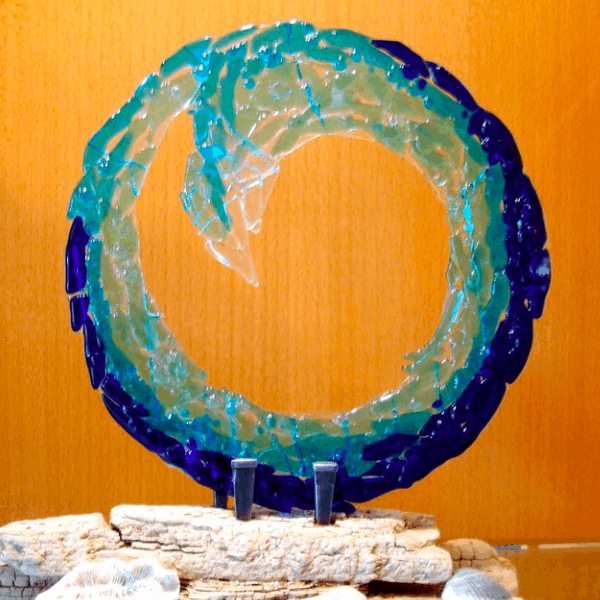 Majestic Wave Fused Glass Sculpture
If you're naming highlights and favorites of the beach, undoubtedly the ocean's wave will be mentioned along the way. Whether it be the still calm water or the raging turning tides, it all holds a unique beauty. This fused glass sculpture well depicts the watery waves in a fascinating loop.
You can choose between two stand options (driftwood or clear glass) and two sizes (ocean wave, medium/7" in diameter and majestic wave, large/9.5" in diameter). Sitting between 9-12" tall, depending on the stand that you choose, this handmade glass sculpture of a beautiful wave makes the perfect unique gift for any beach lover.
See on Etsy
Blue Turtle Oversized Beach Towel
Honestly, the key to a great beach day is the towel! A towel is a necessity when it comes to relaxing on the beach, drying off, or having a picnic. If you love sea turtles, this oversized towel would be perfect for any of these activities. It's made from microfiber, is quick drying, and shakes off sand with ease. It also has a towel band, making this the perfect towel if you hate readjusting your towel every time you move an inch.
The oversized sea turtle towel comes in three sizes: small, medium, and large, so you can find the towel that fits your needs. Grab your super cute picnic basket full of snacks and head to the beach for a full day of fun!
See on Amazon
Gift giving is always a conundrum (it is for me anyways). If you're not sure what your giftee will like, a gift card is a great way to show your love while making sure they get what they love. Then send them over to our blog so they can take a look at our beach gift ideas and choose for themselves!
Are there any gifts for beach lovers that we forgot to include? Leave us a comment and let us know!