The 15 Best 3rd Wedding Anniversary Gifts for Her
This post may contain affiliate links. If you make a purchase, I earn a small commission at no extra cost to you. As an Amazon Associate, I earn from qualifying purchases. Read more about these links in my disclosure policy.
You've made it past the toughest year of marriage (the first), but the second and third years of marriage were likely filled with many more fun and successful memories, maybe even taking you back to the honeymoon period. Highs and lows are inevitable in a marriage, yet it's still wonderful and fulfilling.
I know that anniversaries are tough. Honestly, I hate trying to think of a gift for my loved one because there are SO many options out there.
You're probably spinning your wheels right now trying to think of an amazing gift that shows your love for your wife or life partner – so I thought I'd help take some of the work off your plate. Keep reading to see a list of 14 of my favorite 3rd wedding anniversary gifts for her, whether you're looking for special traditional gifts or something more modern.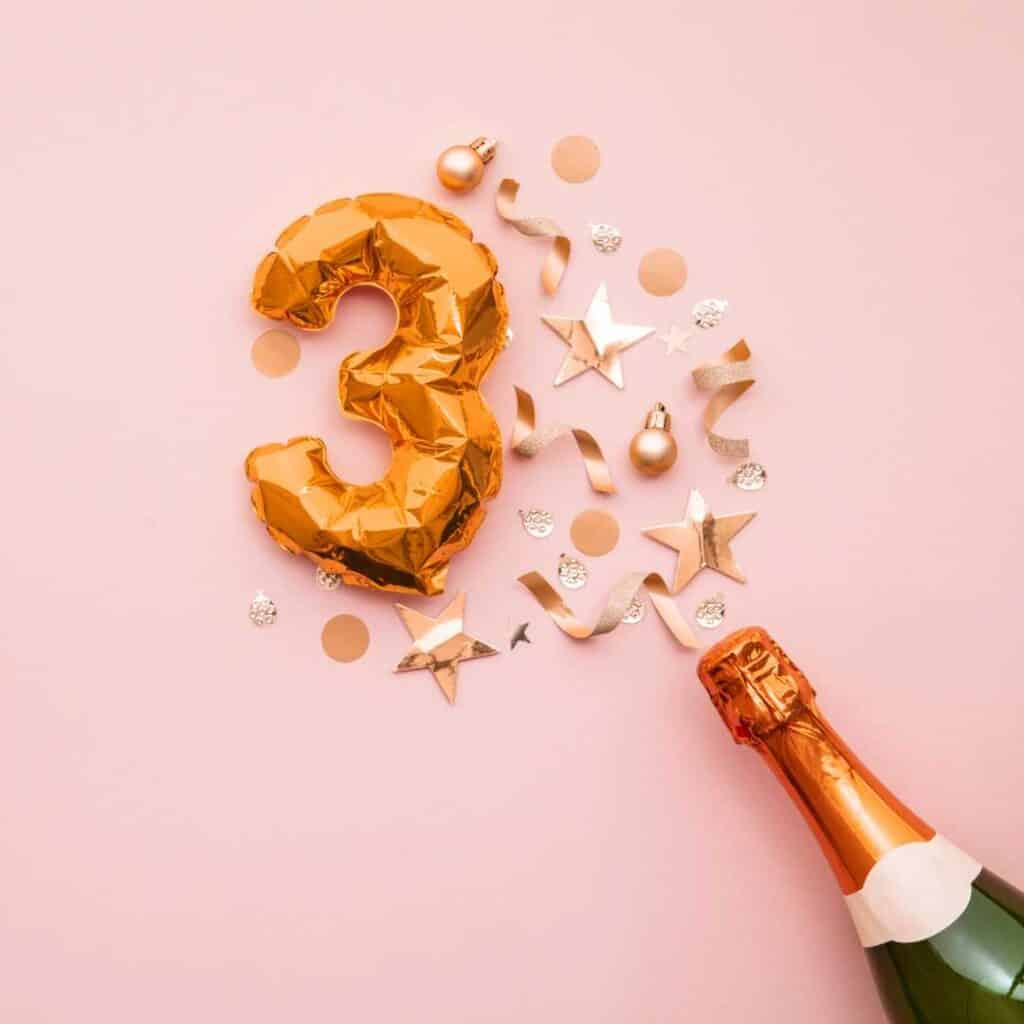 Traditional Third Anniversary Gifts
If you like to follow the traditional anniversary life for gifts by year, the third anniversary's theme is leather (see below for the traditional anniversary themes by year for the first ten years).
Traditional anniversary gifts by year:
First anniversary: Paper
Second anniversary: Cotton
Third anniversary: Leather
Fourth anniversary: Fruit and flowers or Linen and silk
Fifth anniversary: Wood
Sixth anniversary: Iron/Candy
Seventh anniversary: Wool/cooper
Eighth anniversary: Bronze
Ninth anniversary: Pottery
Tenth anniversary: tin/aluminum 
Keep reading to see some of our favorite leather gift ideas.
Our Favorite Traditional 3rd Wedding Anniversary Gifts
Personalized Leather Wallet
This handmade leather wallet is made from genuine leather and can be personalized with a name, initials, quote, favorite song lyric, or unique message. It would be the perfect third anniversary gift for your wife to toss in her purse and remember how much you care about her each time she opens her wallet!
See on Etsy
Leather iPhone Case
I'm sure your loved one has dropped their phone and had that dreaded moment where their phone is face down, hoping that the screen isn't cracked… This gift could solve that problem! This phone case is made from tanned and finished leather so that it's soft to the touch and keeps your phone safe, but is still slim and snug - guaranteed to ensure a long life for your iPhone.
Leather goods are super durable and last forever, making this gift an excellent idea. Depending on their phone model, you can choose between one of many colors.
See on Amazon
Leather Rose
Adorned with a personalized date (like your wedding date!) or with their initials, this single leather rose would be a unique and great addition to your home and will never wilt or die. You can choose between five different colors - mahogany, dark brown, brown, natural (looks like a white rose), or black, and either barbed or barbless wire.
See on Etsy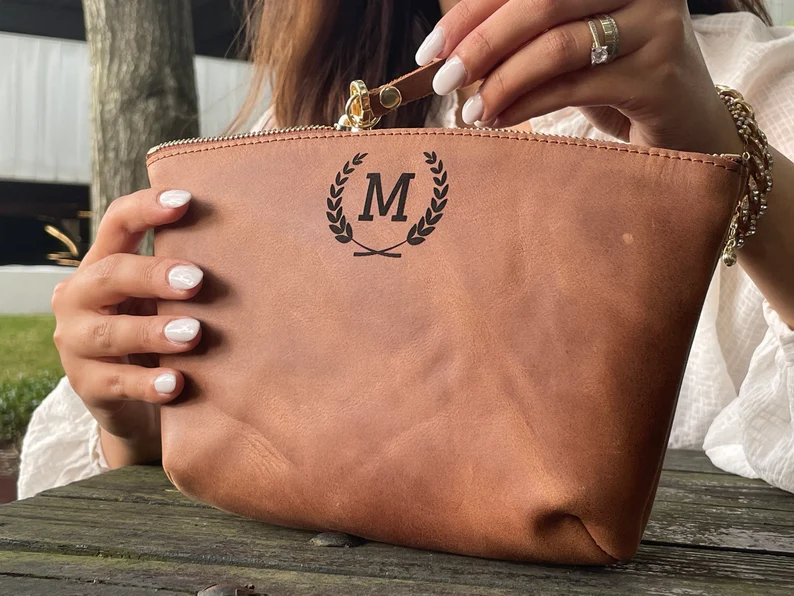 Cosmetic Leather Bag
This bag is one of my ultimate favorite traditional leather gifts! Everyone can use a toiletry bag, which can also be doubled as a makeup bag, or even a super cute clutch. This leather toiletry bag can be customized with her name or initials in one of 9 options and comes with a leather strap for easy carrying.
See on Etsy
Personalized Leather Corner Bookmark
A leather corner bookmark would be the perfect gift for a book-lover! It's made from genuine cowhide and can be inscribed with a personalized message that is hand-tooled into the leather. They'll think of you each time they begin and finish reading a new favorite book.
See on Etsy
Engraved Leather Valet Tray
An engraved valet tray is one of the best leather gifts for women. It can be used for a variety of purposes: she can set it next to her bed, on her vanity, or next to the front door and toss in her personal items to make sure they don't get lost. Who knows how many times she's misplaced her phone, keys, or even one of her credit cards after making an online purchase on her phone!
See on Etsy
Modern Third Wedding Anniversary Gifts
If you're a more modern couple, or if leather items aren't your cup of tea, you may want to search for a gift containing crystal or glass (I've included a list of the modern anniversary gift themes for the first ten years too!)
Modern anniversary gifts by year:
First anniversary: clocks
Second anniversary: fine china
Third anniversary: crystal/glass
Fourth anniversary: electrical appliances
Fifth anniversary: silverware
Sixth anniversary: wood
Seventh anniversary: brass/desk sets
Eighth anniversary: linen, lace
Ninth anniversary: leather
Tenth anniversary: diamond jewelry
Keep reading to see a list of some modern 3rd anniversary gift ideas.
Our Favorite Modern Third Anniversary Gifts
3D Crystal Photo Engraved Heart
Do you often store photos in photo albums - never to be seen again? A crystal photo engraving is the perfect present with a modern twist that can last a lifetime; the 3D crystal heart is laser-etched with a personal picture and engraving so you can reminisce on your favorite night as a happy couple. The material is non-fading, waterproof, and sun-proof, plus it comes with an LED lamp holder to light up the room.
See on Amazon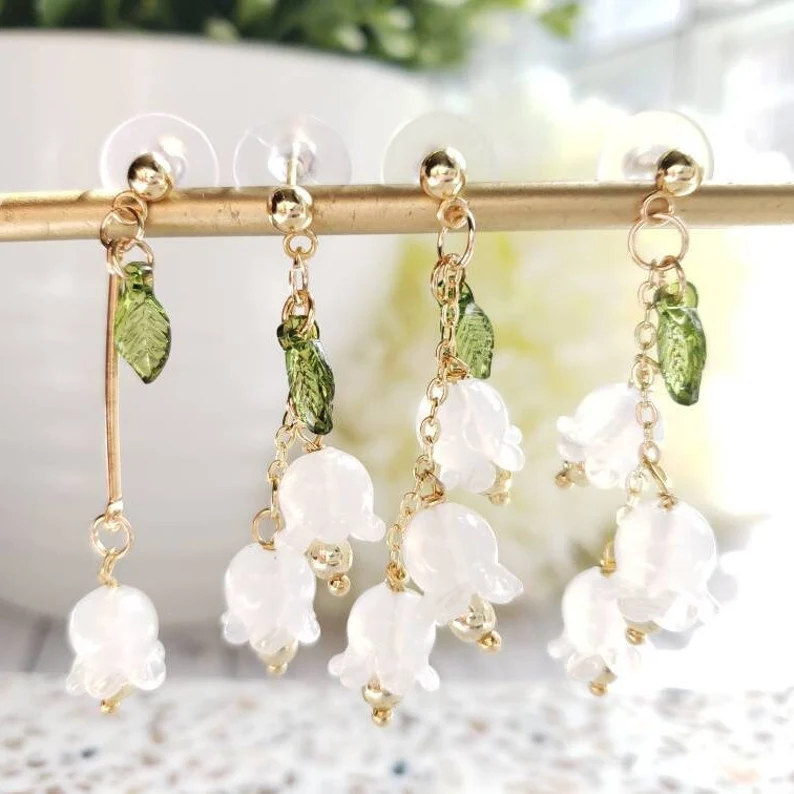 Lily of the Valley Dangle Earrings
These earrings would be a wonderful modern gift for a jewelry lover. You can choose between one, two, or three flowers on each pair and either a silver or gold chain. Considering that one of the flowers associated with the 3rd anniversary is the Lily of the Valley, this gift has double the meaning behind it!
See on Etsy
Amlong Crystal Clear Lotus Candlestick Holders
A lot of people aren't a fan of flowers because they don't last for a very long time. But these flowers will last forever! Made from high quality sparkling clean crystal, these crystal lotus candle holders would be wonderful gift to decorate your home.
See on Amazon
Waterford Lismore Essence Clear Goblets
What's a better way to say cheers to the special couple than in these beautiful red wine goblets? Created from full lead crystal, these glasses are adorned with wedge and diamond Lismore cuts (and they're dishwasher safe!). You can also search for white wine, champagne, sherry, or water glasses from the same collection.
See on Amazon
Crystal Resin Art Coffee Table
This beautiful and unique crystal and resin coffee table would accent any home. The geode-themed art print is adorned with gold and sage, as well as green paint with gold glitter and shimmer glass pieces that will perfectly reflect the light in the right place of your home.
See on Etsy
Gemstone Anniversary Gifts
Last, but not least, gemstones are always a great option.
The gemstones for the third year of marriage are pearls; moonstones, crystal, and jade are alternatives.
Gemstones by year:
1st year: Gold
2nd year: Garnet
3rd year: Pearl (alternates: moonstone, crystal, jade)
4th year: Blue topaz
5th year: Sapphire
6th Year: Amethyst
7th year: Onyx 
8th year: Tourmaline 
9th year: Lapis Lazuli
10th year: Diamond
If you're interested in something other than a crystal or leather wedding anniversary gift, I've included some gemstone-related gifts below.
Our Favorite Gemstone Anniversary Gifts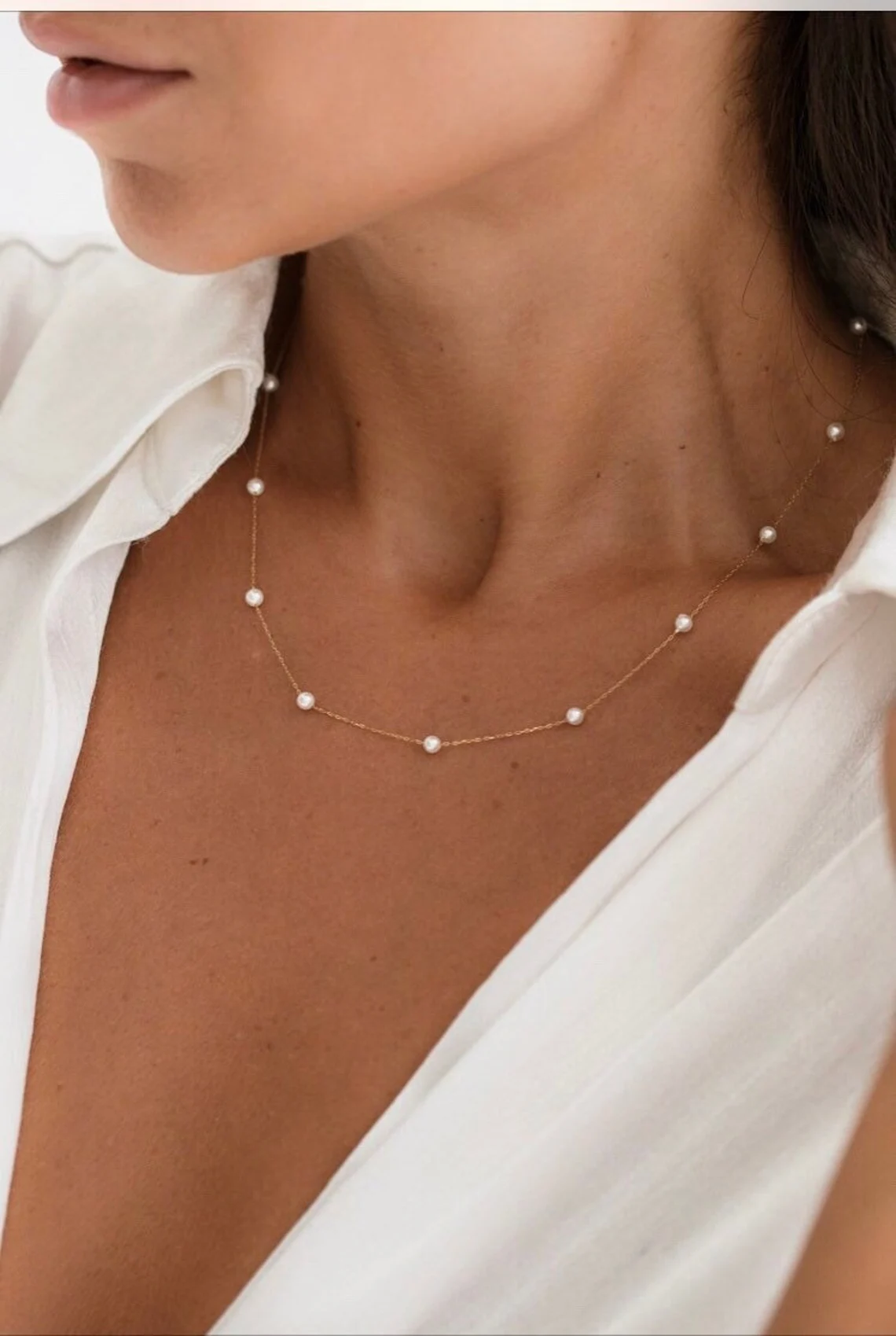 14k Freshwater Pearl Gold Necklace
Pearl jewelry is a timeless gift for someone with good taste. This dainty, handmade freshwater pearl necklace would be the perfect addition to anyone's collection. Plus, its unique design is bound to get more than a few compliments!
See on Etsy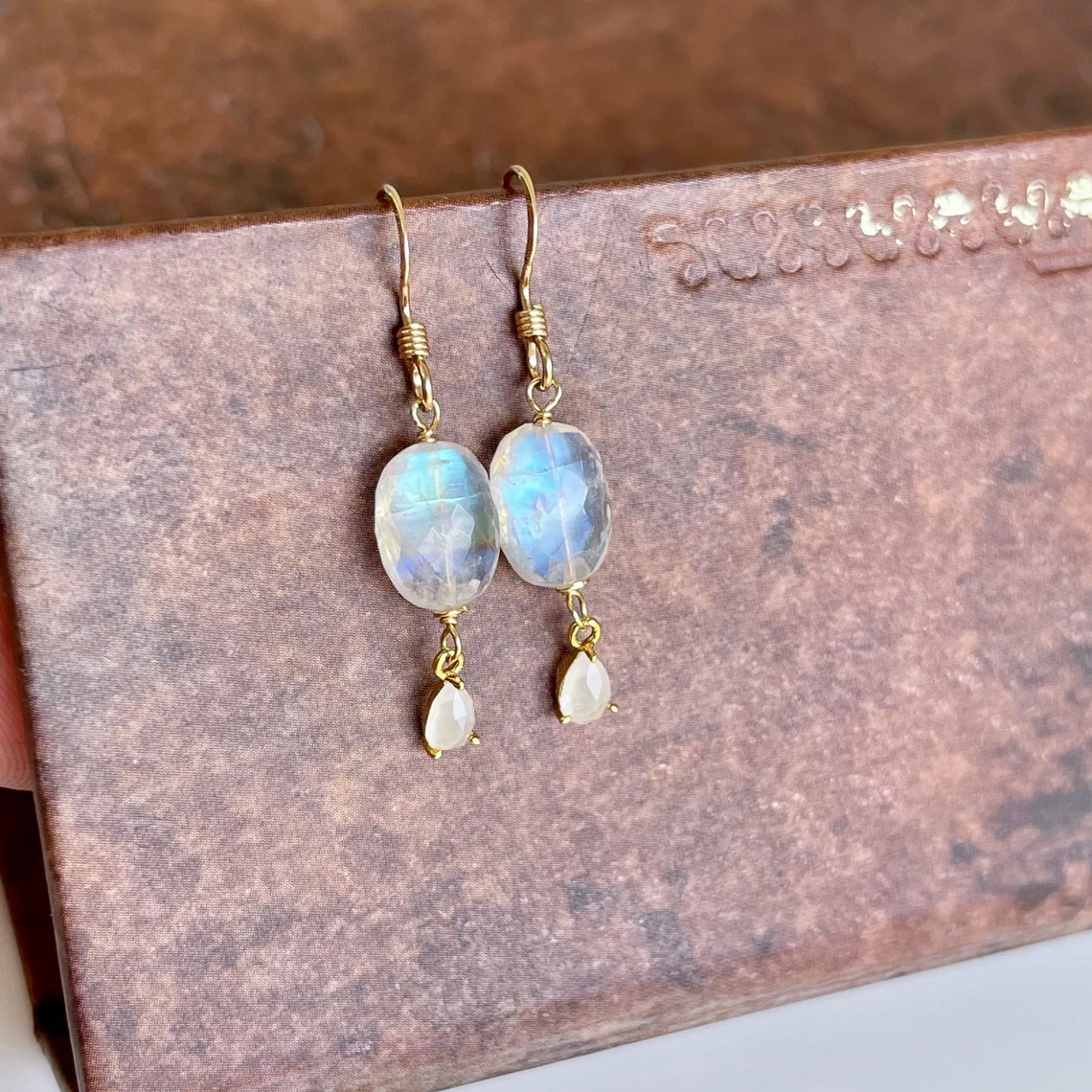 Rainbow Moonstone Drop Earrings
These stunning moonstone drop earrings come with your choice of gold filled or sterling silver wire finish. If she prefers small statement pieces that are sure to turn heads without being too flashy, these are the perfect gift for her!
See on Etsy
Karma and Luck Jade Stone Feng Shui Tree
Love gemstones but not much of a jewelry wearer? This Jade stone Tree of Life is a great alternative for anyone who loves beautiful gemstones but can never remember to wear jewelry (or just doesn't want to!) - it comes in three sizes and additional gemstone options are available on their store site.
See on Amazon
Good luck finding the perfect gift that represents your 3rd year of marriage and celebrates you both as a happy couple!