61 Funny Christmas Card Sayings
This post may contain affiliate links. If you make a purchase, I earn a small commission at no extra cost to you. As an Amazon Associate, I earn from qualifying purchases. Read more about these links in my disclosure policy.
If you're looking for some funny Christmas card sayings to put on the back of your family photo or for a personal message to write in your holiday card this year, we have the perfect ideas for you!
Christmas season truly is the most wonderful time of the year. Spreading holiday cheer to family members and friends is what the true spirit of Christmas is really about.
Times are changing, and singing a Christmas carol or two at each house just isn't as common or appreciated as much. People stay on the go and just don't have the time, and the ones who do go caroling tend to stand silently on porches waiting for the door to open, but it never does. Bah Humbug!
Well, let me help with making these rough times into better times. Let's spread the Christmas spirit with funny Christmas cards. Everyone remembers a good laugh. Take a couple moments to make your own holiday greetings or Christmas card, (your computer is handy for that) or buy a blank Christmas card from the store and write one or two of these funny Christmas sayings.
No need to be ordinary, when you can be unique. A Christmas present is great, but a handwritten card that says "Merry Christmas" with some of these funny quotes and "Happy New Year!" will be sure to deliver a warm feeling to their heart during Christmas time.
I have put together a few different categories to help you choose the perfect sayings for your cards. Just use this cheat sheet, fill out your cards for all the special people on your Christmas card list, and drop them at the post office.
Let the mail carriers be your magic wand to deliver these funny messages full of Christmas cheer and chuckles!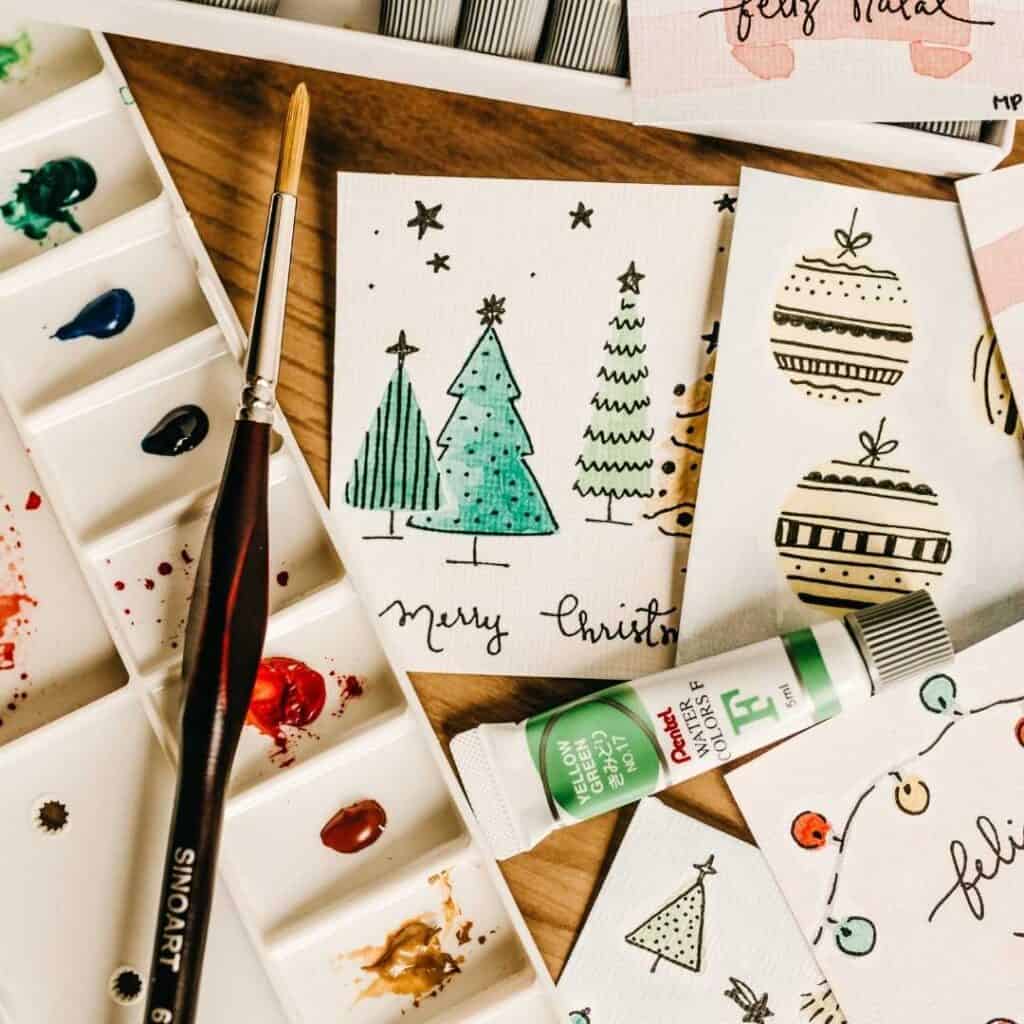 Funny Christmas Card Sayings for Family and Friends
Here are 15 funny Christmas card messages that are perfect for sharing with family and good friends during this special time of year.
I spent a long time choosing the perfect Christmas card that will look good in your garbage.
Another Christmas already? Seriously, what the elf
Happy holidays from the jolliest bunch of elves this side of the nuthouse.
Merry Christmas! I hope you like the Christmas present you told me to buy for you.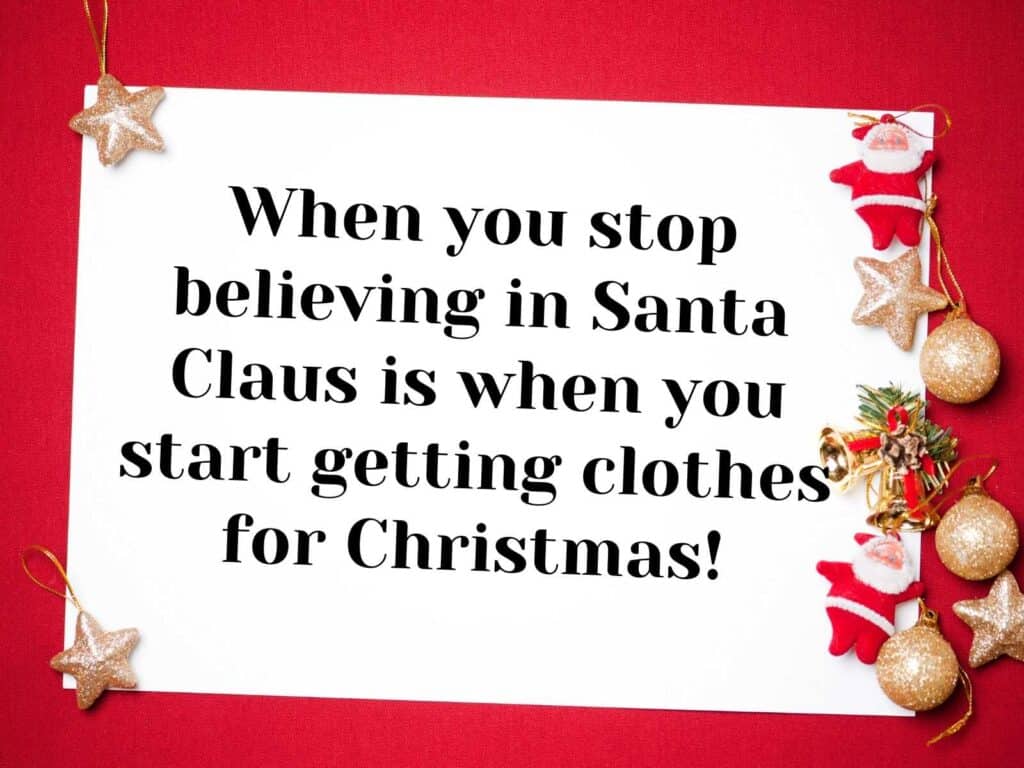 When you stop believing in Santa Claus is when you start getting clothes for Christmas!
'Tis the season for leftovers and stretchy pants. Best wishes during this delicious time. Happy holidays!
Once again, we come to the Holiday Season, a deeply religious time that each of us observes, in his own way, by going to the mall of his choice.
Christmas is not about presents. It's about family. And spiral ham! Mostly, who in the family is bringing the spiral ham?
As the tree is evergreen, let the spirit of Christmas Eve warm our hearts. Unless you didn't water the tree. Keep that thing watered! You'll never be able to vacuum up all those needles
May the true spirit of Christmas fill your heart and your home with joy today and into the coming year. And may the spirits of your favorite liquor store fill your cabinets today!
May all the sweet magic of Christmas conspire to gladden your heart and fill every desire. And may your sisters not conspire to make a better green bean casserole.
What do you call a gingerbread ninja? – Ginjas!
You know those commercials where the present is a brand-new car with a big red bow? Yeah, we are not doing that.
It's your Christmas! March to the beat of your own little drummer boy.
A Christmas miracle is when your family doesn't get into a single argument all day.
Slightly Naughty Christmas Card Sayings
Want to wish them a happy Christmas with a little bit of *spice* sprinkled in? How about one of these 15 slightly naughty ideas – whether they are on the nice list or not.
Time to get into the Christmas spirit – whiskey, gin, rum.
Wishing you the most wine-derful Time this year!
The main reason Santa is so jolly is because he knows where all the bad girls live.
Wishing you a Merry Christmas filled with good cheer and even better beer.
I'd tell you what I want for Christmas, but I would end up on the naughty list.
This holiday, let's be more Christmas Carol ending and less Christmas Story beginning… where he shoots his eye out.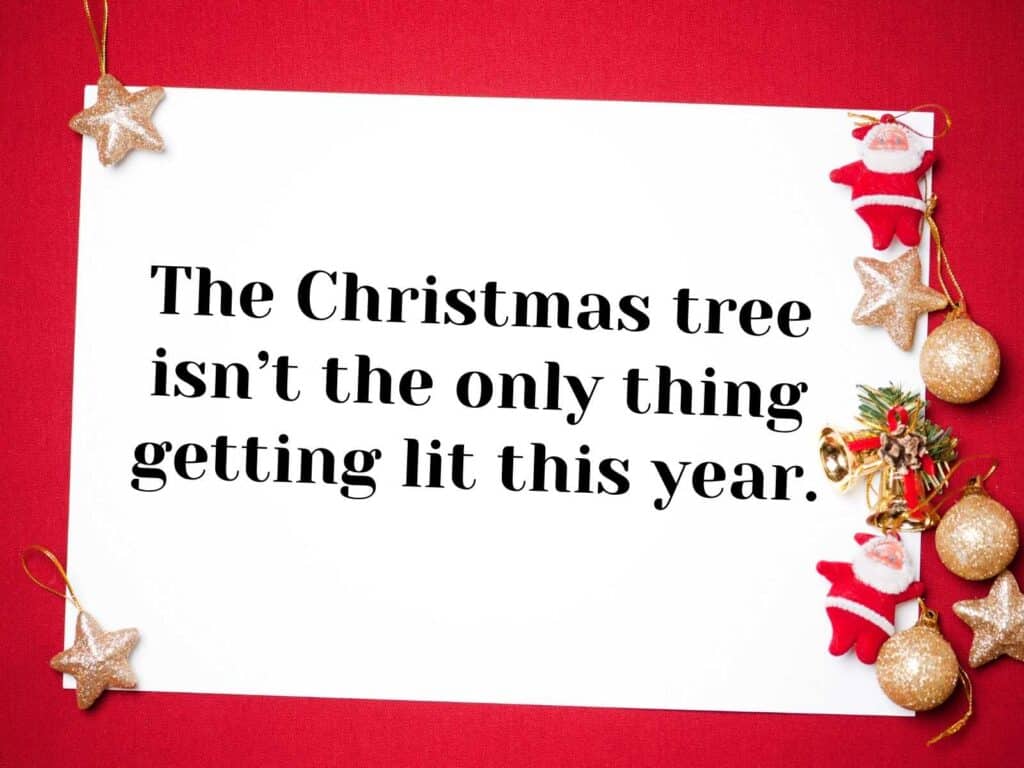 The Christmas tree isn't the only thing getting lit this year.
What I like about Christmas is that you can make people forget the past with the present.
Santa Claus wears a Red Suit, he must be a communist. And a beard and long hair must be a pacifist. What's in that pipe that he's smoking?
The worst gift is a fruitcake. There is only one fruitcake in the entire world, and people keep sending it to each other.
The one thing women don't want to find in their stockings on Christmas morning is their husband.
Merry Christmas to my favorite… Ho, Ho, Ho!
There are some people who want to throw their arms round you simply because it is Christmas; there are other people who want to strangle you simply because it is Christmas.
The Supreme Court has ruled that they cannot have a nativity scene in Washington D.C. This wasn't for any religious reasons. They couldn't find three wise men and a virgin.
Christmas never would have caught on if it had been called Celebrate a Little Jew's Birthday.
Dear Santa, for Christmas please send me your list of bad boys and their phone numbers.
Funny Christmas Card Sayings for Coworkers
Don't forget to send out season's greetings to your business associates and coworkers this year. Here are 19 ideas to add a little holiday spirit to your workplace family.
Merry Christmas! Don't worry. This card has been Santa-tized!
I would have bought you that really high priced gift that we both have talked about, but you know, with the pay here, this card was all that I could afford! Merry Christmas!
What do you call Santa when he accidentally falls down your fireplace? Krisp Kringle! Wishing you a happy holiday season.
It's Christmas Eve! It's the one night of the year when we all act a little nicer, we smile a little easier, we cheer a little more. For a couple of hours out of the whole year, we are the people that we always hoped we would be.
Co-workers are like Christmas lights. They all hang together but half of them don't work and the other half aren't so bright.
Your office Christmas party is a perfect platform to gather blackmail material.
What I don't like about office Christmas parties is looking for a job the next day.
The office Christmas party is a great opportunity to catch up with people you haven't seen for 20 minutes.
We wish you a merry Christmas, we wish you a merry Christmas, we wish you a merry Christmas and you're welcome – that song's now stuck in your head all day.
The 12 days of Christmas guy really had a thing about birds, huh? Let's hope you don't know anyone crazy enough to give you 23 birds this holiday season.
What did the rapping paper say to the sticky tape? Yo yo yo – Merry Christmas!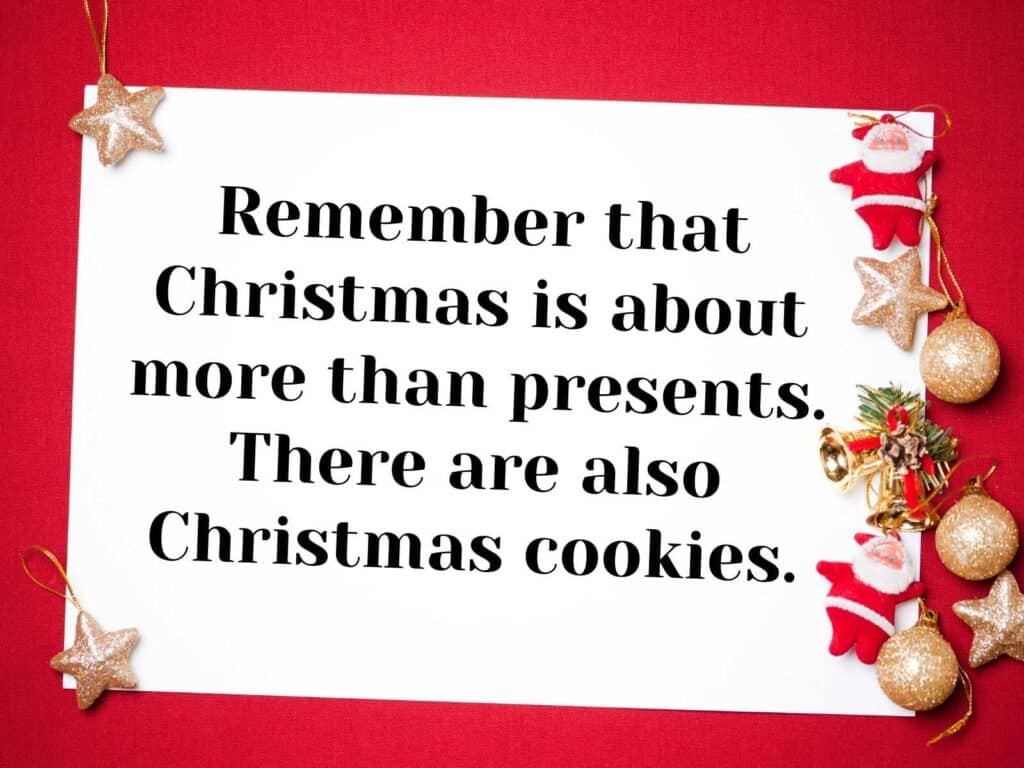 Remember that Christmas is about more than presents. There are also Christmas cookies.
What do you call a kid who will not sit on Santa's lap? Claustrophobic!
Christmas (noun). The only time of the year in which one can sit in front of a dead tree and eat candy out of socks.
You can tell a lot about a person by the way they handle three things: a rainy day, lost luggage, and tangled Christmas lights.
I wish we could put up some of the Christmas spirit in jars and open a jar of it every month.
Santa Claus has the right idea. Visit people only once a year.
Being a Secret Santa is actually the only office secret that you've ever kept.
Keep your friends close, your enemies closer, and receipts for all major purchases.
Funny Christmas Puns
I don't know about you, but to me there's nothing better than a punny quip to get me laughing! Here are a few funny things we think would make a wonderful Christmas card caption.
Have your 'elf a merry little Christmas! Wishing you a wonderful holiday season.
Do not try to borrow any money from elves; they are always a little short! Have a Merry Christmas!
You bettah check yo elf before you wreck yo elf.
When I think about you, I touch my elf.
Remember to clean your chimney before Christmas, lest Santa finds it un-soot-able.
You can't fool me—there ain't no Sanity Clause!
Even before Christmas has said Hello, it's saying 'Buy Buy.
Sleigh what?!
Lighten up; it is Christmas!
It is Christmas thyme!
Have a sleighful of fun this holiday season.
I hope you have a happy holidays with your "deer" ones this festive season.