8 Best Gifts for Streamers
This post may contain affiliate links. If you make a purchase, I earn a small commission at no extra cost to you. As an Amazon Associate, I earn from qualifying purchases. Read more about these links in my disclosure policy.
Know a streamer that could use some technical upgrades? Or are you a streamer yourself, be it just starting out or a few years in? At some point, every streamer could benefit from upgrading their gear to ensure they are producing quality content for their followers. Here are our top gifts for content creators and streamers!
---
Best Tech Gifts for Streamers
There are a five key qualities streamers (and their fans) focus on when gaming: audio, graphics, lighting, comfort, and accessibility. Each of these features must be properly invested in order to hold a successful livestream that runs smoothly and efficiently. Here are our top gifts for streamers that focus on each of these qualities, both for baby streamers and for experienced streamers looking for an upgrade.
WARNING: Discussion of technical specs ahead. Don't worry, we'll explain what it all means in laymen's terms too.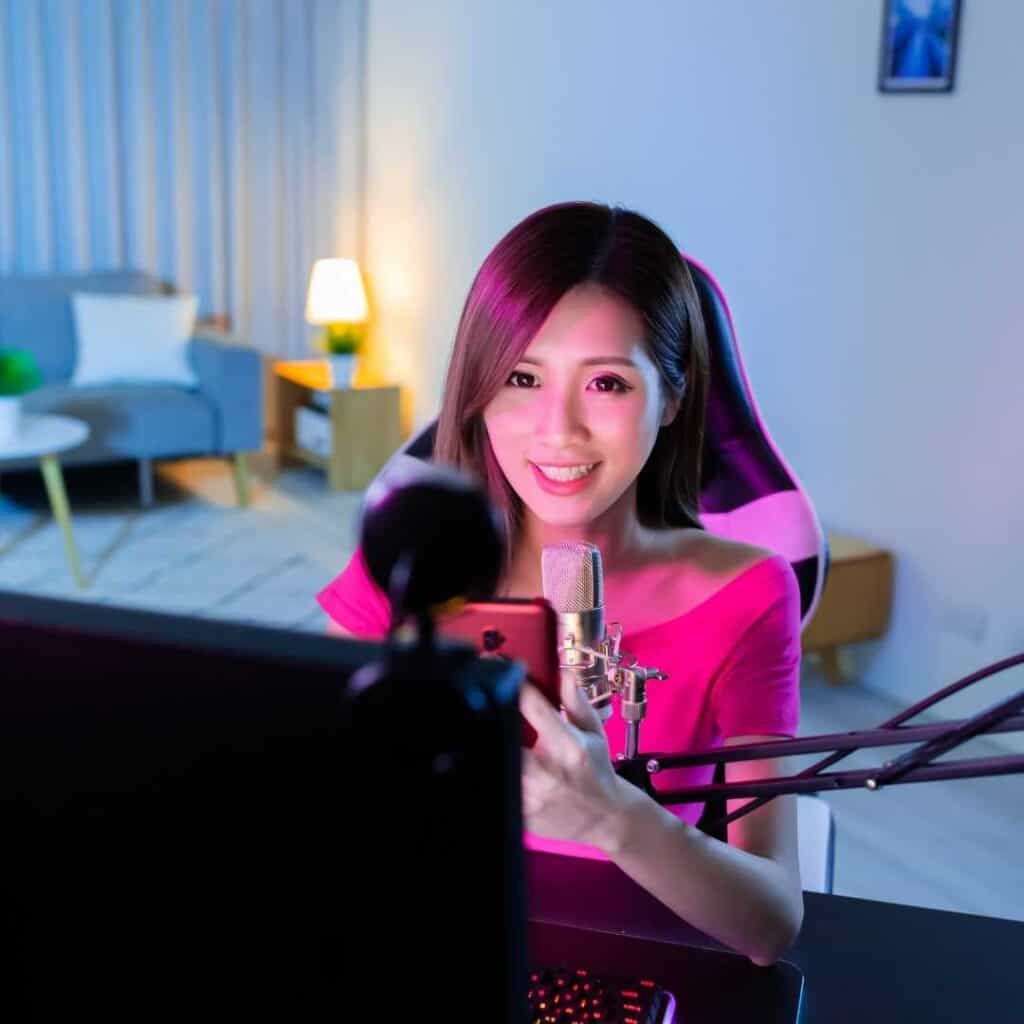 Many of these gift ideas are available with Amazon Prime's fast free shipping (often arriving in just one or two days!). If you're not already a Prime member, you can get a 30-day FREE trial of Amazon Prime here!
ASTRO A50 Wireless Headset & Base Station
This wireless gaming headset boasts the sound of ASTRO Audio V2, Dolby Audio, and free access to ASTRO command center software for audio customization and balance. For those of us that aren't quite sure what all of that means, the ASTRO A50 provides immersive cinematic sound that delivers dialogue, music, and in-game dialogue clearly for a high-resolution gaming audio experience - the microphone also captures your voice clearly, so you don't have to worry about lag issues during live competitive play or breaks in audio.
Streamers who want to adjust the audio balance between chat and game sound can use the command center software and tailor their streaming experience to their own preferences. Plus, an extra long 15+ hour battery life means not having to stop mid-stream to charge for the gamers who love to host extra long livestream sessions. There is also an optional A50 Mod Kit that allows gamers to add synthetic leather headband and ear cushions for improved noise isolation.
The A50 Wireless Headset is the perfect gift of high quality sound to any gamer, especially since they won't need to buy a separate mic.
See on Amazon
See on Walmart.com
Looking for a budget-friendly option? Try the ASTRO A40 TR, the best value headset for streamers.
Audio-Technica AT2020USB+ Microphone
Now, a microphone isn't always necessary if the streamer in question has a set of headphones with a quality mic (like the ASTRO A50 shown above), but sometimes they may want to livestream without the use of their headphones.
In this situation, a new mic is going to be a necessity. Wouldn't it be awkward if you were trying to watch a video but you couldn't understand what the person was saying because the mic picked up too much background noise?
The AT2020USB+ (I know, it's a long name) is the perfect condenser mic for streamers; it'll deliver superior clarity for their voice, which means superior sound quality for their fans.
See on Amazon
Elgato Stream Deck
The Elgato Stream Deck is the perfect gift for a streamer that has only one monitor or wants to control their stream faster. This deck has 15 programmable buttons that allow content creators to switch scenes, adjust audio, open apps - anything that they would need to do while streaming, they could program into the deck. All they have to do is drag and drop commands in the app and they're good to go! The keys are also customizable with hundreds of icons to choose from, or they can use custom made ones.
See on Amazon
See on BestBuy.com
Freestyle Edge RGB Keyboard
Most keyboards are not designed to properly support our wrists. There are several issues this can cause: forearm pronation, wrist extension, ulnar deviation, and mouse overreach. Basically, sitting at your desk and using your keyboard for extended periods of time - which streamers do - for several days a week - which streamers also do - can lead to uncomfortable and potentially serious health problems surrounding your hands, wrist, and arms.
The Freestyle Edge keyboard seeks to alleviate this problem: with cushioned palm support, split model allowing you to move your mouse closer to shoulder-width, and with an additional lift kit that relieves forearm pronation and ulnar deviation, the keyboard provides relief for your hands and overall comfort.
See on Amazon
Ergonomic Gaming Chair
No one wants to sit in an uncomfortable chair, and streamers have to sit for extended periods of time. The Dowinx gaming chair features a massage lumbar support pillow, a headrest and waistrest system, a retractable footrest, and an ergonomic high-back design. In short terms, it's more comfortable than a regular chair and provides the proper support your body needs to sit for an extended period of time.
The chair featured here has cushions made of prime retro leather and comes in five different colors, but Dowinx has several other chair models to choose from depending on what material and style you want - all ergonomic, of course.
See on Amazon
Elgato Facecam
If a streamer is using a laptop for their recordings, then in most cases they can use their laptop's built-in webcam (assuming it has one) when they're just starting out. However, as they gain more traction, they're going to want to invest in a webcam with higher quality resolution. With true FHD 1080p resolution at 60fps and studio quality f/2.4 24 mm* all-glass Elgato Prime Lens, this webcam really packs a punch. It can pick up video fairly well in low-level lighting, which is huge if a content creator doesn't have great lighting just yet. Instead of spending a fortune on a DSLR camera, a streamer can get quality footage using the Elgato Facecam for a more reasonable price.
See on Amazon
Professional Studio Light
Every content creator needs good lighting to go with their webcam. How can your viewers see you if your face isn't lit properly? The Elgato Key Light comes with a desk clamp, so you don't have to worry about it taking up space on your desk. The variable 2900 - 7000 K temperature produces cold through warm white light, and while ultra-bright at 2800 lumens it's still fully dimmable. All controls can be accessed through the app. If you prefer a ring light, the Elgato Ring Light has almost the same specs with the same customization for the same price. The Key Light Air comes with a stand so it can sit on your desk at almost half the price, but only functions with 1400 lumens and therefore isn't as bright.
See on Amazon
FLEXISPOT Adjustable Gaming Computer Desk
This desk has an adjustable height, so streamers can alternate between sitting and standing if they'll be at their desk for extended periods of time. This can help reduce soreness and keeps blood circulation going. At 63 inches wide, this desk has enough space for multiple monitors and equipment. It also offers a cup holder, headphone hook, and cord management, making this one of the best gifts for streamers (or anybody, really!).
See on Amazon
Looking for video game-related gifts? Check out our gifts for gamers guide here!