11 Best Gifts for Kids Under $10
This post may contain affiliate links. If you make a purchase, I earn a small commission at no extra cost to you. As an Amazon Associate, I earn from qualifying purchases. Read more about these links in my disclosure policy.
For all of those kids on your holiday list this year, don't worry! There is no need to break the bank this year. Thanks to Amazon, you can grab some awesome and inexpensive and great gift ideas ideas for kids of all ages on your list and stay within a limited budget with this great price.
Here are a few presents that are perfect for kids under $10 – from Minecraft games to art supplies to classic board games. There is something on this list for everyone!
Ready to see what cool gifts for kids under $10 made the list? Keep reading….
Disclaimer: Prices are subject to change at any time. When this article was published, each gift idea was priced below $10. If you notice that a price has increased since publishing, please leave a comment below and let us know so we can update!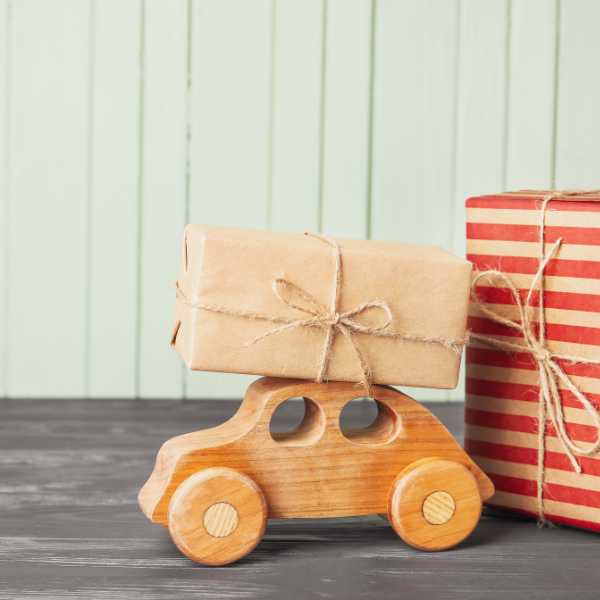 ---
Inexpensive Gifts for Young Babies and Little Kids
Giving the right present to your young children this year can feel overwhelming. How do you know what is age appropriate and is also something that they will actually love? Here are a few baby gifts and cheap toys for young kids that I always grab for a good gift:
Many of these gift ideas are available with Amazon Prime's fast free shipping (often arriving in just one or two days!). If you're not already a Prime member, you can get a 30-day FREE trial of Amazon Prime here!
Wooden Lacing Toy
This adorable toy set is perfect for preschoolers and helps them work on their fine motor skills. It comes with ten wooden beads that are the perfect size for toddler hands. Kids will sit and play with these beads for hours through threading, stacking, and sorting into different piles.
Help them make caterpillars as they learn to count to ten with this adorable gift.
See on Amazon
Big Kids and Young Teens
Some teachers invite students to exchange small gifts at school, bringing stocking stuffers for everyone or drawing names for a Secret Santa gift exchange. We have some great ideas at a reasonable price, plus a few other affordable toys and birthday gifts that older children and young teens would love to have.
Minecraft Gifts
These past few years, the video game Minecraft has swept the nation for most-loved kids gifts. This year is no exception! Here are a few Minecraft gifts for all of those fans on your list this year:
UNO Minecraft Card Game
Looking for a nice way to involve your Minecraft obsessed kids in family activities? Check out this UNO card game, Minecraft edition. It's the perfect gift and great way to connect with your kids on Friday night game night! It is also small and makes a great stocking stuffer.
See on Amazon
Minecraft Stickers
These stickers are the perfect addition to any Minecraft obsessed kids presents this holiday season. Help them decorate their space and create artwork with over 295 3D stickers - a fun gift that doesn't cost a lot of money!
See on Amazon
Nerf Gifts
Not sure what to get the big kids on your list and stay within your budget? The answer, of course, is Nerf blasters. Here are my favorite inexpensive gifts available this holiday season:
NERF Rival Fate XXII-100 Blaster
This high quality Nerf gun was designed as a compact blaster for a surprise attack. Hide it in your bag, pocket, or behind your back to surprise anyone and everyone this holiday season.
Any kid that loves a fun surprise will love this great gift!
See on Amazon
Board Game Gifts
Board games and popular card games are the perfect gift for kids under $10 that the entire family can enjoy! Here are 2 that are always a win with my kids:
Candy Land
Simple games like this one are always a welcome gift among young children. Little ones will enjoy playing Candy Land as they race to the castle. It's the perfect way to introduce colors, counting, and taking turns. My little girl and boy love this game, and it's so much fun for the whole family!
See on Amazon
Hedbanz Picture Guessing Board Game
Our family loves family game night, and our children love board games that the entire family can play. Hedbanz is a hilarious family game where players draw a card on their turn and ask "yes" or "no" questions to figure out what their card says. We always end up having a blast with this game, and we know you will too!
For 2-6 players, ages 8 and up. (FYI - our 6 year old can play with help)
See on Amazon
Art Supplies
Gifting kids new art supplies is a quick way to encourage creativity and hours of entertainment! Here are a few of my favorites for your budding artist:
Scratch Paper Art Set
If you haven't tried scratch paper art, you're missing out! Use the scratcher to scratch away the black matte surface of the paper, revealing the background of different colors to make a cool rainbow picture! It's so fun, and allows for amazing creative artwork, signs, and more!
Makes an excellent arts and crafts activity for kids. Includes 50 scratch paper sheets, 5 wooden stylus, 4 drawing stencils, and a cleaning brush.
See on Amazon
Glow in the Dark Rock Painting Kit
My kids got this as a birthday gift one year and it was so much fun for all of us (myself included!). The kit includes 10 river rocks, plus paint and paint brushes to decorate the rocks. Let them dry and watch them glow in the dark when the lights are out! We had enough paint left over to paint more rocks too.
See on Amazon
We have found some awesome options for cool gifts for kids under $10. This way, you can give presents to everyone on your list and save money this holiday season. What could be better?
So tell me… what did I miss? What must have gifts for kids under $10 do you think should have made the list? Tell me in the comments below!