10 Best Harley Quinn Gifts for Superfans
This post may contain affiliate links. If you make a purchase, I earn a small commission at no extra cost to you. As an Amazon Associate, I earn from qualifying purchases. Read more about these links in my disclosure policy.
Are you a fan of the DC comic books' pasty-faced weirdo Harley Quinn? If not, maybe you know someone who's a fan of Harley Quinn. From a unique relationship with the Joker himself to being known as the Mistress of Mayhem in the DC universe, Harley has won her way into the heart of every comic book fan over the years. Below we've gathered the best gifts featuring one of the most popular DC characters in pop culture history! If you're shopping for yourself, don't worry – who needs special occasions to splurge on great Harley Quinn merchandise?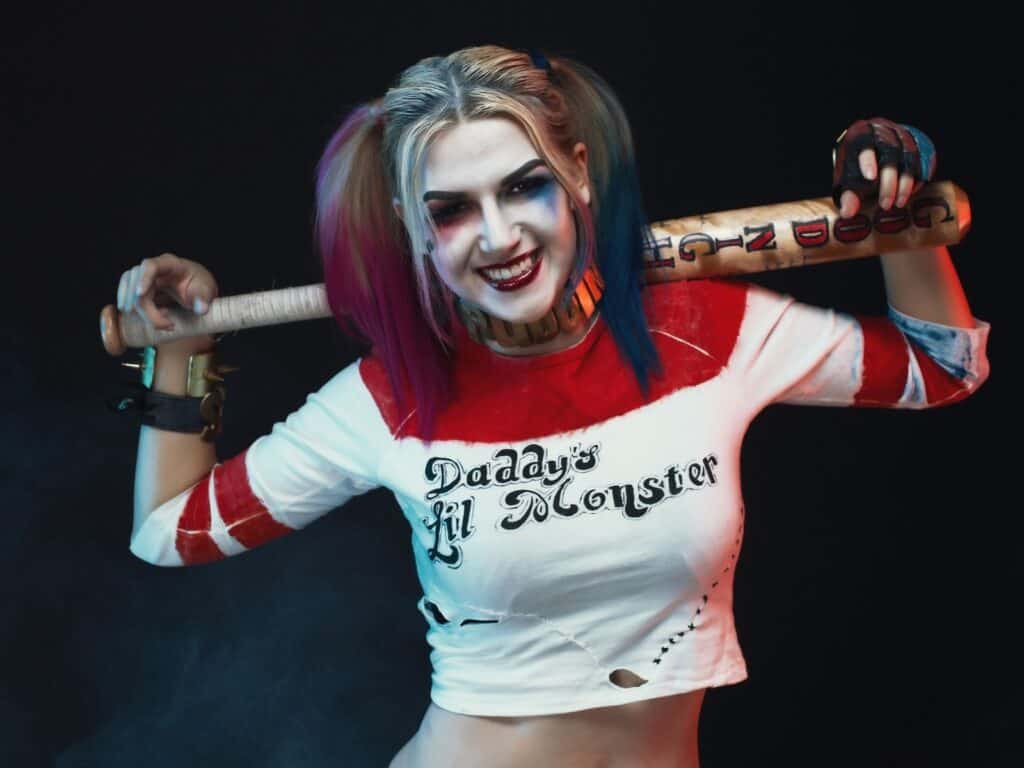 ---
Gift Ideas for Harley Quinn Fans
Harley Quinn Apparel
Harley Quinn's Knee High Socks
These Harley Quinn knee high socks are the perfect choice for a super fan! With their classic red and black design and iconic diamond patterns, they're not only stylish but also super comfortable. They're an ideal way for any fan to show off their love for this iconic character. Versatile and affordable, these socks are a fun, cozy way to celebrate Harley Quinn in everyday fashion, making them a fantastic gift for fans of all ages.
See on Amazon
2. Harley Quinn Unstable Tee Shirt
Harleen Quinzel used to be a doctor, too! Until she changed career paths, that is. This edgy t-shirt comes in mens, womens, and youth sizes so anyone in the family can wear this shirt in style.
3. Harley Quinn Style Joggers
For those who want to workout in style – or those who prefer a more casual look to their Harley Quinn Costumes – these athletic joggers are super comfy and are lined with fleece.
They also come in additional colors like grey or blue, but we prefer the more traditional red approach.
4. Property Of Joker Jacket
Harley Quinn's relationship with Mr. J. is… complicated, to say the least. That being said, this bomber jacket is stylish and cool, and is even officially licensed by the Bioworld store – that just means it's produced by an official merchandising company.
If you want to look like the craziest chick in Gotham City, this jacket is a great way to show off your style!
Harley Quinn Collectible Gifts
5. Harley Quinn Good Night Bat
This baseball bat is the perfect prop to go with your Harley Quinn cosplay. Crafted by The Noble Collection – a company well-known for producing high-quality replicas and authorized by movie companies – this Good Night Bat is made of hardwood and is as close to the original bat as you can get.
That said, we don't recommend taking a swing at someone. Just for safety purposes.
6. The Suicide Squad Harley Quinn Figurine
"The Suicide Squad" is one of the most recent movies to feature Harley Quinn as a main character. Her costume in DC's 2021 hit film is very similar to how she looked when she first debuted in the comics.
If you loved Margot Robbie's rendition of our favorite character, this figure is the perfect gift for you!
7. Harley Quinn Birds of Prey Framed Poster
Need some wall decor to spruce up your room? This Birds of Prey poster comes with your choice of frame color and optional mount – you can also get it unframed if you so choose. And some color to your day!
8. Harley Quinn Wall Decals
Are you a fan of wall decals? Want something to put on your walls but aren't keen on the bulk of a poster or picture frame? These Harley Quinn wall decals are the perfect way to decorate! This sticker pack comes with 20 stickers to put up, featuring a large decal of Harley herself. Perfect for homeowners AND renters!
9. The Harley Quinn Show Both Seasons Blu Ray
If you love shows featuring the iconic dc character but also want to see popular characters such as Poison Ivy or the rest of her friends, watch "The Harley Quinn Show" on Blu-Ray! From funny to serious to heartfelt, "The Harley Quinn Show" has it all for the DC fanatic. Watch the villainous queen in action!
Note: rated TV-MA for mature audiences only.
10. Harley Quinn 1000 Piece Puzzle
Any puzzle nerds out there? This jigsaw puzzle features retro-style artwork and is the perfect collectible gift for any DC comics fan or Harley Quinn fan. If you really want to go all out, you can even frame the puzzle when you've finished it and hang it up on your wall!
Hey you! Go check out our Batman gift ideas while you're here.