17 Hilarious Meme Gifts to make you LOL
This post may contain affiliate links. If you make a purchase, I earn a small commission at no extra cost to you. As an Amazon Associate, I earn from qualifying purchases. Read more about these links in my disclosure policy.
Memes. They get us through the work day, the school day, and through our time in the bathroom. Whether you are a fan of dank memes, dark memes, or wholesome memes, there are funny memes out there to suit your particular personality and humor. Use our collection of the best meme gifts to share a laugh with your bro — after all, what could be a better gift than a laugh??
Best Meme Gifts of All Time
What Do You Meme? Adult Party Game for Meme Lovers
This card game is the meme version of cards against humanity, and is hilarious, but for adults. (Seriously, this isn't a game for kids - it's intended for ages 17+.) What Do You Meme is the perfect gift for someone who loves memes as much as they love playing games.
(FYI - I personally allow my 13 year old to play this game with adult family members, but I did screen every card and remove the more "questionable" ones.)
See on Amazon
Well That's Not A Good Sign T-Shirt
Stating the obvious, this is not a good sign. But, the fact that anyone that who gets it will be happy, is kind of a good sign. Your gift recipient will enjoy the smiles this shirt brings. Comfy pre-shrunk cotton t-shirt, regular fit, lots of different colors to choose from.
See on Amazon
See more of our favorite gifts for fans of The Office here!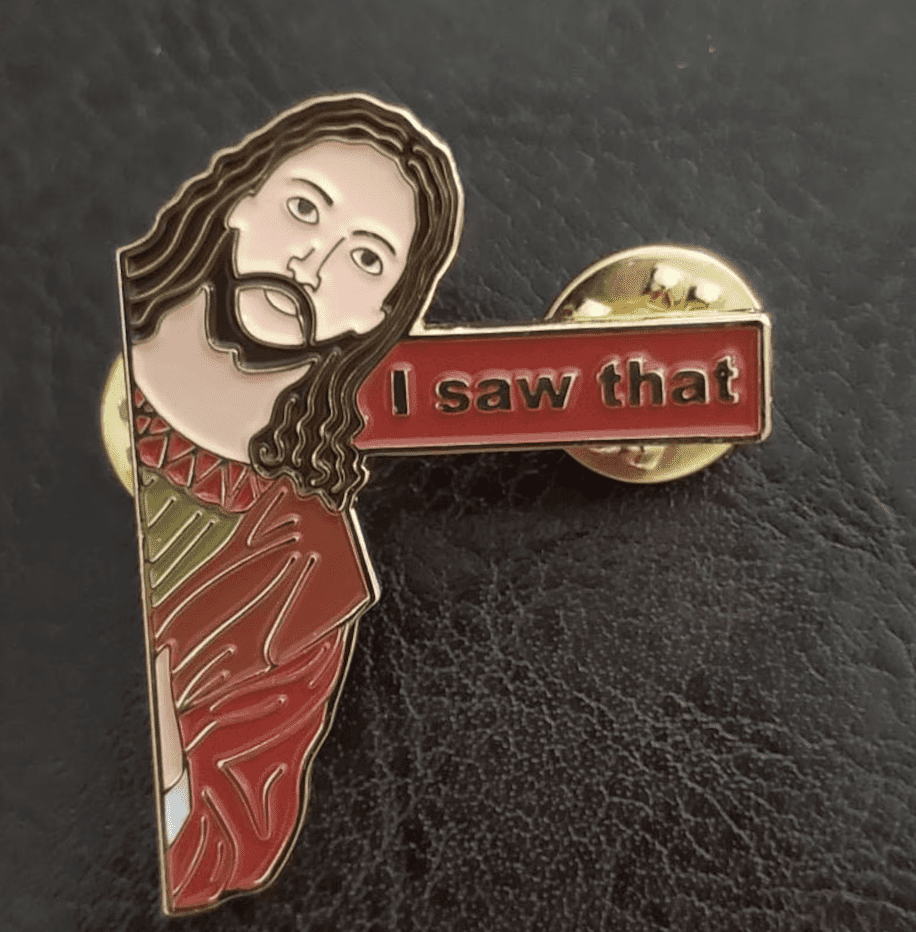 Jesus "I saw that" Pin
This is one of those hilarious memes that everyone can enjoy. With two backs to keep this 1.5 inch enamel pin safe and secure, Jesus will be a constant reminder that He is watching you!
See on Etsy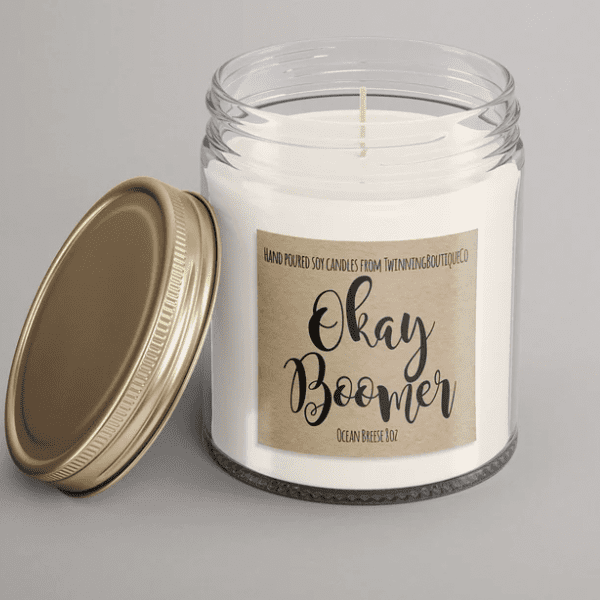 Ok Boomer Candle
Giving funny gifts is my favorite thing to do. This handmade soy candle confidently mocks the Boomers in the room. The perfect mix of a gag gift, a meme gift, and a gift for a grandparent - this is actually a really nice candle that they will enjoy using! Choose from a variety of scents (bamboo coconut is our favorite).
You HAVE to click through to see other candle options, including the WAP scented one and one with Bernie and his mittens.
See on Etsy
Bob Ross Meme Mug
The best way to enjoy a warm beverage is by drinking from an awesome mug. The perfect combination of Drake and Bob Ross memes, this ceramic mug will bring a smile to anyone's face who uses it. It's definitely not a mistake, or even a happy accident, to gift this meme coffee mug!
See on Amazon
See more hilarious coffee mugs here!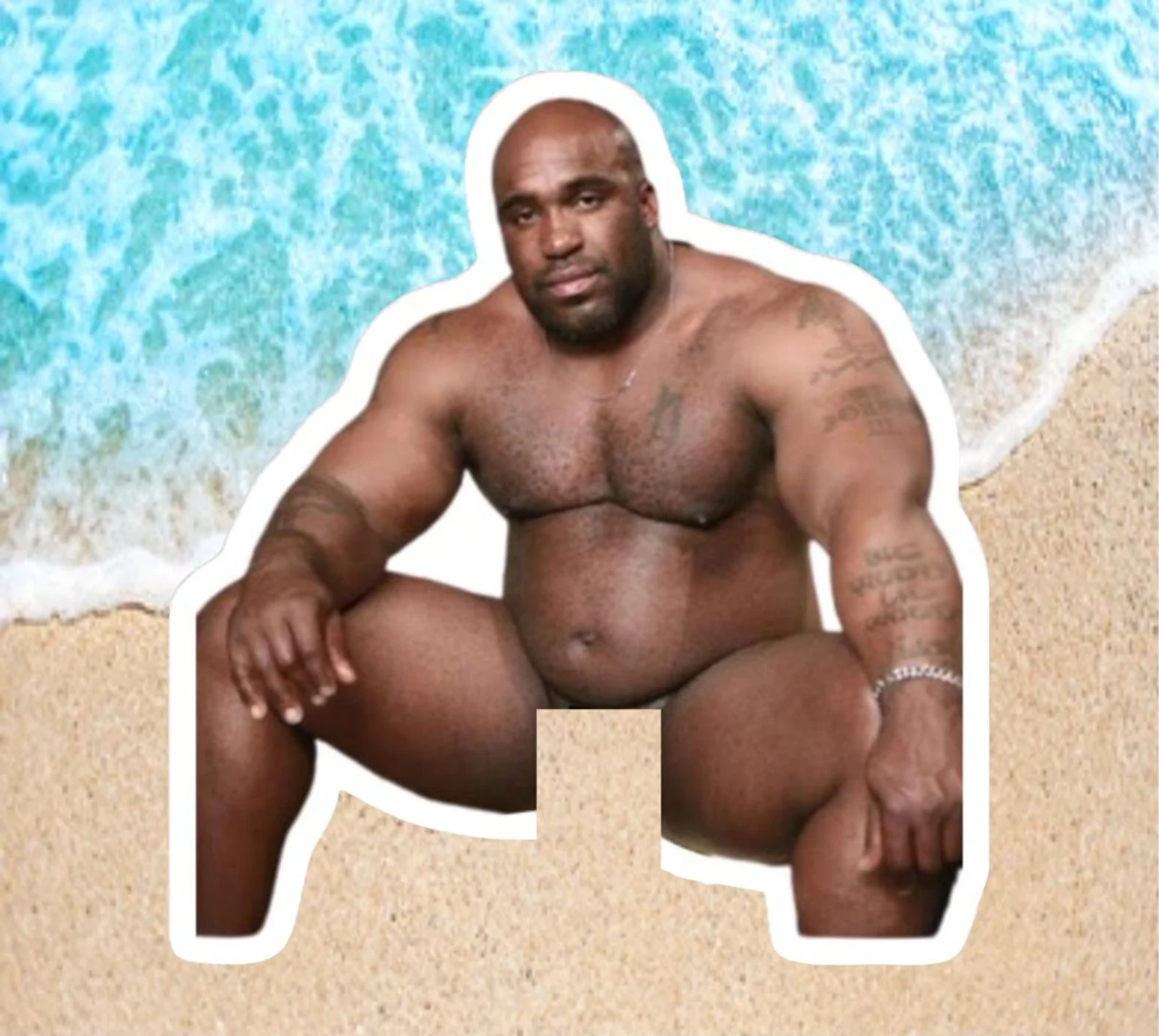 Barry Wood Funny Light Switch Decal
Listen. I'm not explaining this one. IYKYK. It's a decal that can be applied above a light switch. When the light is on, it's on. *blush* Makes a great gag gift for meme fans with questionable humor lol.
See on Etsy
See all our amazing gag gift ideas for Dirty Santa here!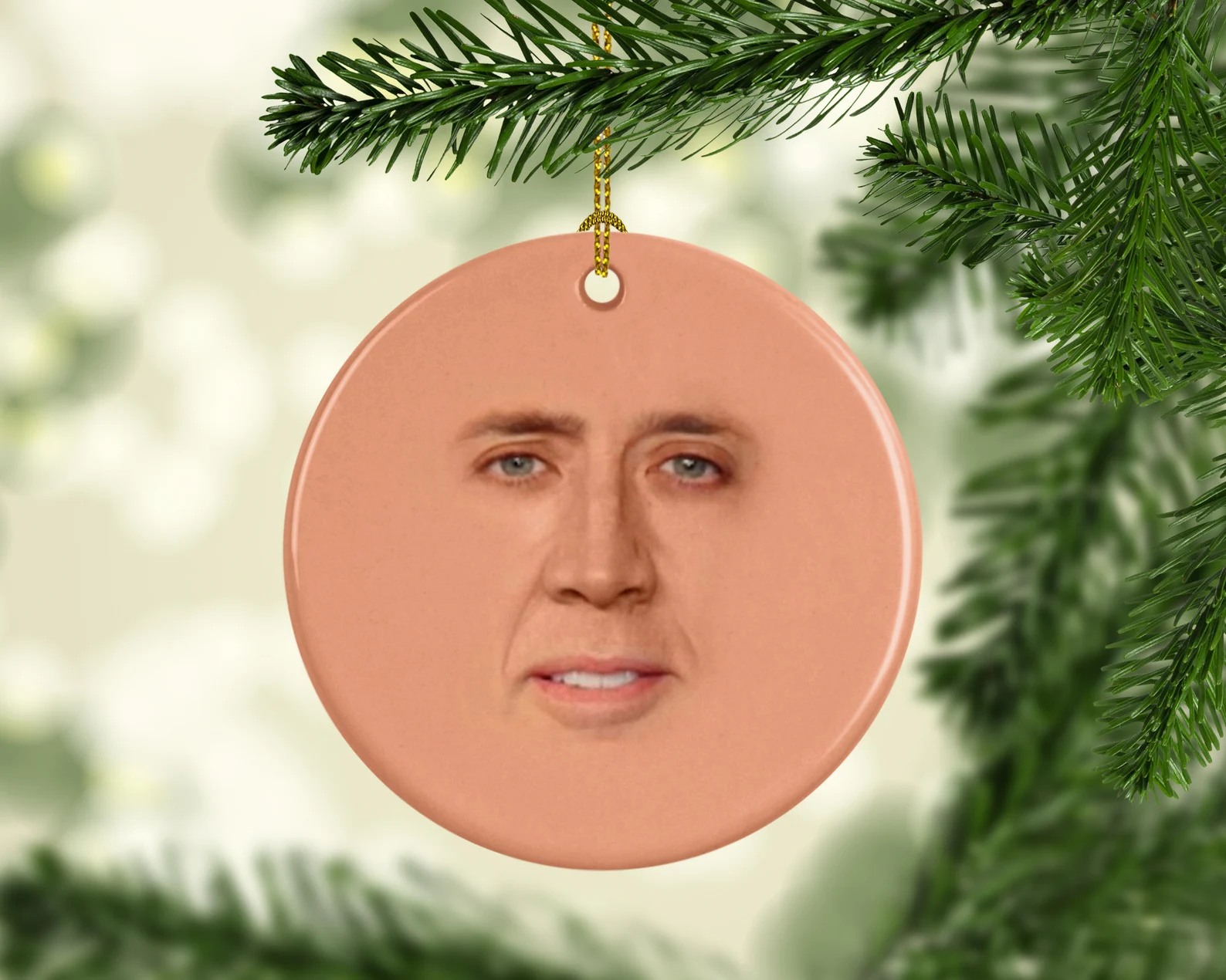 St. Nicolas Christmas Ornament
If you're looking for a dirty Santa or gag gift this holiday season, you can't go wrong with this Saint Nicolas Cage Ceramic Christmas ornament.
This 1-sided Nicolas Cage face design is crafted from a high-quality ceramic material so this national treasure's face will last a lifetime. Even the ribbon for hanging is included so St. Nicolas can jump right onto the Christmas tree.
See on Etsy
Meme Stickers
Pretty obvious what this is. It's a bunch of stickers - 100 to be exact - of the best memes on the internet. Game of Thrones meme, hooray kid meme, The Shining meme, cute cat meme, Dwight Schrute meme... much meme. Such laugh. Many fun. Wow!
(Psst: we think these make a great stocking stuffer, and even would be an awesome gift for a middle or high school teacher with a sense of humor!)
See on Amazon
The Child "When Your Song Comes On" T-Shirt
The Child is never wrong, even when it comes to music. This is a great gift idea for any Star Wars lover (or Mandalorian fan) to jam out with!
Available in men's, women's, or child sizes, with various color options to choose from.
See on Amazon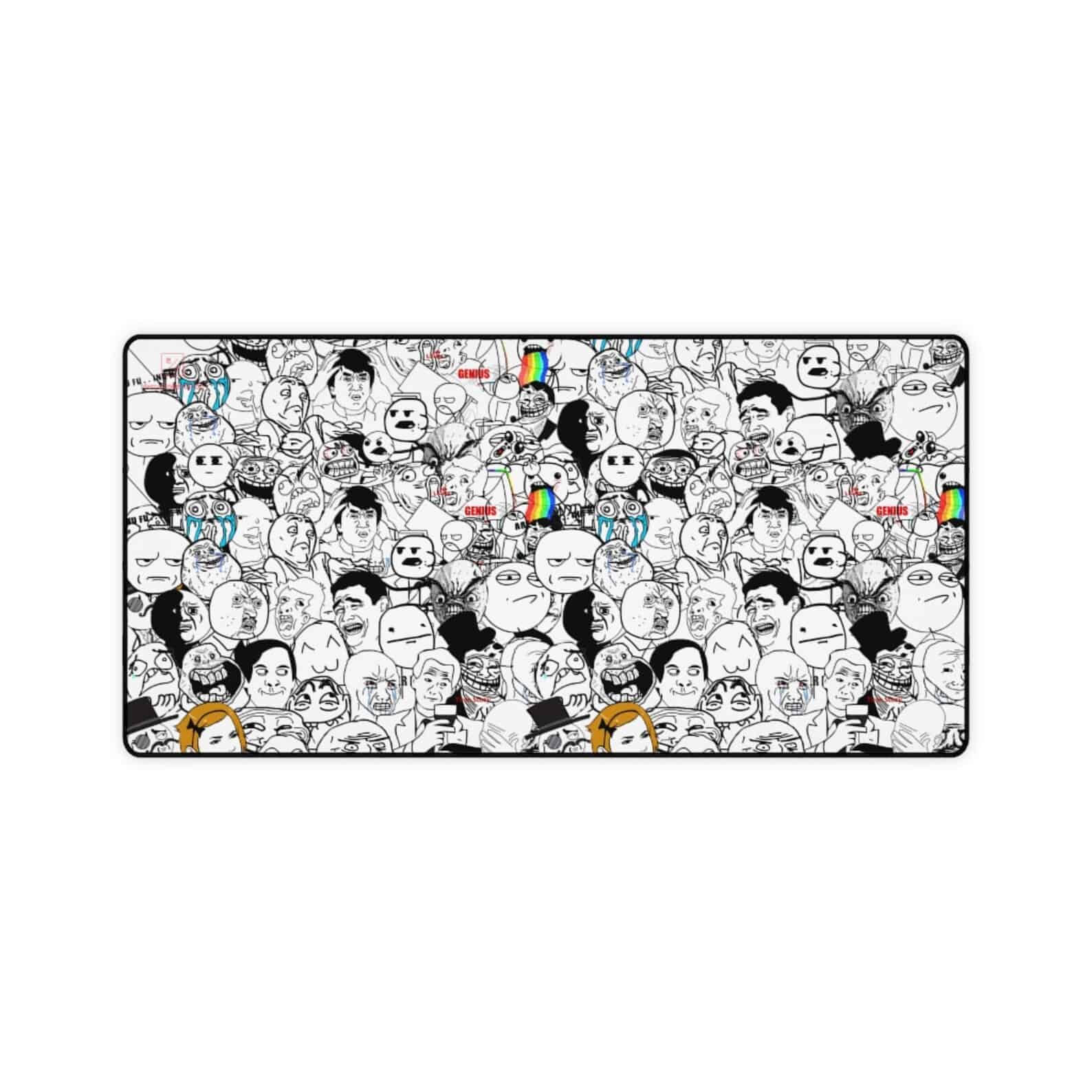 MEME Desk Mats XL 1 #Rage Faces
Maybe the most popular internet meme, this desk mat is covered with a variety of rage faces. Not only is this item funny, but it's useful for keeping surfaces free from scratches and stains. Made with a smooth polyester surface and a non-slip natural rubber base. Durable, long lasting without fraying or pilling. Optical and laser mice are supported.
I actually just ordered this for my son, since his glass top desk requires a mouse pad. Can't wait to see his face!
See on Etsy
Mulan Dishonor Coffee Mug
You may be familiar with the dank meme… but this is the Disney meme. I bet you can't read this without hearing it in Mushu's voice. This funny coffee mug is great for someone who likes to laugh as much as they love Disney and coffee.
See on Amazon
Doge Plushie Pillow
The Doge meme has been here for a long time, but I still don't know how to pronounce it. Who cares? This Shiba Inu is the most adorable doggo ever and has captured basically all of the meme lovers' hearts. Much floof. Very bark.
See on Amazon
This is Fine Dog Pop! Vinyl Figure
We can all identify with the hot mess express "This is Fine" Dog meme. This limited edition Pop! Vinyl figure is a must-have for any meme lover. One of the best gifts for someone who needs to be reminded to stay calm, it's all ok.
See on Amazon
Grumpy Cat T-Shirt
We can't end our list of meme gifts without the MVP himself – Grumpy Cat! This t-shirt is the perfect mix of Grumpy Cat, the State Farm tagline, and the feelings of everyone over the past few years. SIX FEET!
See on Amazon